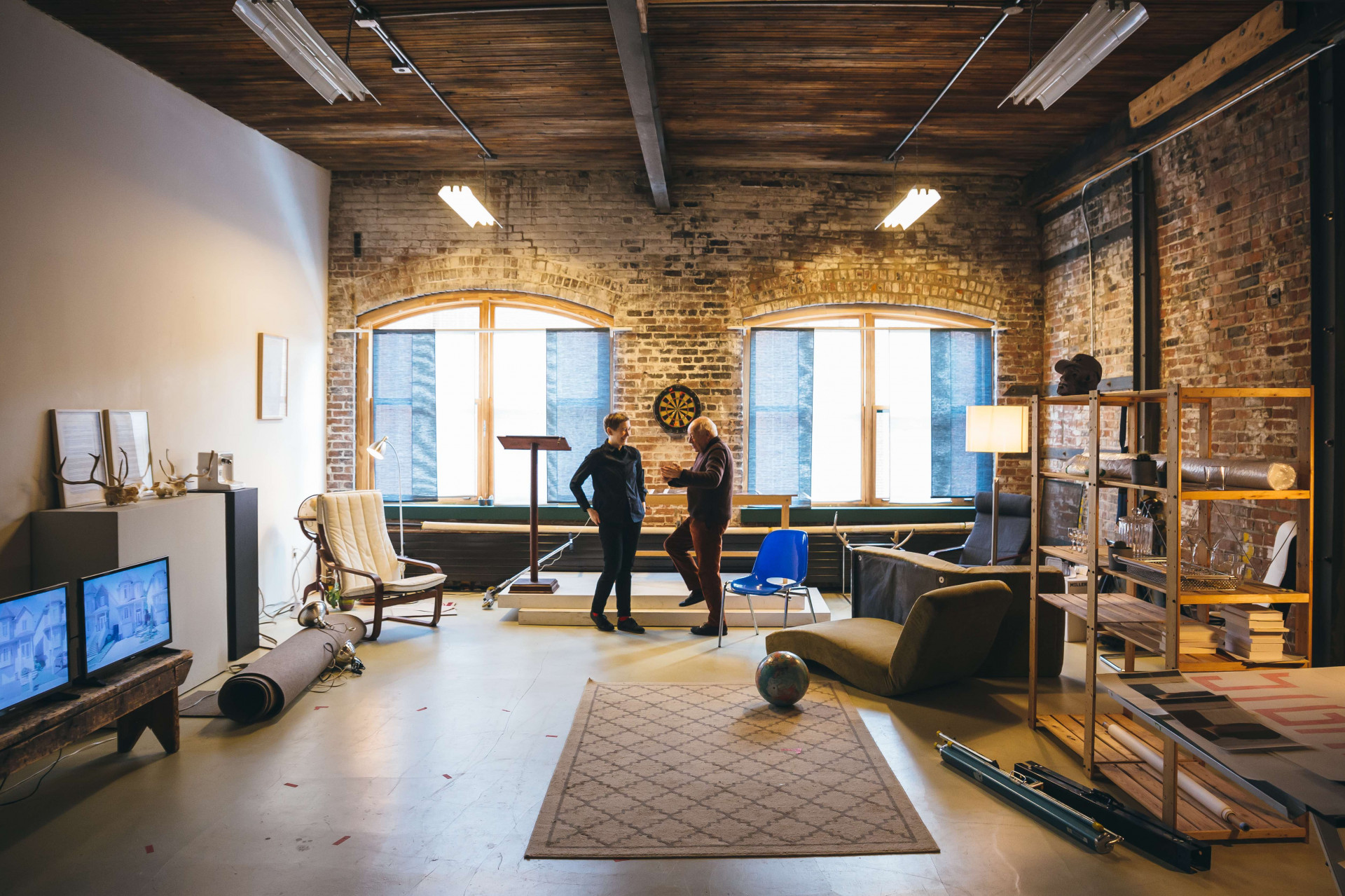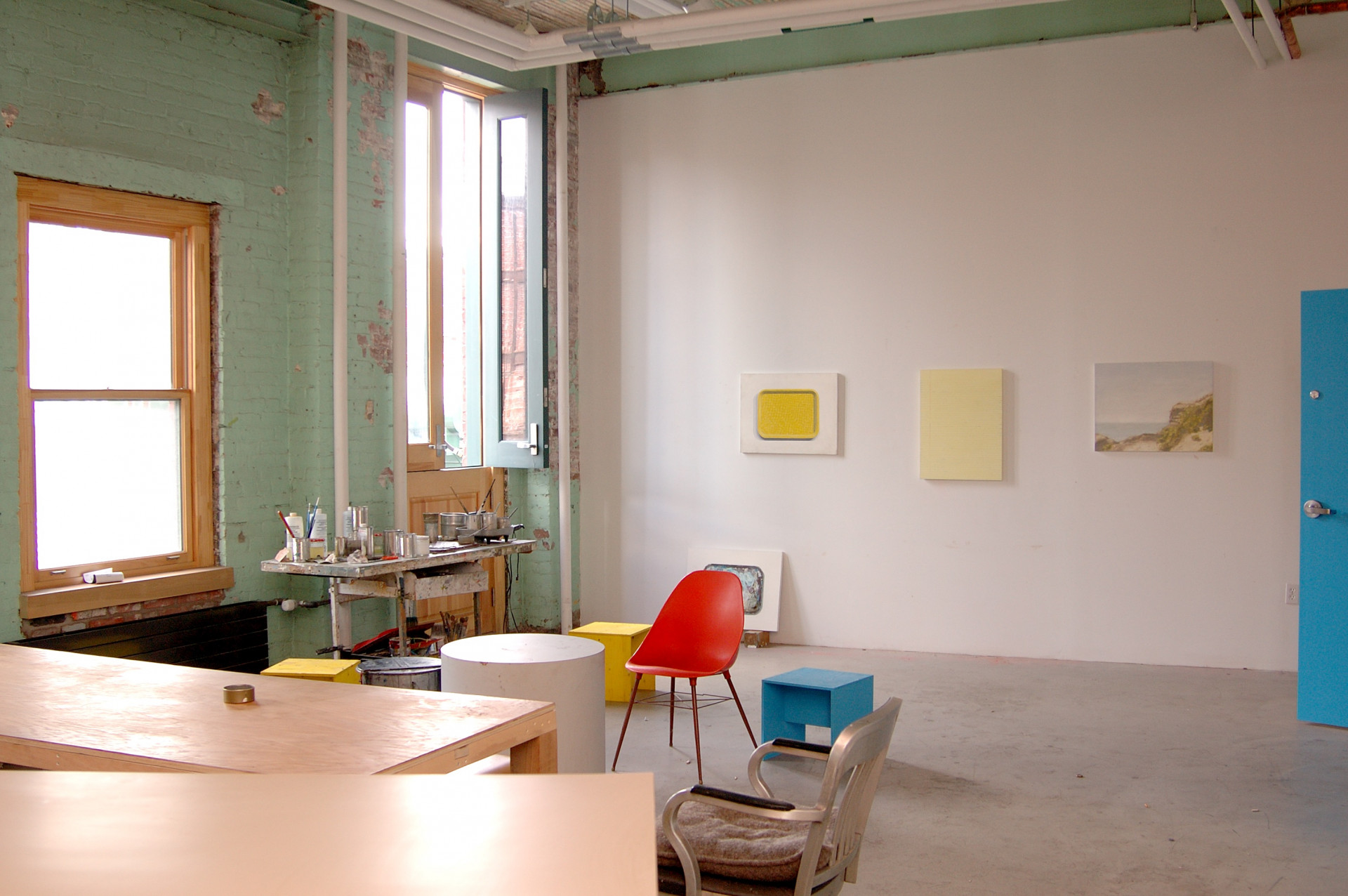 Montreal Studios
In the building adjacent to the galleries, Fonderie Darling offers thirteen creation studios, including eight inspiring workspaces for Montreal artists and four high-quality live-in studios for international artists and curators. In addition, state-of-the-art production workshops, which completely renovated in 2017, are available to the artistic community of Montreal. These harmonious and luminous spaces are distributed on the three floors of an old warehouse. The building was converted mindfully to preserve the original character of the building, its brick walls and its visible beams.
Of the twelve studios, eight are reserved for Montreal emerging artists in the visual arts for professional purposes, in the context of the Montral Studios long term residency program. This program is unique and innovating, and allows for artists to rent at affordable prices for a period of two years, a lease renewable for one year. While in residency, the artists must commit to occupy their studio on a regular basis for the duration of their contract and participate in the collective life of Fonderie Darling in a spirit of openness, exchange and sharing. Fonderie Darling's team regularly organizes professional visits, open studio events, and various educational activities to develop the professional career of artists, awaken a wider audience to current artistic practices and foster direct contact between artists and their public.
In addition, Fonderie Darling is continuously developing and improving its studio sponsorship program, which covers an artist's studio fee for one year, complemented by a production grant. Initiated in 2006, this program creates a bond of trust and support between an artist and a sponsor—be it a museum institution, a corporate collection, or a private patron. Please note that the sponsorship program is independent from the selection of artists in studios and is not guaranteed under any circumstances.
Call for Montreal Studio Applications 2023-2026



DEADLINE TO APPLY: October 31, 2022 (midnight, Montreal time)
START OF RESIDENCY: September 1, 2023
DURATION: 2 years, renewable for 1 year
PRICE: 8 workshops from 630 to 860sqft for $500+tx/month

The price includes: a 24/7 workspace, access to common areas (kitchen, living room, bathrooms), maintenance of common areas, access to production studios (wood and metal workshops, ceramic oven, CNC machine), individual assistance and support by the Darling Foundry team, heating and electricity, as well as wireless high-speed internet connection. 
ELIGIBILITY:
All professional visual artists (or ones in the process of becoming professional) residing in Montreal or its immediate suburbs, without limits in age or type of artistic practice, are eligible. Applicants must be Canadian citizens or permanent residents of Canada.
EVALUATION CRITERIA :
All files are evaluated by a Selection Committee comprised of members from the Darling Foundry team, as well as professionals independent of the institution.
The selection criteria go as follows: artistic quality, potential impact of the Montréal Studio residency on career, variety of artistic practices represented, parity and diversity.
ANNOUNCEMENT OF RESULTS: January 2023
All applicants will be notified individually by email of the outcome of their application.
COMPONENTS OF THE APPLICATION:
Please submit the following documents, in French or English, via the application form:
1 / Letter of intent explaining your motivation and expectations for the Montreal studio residency (1 page maximum)
2 / Text describing your artistic approach or a presentation of your current research (1 page maximum)
3 / Up-to-date curriculum vitae (4 pages maximum
4 / Portfolio of up to 20 images, with a short caption (videos must be hyperlinked and not exceed a total of 20 minutes)
5 / Press review (10 pages maximum)
CLICK HERE TO SUBMIT AN APPLICATION

QUESTIONS 
If you have any questions, please get in touch with Milly-Alexandra Dery by email at residence@fonderiedarling.org
CALL FOR APPLICATIONS
To submit your application for the 2023-2026 cohort of Montreal Studios, please fill out the online form :
QUESTIONS
If you have any questions, please do not hesitate to contact :
MILLY-ALEXANDRA DERY