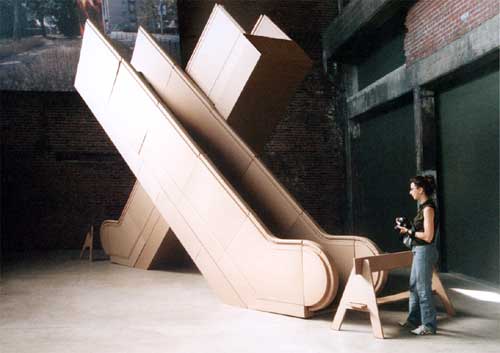 Buy Self
Hailing originally from Bordeaux in France, the collective Buy-sellf was formed in 1998 by three young artists. They sought to promote, through the Association Zebra 3, the work of young artists whitout a gallery representation. Out of this concept, a mail-order catalogue for the sale of artwork was born. The name Buy-sellf was derived from an English play-on-words: buy, sell, and self.
Biography
Originaire de Bordeaux en France, le collectif Buy-sellf a été formé en 1998 par trois jeunes artistes qui cherchent à promouvoir, à travers l'Association Zebra 3, la production de jeunes créateurs sans être représentés par une galerie d'art. De cette réflexion est né un catalogue de vente par correspondance dont le nom Buy-sellf est issu d'un jeu de mots anglais sur « acheter» (buy), « vendre » (sell) et « soi-même » (self).
Le catalogue Buy-sellf est un support de diffusion qui regroupe des productions non industrialisées, des multiples et des prototypes de recherche issus de démarches artistiques ou d'expérimentations. Celui-ci permet la confrontation d'un grand nombre de pratiques qui sont représentées au travers d'objets, de services, de photographies, de vidéos et de mobilier. Par le biais de son catalogue, Buy-sellf désire éprouver les modèles et les limites de la société de consommation en abordant des sujets provocateurs et cocasses.