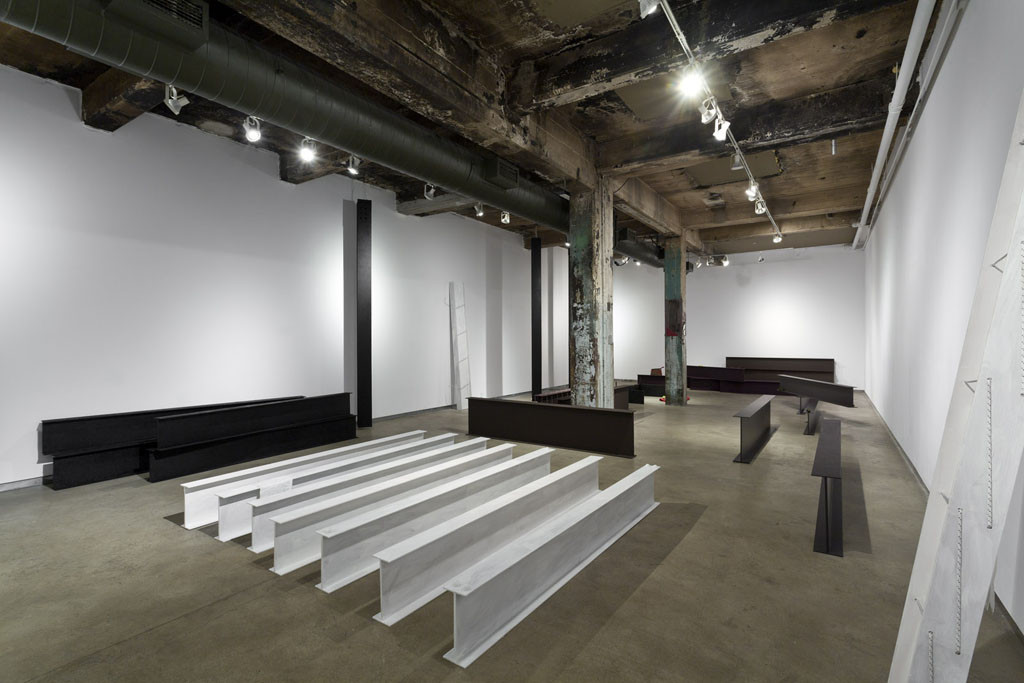 Jon Knowles
Jon Knowles' projects are characterized by an interdisciplinary approach. In his work, there is often a synthesis of formats - photo, text, video, audio, found object, painting, performance, sculpture - which ultimately results in installation. Knowles adopts and reconfigures strategies with reference to Conceptual Art and Appropriation Art, which suggests that the meaning of a work comes out of the context, multiple connections and by the potential interpretations arising from the work itself, its references, or the materials used. With information gleaned from pop culture, fine art and other fields he weaves together bundles of narrative where perception, fact, and remembered things arrive at a material form.
Biography
Jon Knowles was born in Oshawa, Ontario and has been living in Montreal since 2005. He studied at the Nova Scotia College of Art & Design (Halifax), The Cooper Union (New York City), and Concordia University (Montreal). Knowles frequently collaborates with Michael Eddy and Robert Knowles under the name Knowles Eddy Knowles.
In all of Knowles' projects, the artist develops a conceptual structure and a situation that pays special attention to context, site, documentation, written language and the everyday. He is motivated primarily by a discursive approach that seeks out peculiar elements from art history and popular culture while subjecting these elements to questions about consumption, cultural distinction and representation, resulting in an inter-media based artistic practice.
Jon Knowles' concurrent solo exhibitions include Blood Oranges at Laroche/Joncas and Mixed Misuse at the Darling Foundry.  Knowles has participated in group exhibitions at The Musée d'art contemporain de Montréal, Düsseldorf Kunstverein, Pavilion Projects (Montréal), Cooper Gallery (Dundee Scotland), Eyelevel Gallery, Anna Leonowens Gallery, Dalhousie Art Gallery (Halifax).  In 2010, Knowles organized (along with Vincent Bonin) Blooming Flowers on the Coffee Table for Artexte. As a member of Knowles Eddy Knowles he has produced commissions, performances, and exhibitions for TENT (Rotterdam), Portikus (Frankfurt), Apex Art (New York), Presentation House Gallery (Vancouver), FormContent (London), Fabrica del Vapore (Milan), Centre de Recherche Urbaine de Montréal, Museo Studio del Tessuto (Como), The Store/Vitamin Creative Space (Beijing), and Leonard & Bina Ellen Art Gallery (Montréal).  Knowles will present a new project at Vox Centre de l'image contemporaine during the spring of 2013.
Recent exhibitions
2012

Mixed Misuse, with the participation of Vincent Bonin, Darling Foundry, Montreal

2010

Blooming Flowers on the Coffee Table, Artexte, Montreal (collaborative curatorial project with Vincent Bonin)

2009

Making It Work, Leonard & Bina Ellen Art Gallery, Montreal

2008

Rien ne se perd, rien ne se crée, tout se transforme, Montreal Museum of Contemporary Art, Montreal
Die Wahrnehmung von Ideen führt zu neuen Ideen (#21), Kunstverein für die Rheinlande und Westfalen, Düsseldorf
Exalted Beings: Animal Relationships, Dalhousie Art Gallery, Halifax, Nova Scotia

2007

I Will Not Throw Rocks, Form Content, London