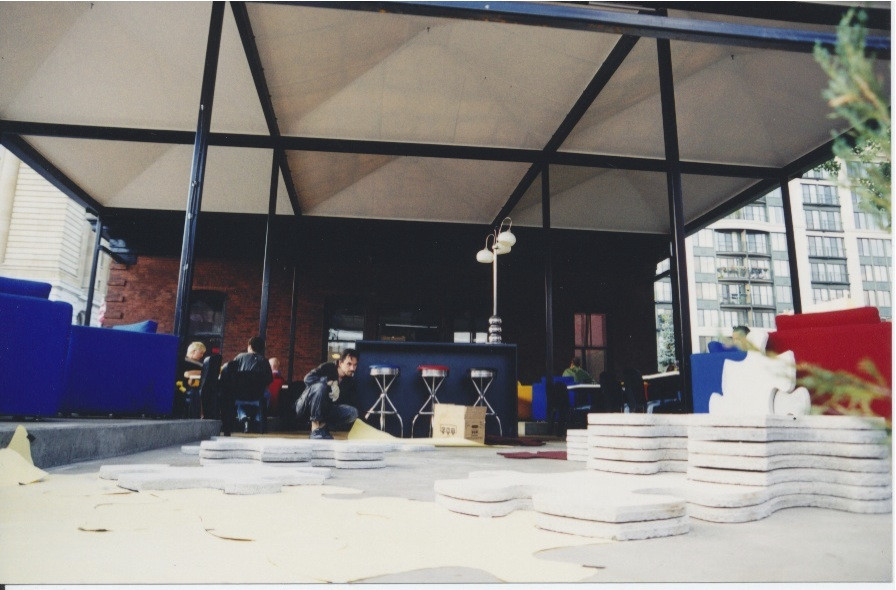 Gilles Picouet
Biography
Gilles Picouet links and connects things together
At the Art'O gallery in 1995, he stitched together on location a great amount of wood that he picked up on the streets. He erected a kind of big and versatile palisade that fit the walls of the gallery. Be they at Montreal's Quartier Ephémère in 1999, in Montevideo in 2003 and in Shanghai in 2009-2010, each exhibition was an opportunity to work on what binds together place, time and people. 
Gilles Picouet creates flexible works of art
Gilles Picouet had some his pieces interpreted by other artists, as a composer would write partitions to be played by others. The work that he conceived for the Crédac in 1998 was re-performed by Rémi Uchéda at Pavé Dans La Mare in Besançon in 2000, then by Johanne Grandjean at the ISBA (Besançon Fine Arts) in 2012. 
Gilles Picouet likes to see his work transfigurated
During his 2003 residency in Montevideo, Uruguay, he erected a piece of "vulnerable architecture" in plaster. He created a little tower that was meant to be destroyed a year after its construction. It was situated in the sumptuous park of the Blanès museum and was therefore exposed to both human and atmospheric actions. Impregnated by the thought of Heraclitus, he quoted him on the foundation of the piece: "Beginning and end are one same thing on the course of a circle". 
Gilles Picouet exhibits in places of which exhibition is not the main purpose
In 2002, with the support of Pavé Dans La Mare, he created three new works that constituted an opportunity to challenge new spaces and new contexts: an unprepared room, a department store window and a re-classified space. 
Gilles Picouet favors emulation inside and outside the Fine Arts School
Since 2012, he realized works of art in the school where he teaches. He set up in the school's workshops and encouraged his students to question his own artistic practice. He does not wish to be a master but rather wants to create a dialogue without didactic discourses. 
Gilles Picouet founded the "Clara" collective
Along with fellow visual artists Emmanuel Aragon, Samuel Buckman and Virigine Delannoy, he experimented new processes to question the artist's position in society. Their installations sometimes used performance and improvisation even though they were usually prepared beforehand. They involved artistic partners, private companies and activist associations. Clara started in 2005 during the Affinités exhibition at the Royal Saltworks at Arc-et-Senans, then performed in 2008 at the Passages art center in Troyes and in 2012 in Dunkerque and its surroundings. 
Gilles Picouet undertakes the construction of a co-op
He partakes in the work group in charge of the co-op's architectural conception. The co-op aims at being a place for both life and work, fostering self-fulfillment and collective action in a spirit of companionship. The co-op members manage their time and space in order to organize a living space freed from individual ownership through the practice of participatory self-government and conviviality.