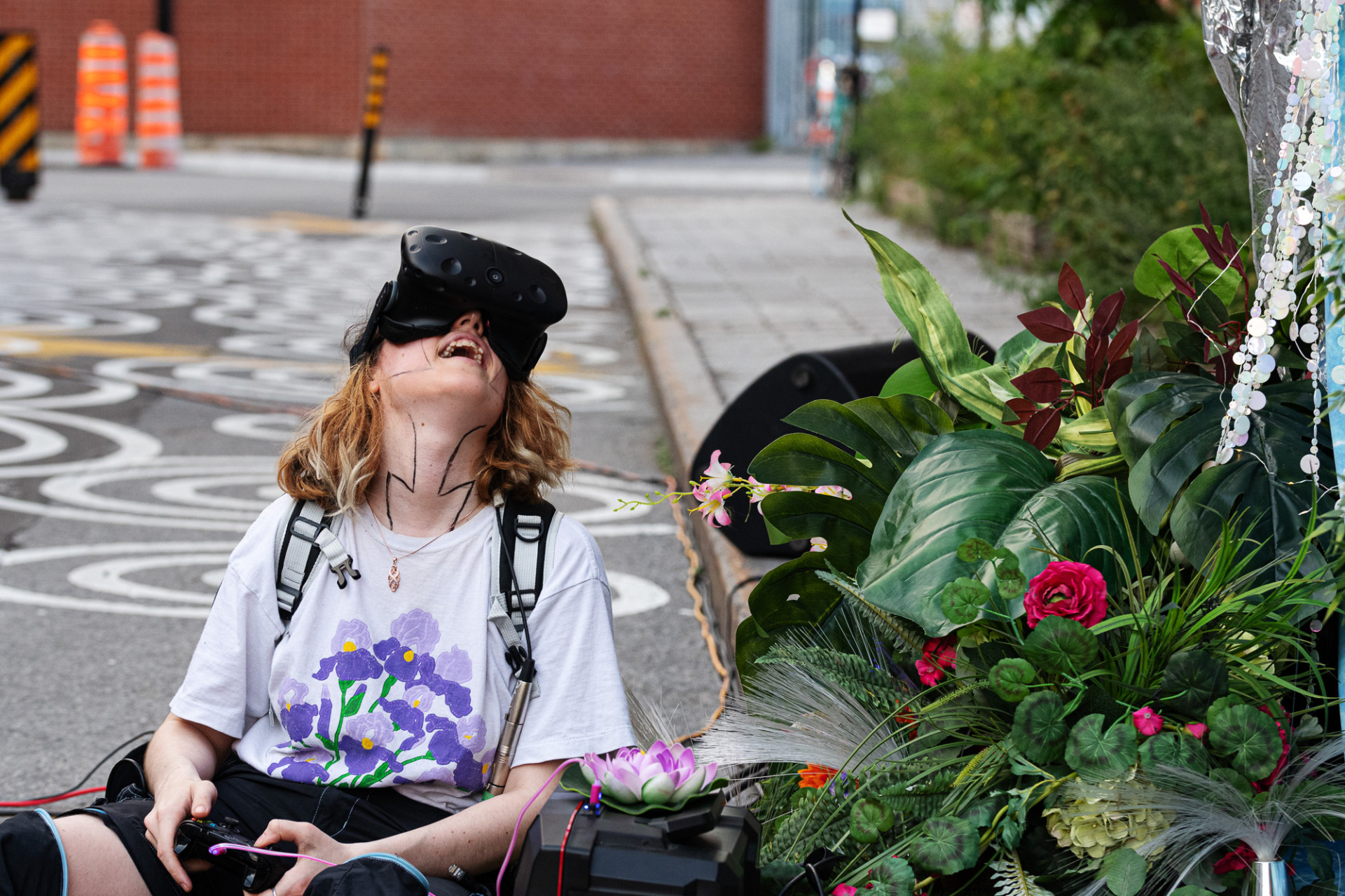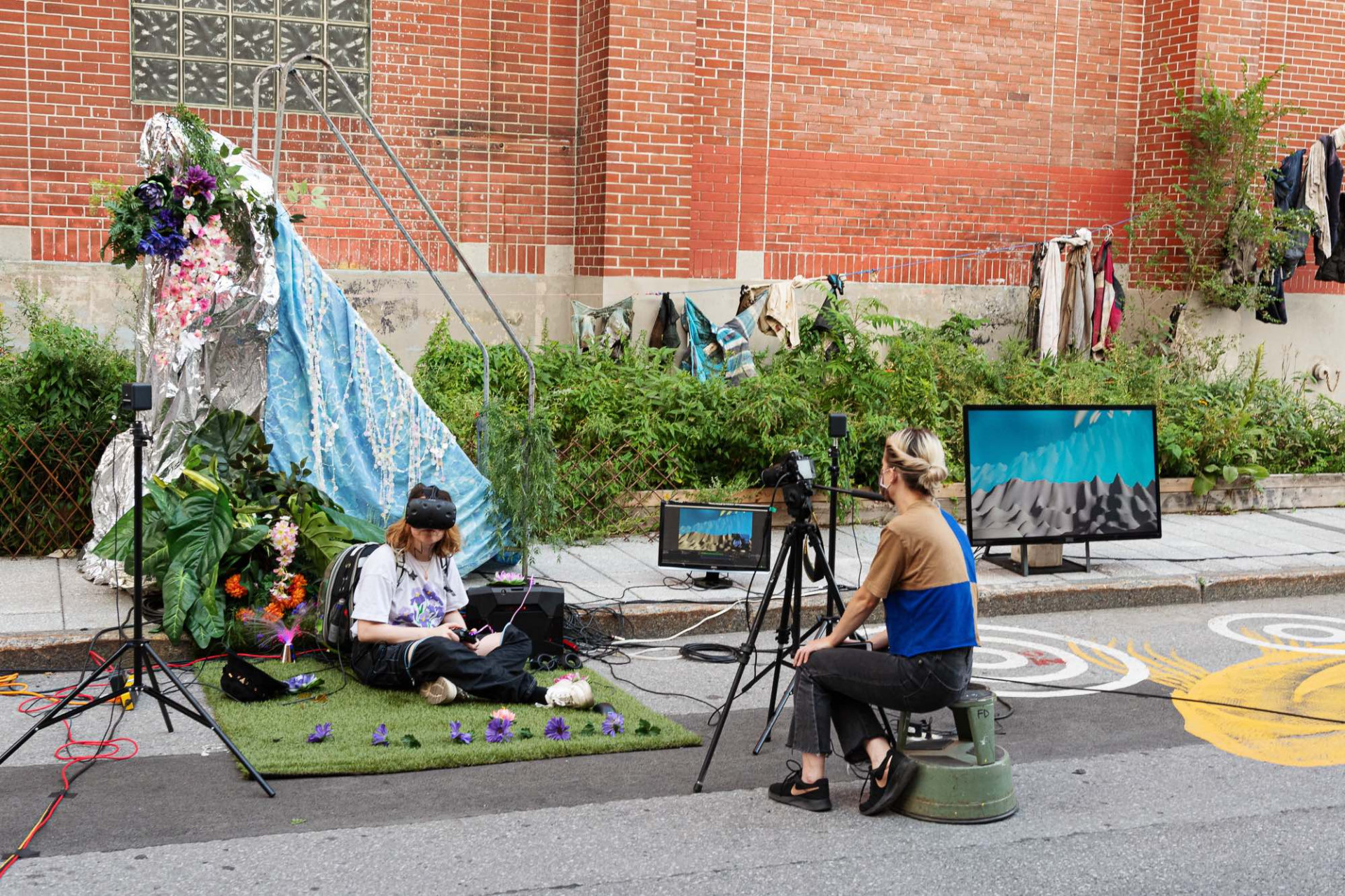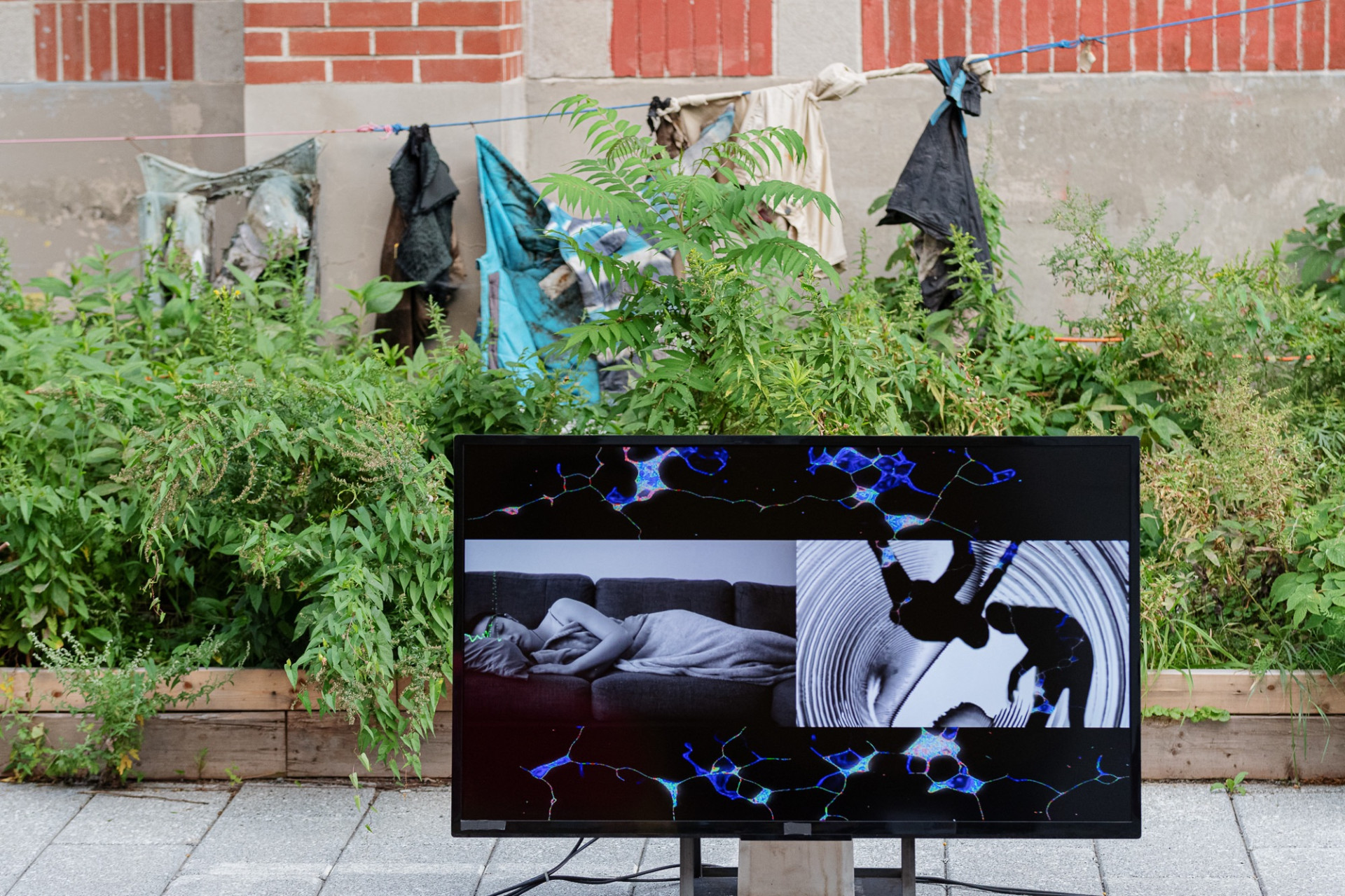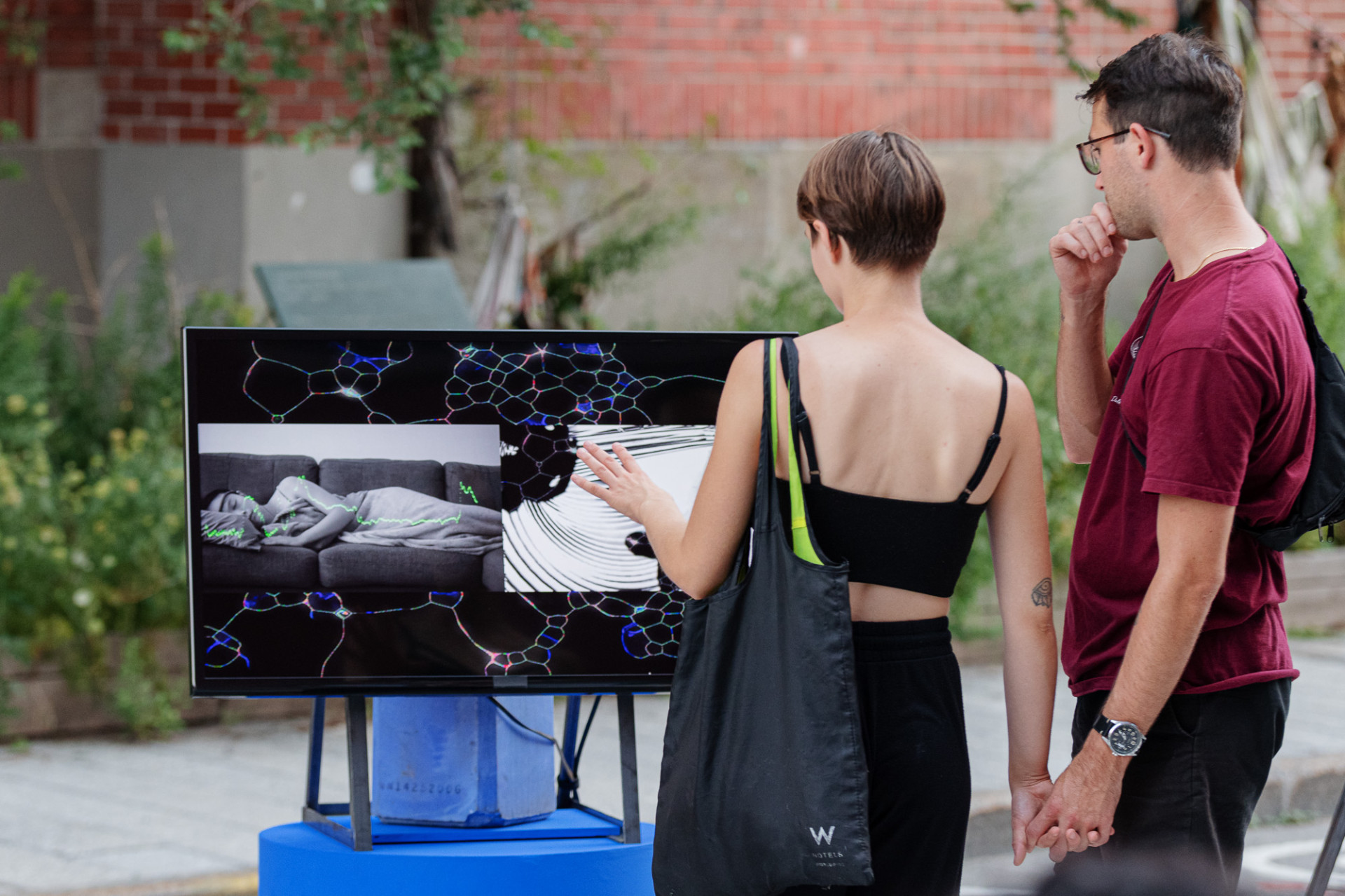 Allegorical circuits for human software #3
This third evening of performances aims to highlight the positive influences of technological tools by inviting us to reflect on the possibilities generated by artificial extension of the 'self'. Considering that computer simulation technologies can be transformed into a stimulating vehicle of expression and communication, along with computer representations of personal experiences, technology will be used as an important object of mediation that can allow one to experience the other. In this sense, technology can truly serve to share personal experiences. It creates a bridge between the invisible inner world and the tangible outer environment, which has the potential to break down barriers between self and others, fostering empathy and connectivity.
7PM/ AVALON, Mind Garden 
CLICK HERE TO VIEW THE PERFORMANCE IN LIVESTREAM 
Mind Garden is an immersive video, also called 360, where the spectator is invited to let themselves be transported into a garden with magical properties. This place, which has attributions of healing powers, inhabited by fantastic creatures, capable of filling the feeling of inner emptiness. The narrative told by the artist, stages their quest for the place they wish to find, in order to heal their emotional wounds. The representation of the garden through words and images reveals the power of imagination and its ability to transform the outside environment from within.
Aya Avalon is a multidisciplinary artist whose practice is primarily anchored in a study of artificial worlds inspired by fantasy fiction. Blending the practice of sound creation with a 3-D modeling technique, their artistic approach is based on the creation of computer-simulated worlds in an attempt to link the living with the artificial, through the senses. Interested in the immersive power of computer simulations, Avalon seeks to deploy the therapeutic potential of imagination through the computer medium.
7:30 PM / XUAN YE, What Lets Lethargy Dream Produces Lethargy's Surplus Value
CLICK HERE TO VIEW THE PERFORMANCE IN LIVESTREAM 
"This work is a performance of "doing-nothing" that has been exploited to produce surplus value." -- X
What Lets Lethargy Dream Produces Lethargy's Surplus Value is a performance that simulates a synesthetic experience by translating bio-data into visuals and sounds.  The artist relies on a retroactive system, using an electroencephalogram (EEG) and sensors, to pick up bioelectric signals from her body while in a sleep state. Meanwhile, the artist listens to the generated sounds, creating a feedback reflex to her dream state. Various data is then processed through a computer program that generates an artificial universe, revealing the extent of these involuntary  reflex actions. These are  calculated by the computer in the form of binary codes, which are then associated  with synaesthetic images and sounds. Presented as a hymn to chronic fatigue, What lets lethargy dream produces lethargy's surplus value extends onto the reflections of the performance series, Allegorical Circuits for Human Software, and invites us to review the relationship we have with our bodies, as digital speed amplifies both the acceleration of the world and our emotional exhaustion.
Xuan Ye / 叶轩 makes media poetry as multi-sensorial experiences that synthesize language, code, sound, body, image, data, light, and time through diagrammatic translations. X's mixed media installations and performances involve but are not limited to time-based media, web application development, projection mapping and interactive computing, cross reality and cognitive technologies. X researches and couples with non-human agencies to experiment with world-building and system-modelling in the speculative spaces of noise-making. X's installations have been exhibited and featured internationally, including CONTACT festival, Varley Art Gallery of Markham (CA), Canadian Art, AGO (CA), Vivid Projects (UK), Supermarket Art Fair (SE), InterAccess (CA), Inside-out Art Museum (CN), Goethe-Institut (Beijing & Montreal), ArtAsiaPacific, KUNSTFORUM (GE), Trinity Square Video (CA), the Wrong Biennale (URL), Times Museum (CN), Galleri CC (SE), among others. X is a finalist of EQ Bank Digital Artists Award and a recipient of SSHRC scholarship. X's live performances and music releases have received critical accolades from Bandcamp, Musicworks and Exclaim!
8PM / ERIN GEE & JEN KUTLER, Presence
CLICK HERE TO VIEW THE PERFORMANCE IN LIVESTREAM 
Presence is a sound performance that involves the sensory system through the sonic amplification of movements and the electrical translation of bodily presence by using biosensors. The two artists, being located in two different places (Gee lives in Canada and Kutler in the United States), have established a system of sensory correspondence without ever having to meet face-to-face, allowing them to overcome the constraints associated with geographical distances and to concretize the "virtuality" of the Internet. Focusing on the unconscious and autonomous nature of bodily sensations and associated emotions, the artists simulate touch by combining the relaxation technique of ASMR sound with the use of touch simulation units (Touch Simulation Units), which function similarly to Transcutaneous Electrical Neurostimulation (TENS).
Erin Gee is an artist who uses musical systems and instruments as responsive fields for probing the human body in communication. Gee foregrounds the autonomous nature of sensory cognition, emotion, and empathy as mediated through works in ASMR, VR, synthesizers, and robotics. Gee's material is the affective relationship between humans, and also their machines, building frameworks for an "embodied algorithmicity" that implicates the human in posthumanist assemblages.  She exhibited recently in solo exhibitions at MacKenzie Art Gallery, (Regina), and group exhibitions at Toronto Biennale (Toronto), Elektra Festival (Montreal), Cluster Festival (Winnipeg), and Ars Electronica (Linz).
Jen Kutler is a multidisciplinary artist and performer based in Central New York. She modifies found objects that are cultural signifiers of power, gender, queerness and intimacy to create atypical instruments and sculptures. Her performances feature many of her instruments incorporated with immersive field recordings to explore common and discrepant experiences of familiar social tones in immersive sound and media environments. She has released recordings through EyeVee Media, Flag Day Recordings, Never Anything Records and others, performs widely throughout North America and has presented installations and workshops at Outpost Artist Resources, Fridman Gallery, EMPAC, Wave Farm, Cornell University and other venues.
Outdoor space / Free entry
Bar + DJ Jashim until 7pm + DJ MArgo until 11 pm
Vegetarian tapas by Restaurant Le Serpent for sale 
Wearing a mask is obligatory
5 pm to 11 pm
Performance evening
Place publique
Curator
Laurie Cotton Pigeon