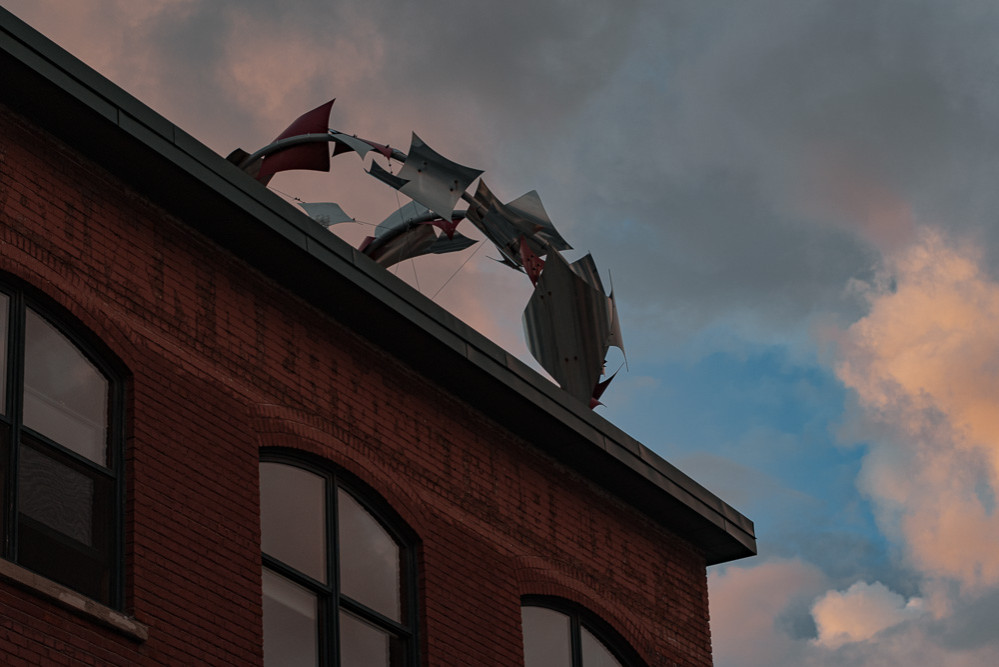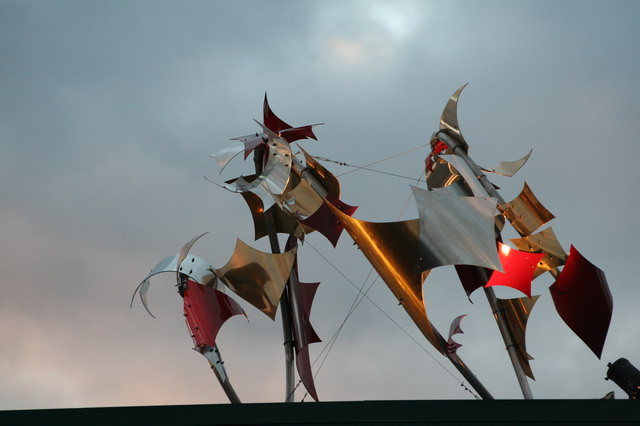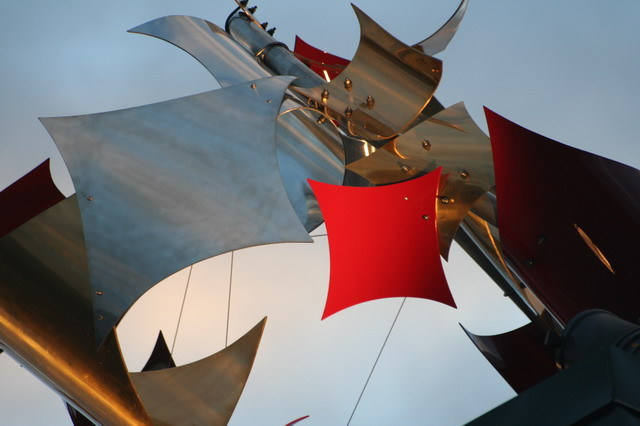 Occasioned by Fonderie Darling 's renovation of the artist studios building, Quartier Éphémère invited Maria Sheriff to create a permanent work, framed within Quebec's Ministry of Culture and Communications program to integrate works of art into architecture. Taking into account the geographical location of Fonderie Darling , a sculpture on the building's roof seemed the ideal place to carry out this ambitious project. Close to the Bonaventure expressway and meters away from the financial district, Choral plays the role of a landmark, a guidepost demarcating Fonderie Darling in its environment and summoning the passerby. As a metal sculpture, Choral firstly reminds of Fonderie Darling 's former operations, which worked with this material. Its various surfaces, jagged, metallic sheets in red and gold, rounded forms that are cuttings from aluminum sheets, intercept and reflect the light; this "vehicle for the immaterial" is favoured by the artist. According to Maria Sheriff who "compares her creative process to a voyage on the open sea," Choral is a "prayer song," which appeals to the spiritual. "I would like it to invite us to lift our gaze beyond our rational path" she tells us. A steel and aluminum wind rose, Choral broaches its erosion, like a playful and luminous bow, fronting a new boat of contemporary art.
Maria José Sheriff
Born in La Paz, Bolivia, Maria Sheriff currently lives in Montreal. From a young age she was interested in poetry and art and had a passion for the pure sciences. She holds a Bachelor in Fine Arts from Concordia University (1992) and a Master in Visual and Media Arts from the Université du Québec à Montréal (UQAM) (2000).
Among her solo exibitions, of mention are Synchrone at Clark Gallery in Montreal, 1998 ; Dissonances at the Écart Gallery in Rouyn-Noranda, 1999; Recent Scultures and Drawings at B-312 Gallery in Montreal, 1999; Aphélie et Périgée at Circa Gallery in Montreal, 2000; as well as Mémoire Minérale at the Art Gallery of Ontario in Toronto, 2003-2004.
More about
La Paz, Bolivia