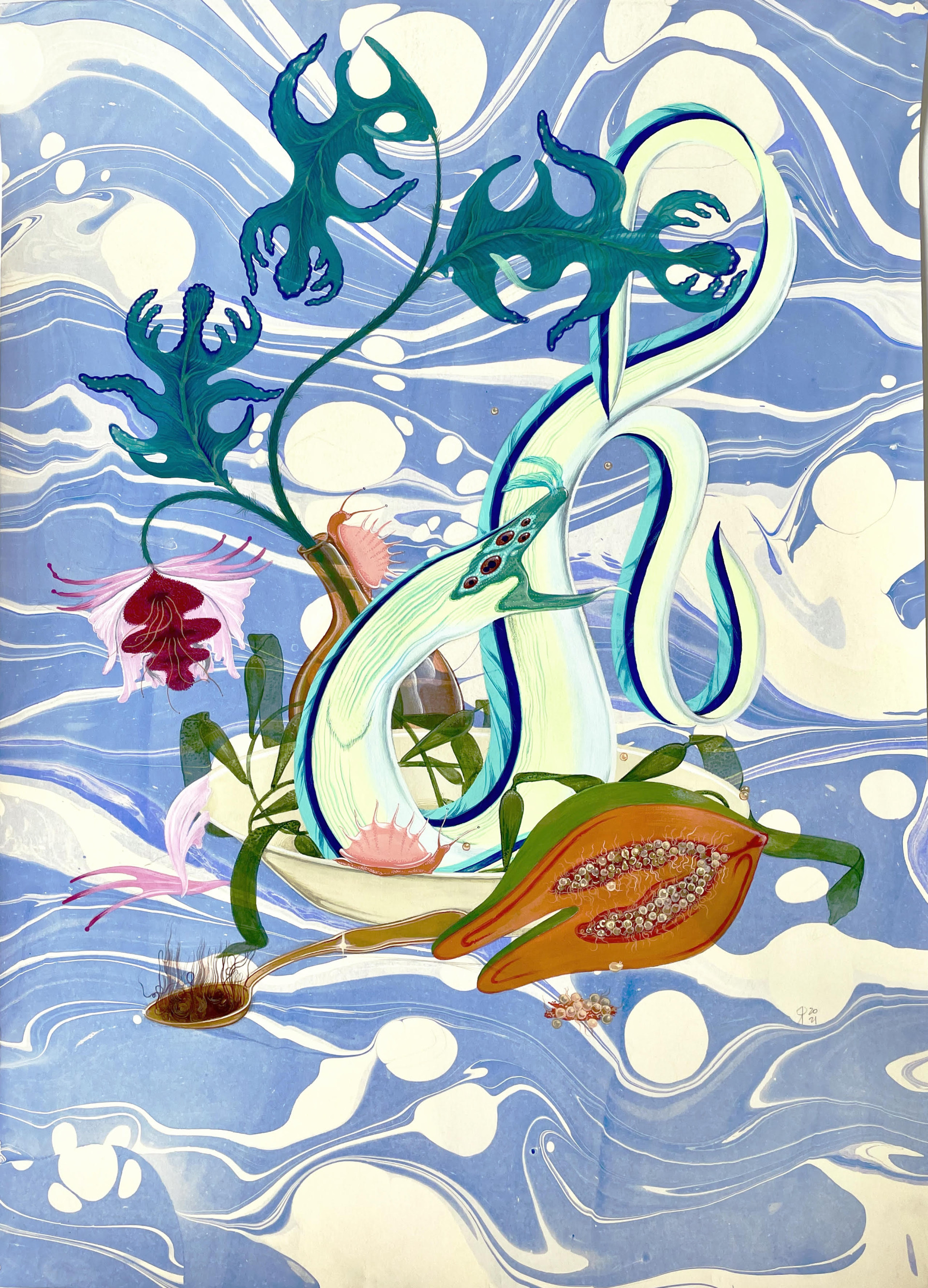 Rajni Perera
Rajni Perrera explores issues of hybridity, futurity, ancestorship, immigration identity/cultures, monsters and dream worlds. All of these themes marry in a newly objectified realm of mythical symbioses. In her work she seeks to open and reveal the dynamism of the icons and objects she creates, both scripturally existaent, self-invented and externally defined. She creates a subversive aesthetic that counteracts antiquated, oppressive discourse, and acts as a restorative force through which people can move outdated, repressive modes of being towards reclaiming their power.
With a special focus on natural history dioramas and the representation, re-representation or synthesis of the natural world, Rajni Perera seeks to critically highlight the role of responsibility of institutions as the creators and distributors of bodies of knowledge. 
During her residency  Rajni Perera will develop a series of work based around a set of ideas she believes to be thematically pertinent and relevant to her practice at this time. Entitled Phylogeny, her residency project seeks to expand upon a body of work addressing themes of climate change and destruction, cross-species mutation and extinction, including humans. The series is intended to further realize and resolve Perera's past work about immigration and diasporic social, ideological, spiritual and cultural movement and change. 
The total project will consist of three synthetically produced sculptural taxidermied animal displays, as well as five large-scale painted 'still lives' on hand marbled paper, made in the Foundry itself. The intention is also to move these sets of ideas into a space that critiques and analyzes the way we educate society through museums and museum display, archiving, and the practices related to that particular type of teaching and its inherent acceptance, tone, biases, assumptions, and limitations.
Biography
Rajni Perera was born in Sri Lanka in 1985 and lives and works in Toronto. Perera's work has been exhibited locally at the PHI Foundation (Montreal) and the McMicheal Canadian Art Collection, and internationally at Temple Contemporary (Philadelphia) Eastside Projects (Birmingham), Colomboscope (Sri Lanka), and at the  the Gwangju Biennale (South Korea). Her work is in the collections of the Art Gallery of Ontario, the National Gallery of Canada, the Sobey Foundation, and the Musée d'art contemporain de Montréal.
Recent exhibitions
2023

Futures, Group exhibition, Solo exhibition, The McMicheal Canadian Art Collection, Kleinberg, CA

Beyond The Words of Earth, Solo exhibition, Temple Contemporary, Philadelphia, US

2022

Wonder Women, Solo exhibition, Jeffrey Deitch Gallery, Los Angeles, US

TRAVELLER, Solo exhibition, Eastside Projects, Birmingham, UK

Colomboscope - Language Is Migrant, Group exhibition, Colombo, LK

2021

Sobey Art Award (shortlist)

In The Realm Of Lightning (duo with Nep Sidhu), Patel Brown Gallery, Toronto, CA

Relations: Diaspora & Painting, Group exhibition, The Esker Foundation, Calgary, CA

2020

TRAVELLER, Group exhibition, Tramway, Glasgow, UK

Relations: Diaspora & Painting, Group exhibition, PHI Centre, Montreal, CA

Adapt / Pivot - Inaugural Show, Group exhibition, Patel Brown Gallery, Toronto, CA

Talisman, Curator, Patel Brown Gallery, Toronto, CA

Made of Honey, Gold & Marigold, Group exhibition, The Robert McLaughlin Gallery, Oshawa, CA