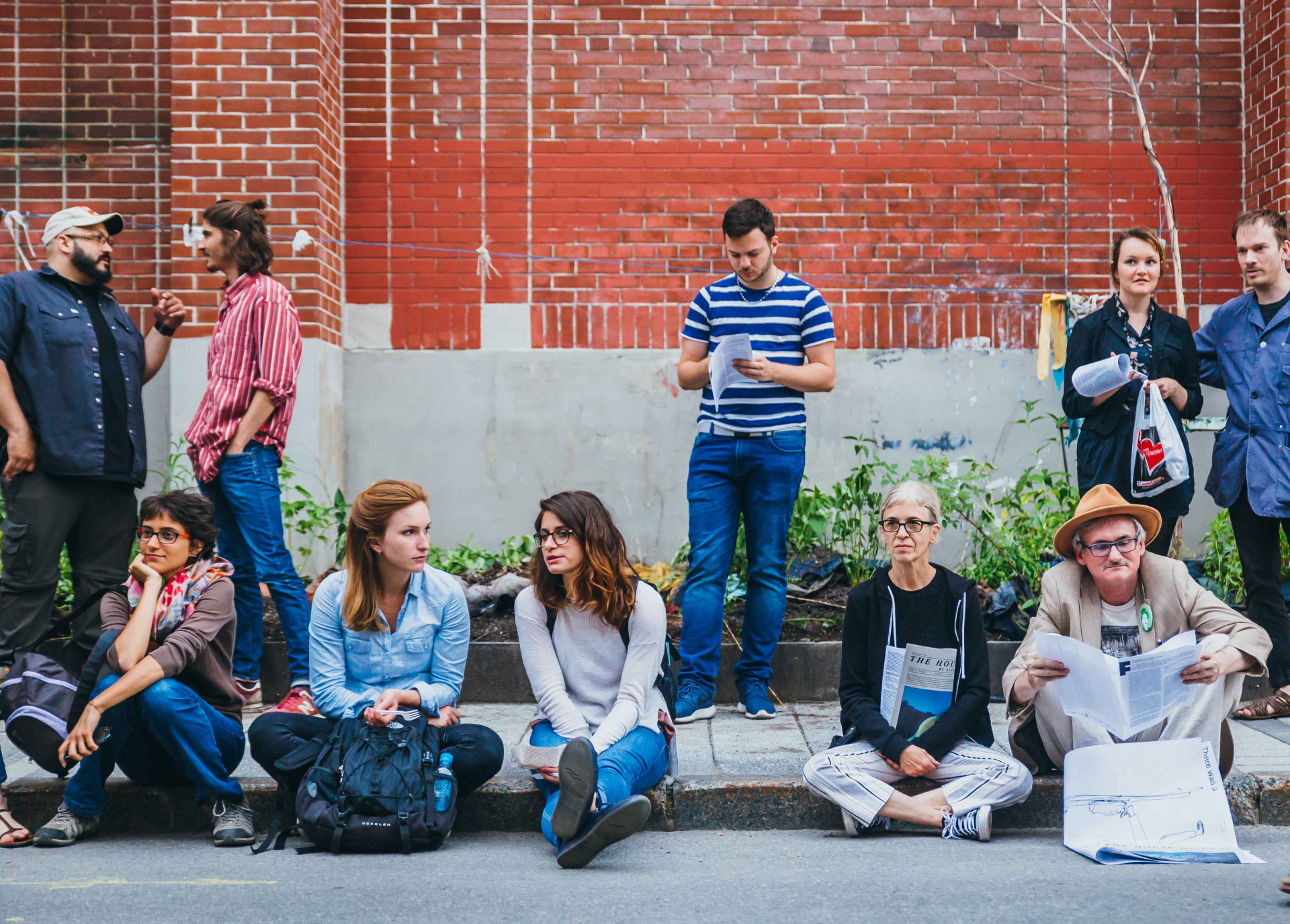 PERFORMANCE NIGHT 4
Performances' evening proposed by Cercle carré
This evening is the occasion to discover the results of Cercle Carré creation laboratories with its artist redisidents on Place Publique.
Comptoir public, Média social

It's the grand return of public criers. Here comes a different sort of news show presented by Média Social, the media of  imagination. A medium playing with the shape of what we call information. 
Élaine LaBrie & Caroline Loncol Daigneault, Vocabulary of Water
Water keeps flowing, water keeps falling, and it is its vocabulary that is going to be explored during a four-handed action lecture.
Élaine LaBrie comes from the world of contemporary dance. With the body as an anchor for her arts practice, she seeks to produce acted forms in a constant questioning of all that is solid or durable.
Caroline Loncol Daigneault is an author, researcher and curator. With writing as a prime glow, she stalks the practices of half-light as well as the filiations between art and the environment. 
Patrick Saint-Denis et Caroline Gravel, [Sans titre] 
Patrick and Caroline are collaborating for the first time. The work is an hour long performance/ installation. It is a meditative space supported by sound art and lights which invites passers'by to stay for a while. 
Patrick Saint-Denis is a composer working mainly in sound art and interactive scenography. His works range from video installation to large scale robotized machinery. He performs regularly in Montreal and abroad either in concert, exhibition or dance format. He his course lecturer of audiovisual composition and physical computing at University of Montreal since 2010.
Caroline Gravel is a dance artist interested in performance art. She has worked, toured with and made creative contributions to the art of several Montreal choreographers amongst which we find Catherine Gaudet, Dana Gingras, Frédérick Gravel, Daniel Léveillé, Parts+Labours_Danse and Jean-Sébastien Lourdais. Mentored by Meg Stuart/Damage Goods in 2012, she produced a Master's thesis in which she is interested in emotional body states and authorship. 
Valerian Mazataud, La colonia
Three pictures enclosed in their boxes, documenting the very rare safe spaces in Honduras, the country, at peace, with the highest crime rate in the world.
Nicolas Dion Buteau - Pascale Trudel, Revenge of the bees
Improvisation with small synthesizers and other instruments.
Deform to Shelter 
Conception artistique / Artistic conception: Paul Neudorf, Laura Sasseville, Marilyne St-Sauveur
Danse / Dance:  Marilyne St-Sauveur
Costumes: Laura Sasseville
Vidéo / Video: Paul Neudorf
Voix / Voices: Gabriel Dharmoo, Viviane Houle, Elizabeth Lima
6 pm to 10 pm
Performance evening