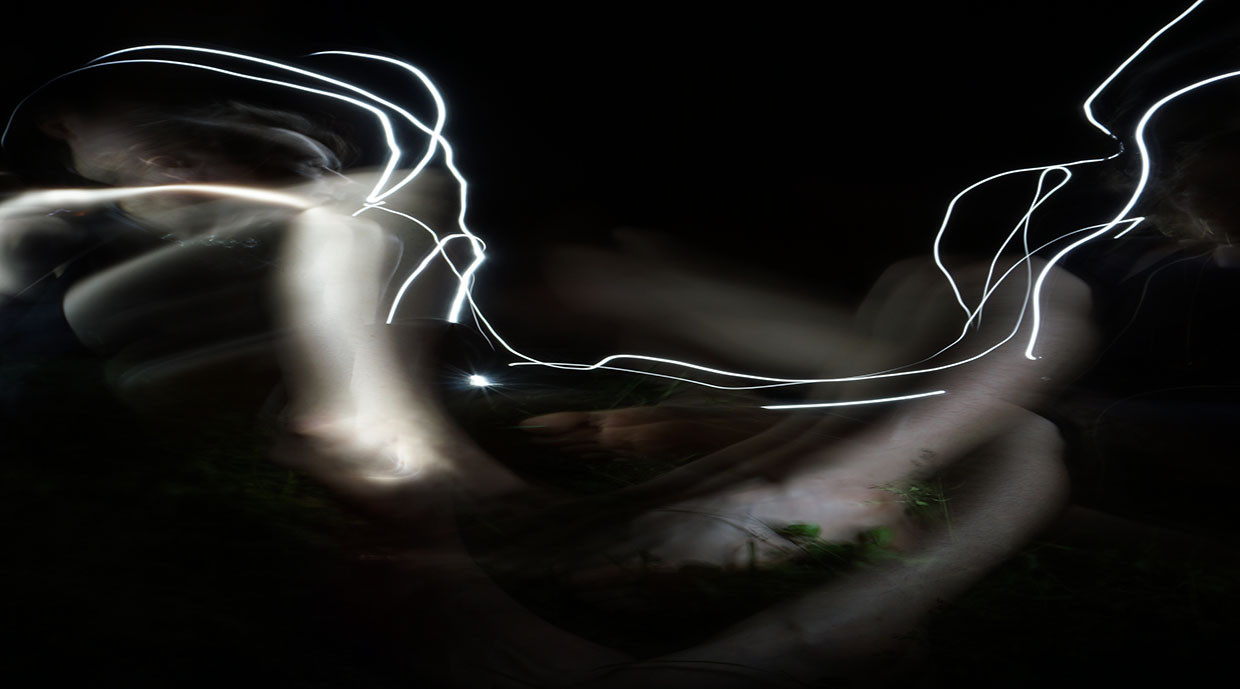 PERFORMANCE NIGHT 6
Performance, music and art evening, Bodies in Dark Times, proposed by the collective QUIMERAS on Place Publique.
The world as we know come to an end. And yet there is still ground to walk on, and sun in the sky. Art must survive. 
We lead with our bodies, they are seismographs for our times. But how can our bodies survive the times we are living through? And how can they push us through, and past this heavy cloud?
What to do when the world has ended and yet you are still standing, breathing, ready to fight but not sure who and how? You have a party with art to get some inspiration. You create a suspended time to gather belief in the world. 
Sophia Dacy-Cole, Marina Marcassa and Céline Pereira make up the collective QUIMERAS. They aim to create environments of exchange and celebration on the subjects of politics, meaning, affects, aesthetics and ethics.

The artists-performers for this night will be:
Matisse ApSimon and Rachel Wallace will present Delivery. Delivery has something for you. We were promised deliverance. Did we order this? Delivery might be unbearable. Our days are weighing on us. We're trying to compartmentalize. We're still waiting. Matisse ApSimon-Megens and Rachel Wallace have been collaborating since 2016. Matisse is an independent researcher and performance artist based in Montreal with a background in Theatre Studies. Rachel, a poet, philosopher, and performance artist, is currently completing MA studies in Philosophy at Concordia University. Matisse and Rachel develop installations and performances that approach overlooked and overbearing aspects of daily life with playfulness and care.

Dave Biddle will present Because we are used to loving, a lecture performance. He completed an MFA at Simon Fraser University in November of 2017 and went on for the next several years to work exclusively in collaboration with Vancouver based virtual artist Linda Fox, whose work repeatedly asks the question 'what time is love?'. Dave was first influenced by the work of Linda Fox after attending her sleep therapy seminar in 1995, and again in 2006 when the two participated in a re-enactment of their first meeting. Now Dave's research is focused primarily on the function of parasites in ritualized settings, asking specifically, what role can virtual parasites play in the disruption of non-virtual ecologies? 

Diego Gil will present Dancing Ontopower – a dance lecture performance. By embodying concepts of process philosophy, he attempts an instantaneous (and spontaneous) research creation at the very moment of encounter with the audience. Through talking and moving at a continuous pace, the environment of perception becomes a tensile fabric of experience for half-born thoughts to be held as a temporary collective. Diego is a choreographer, performer and philosopher. He recently became a PhD candidate at the Interdisciplinary Humanities program of Concordia University. His current research focus in the exploration of sense perception that is inseparable from non-sensuous perception (a Whiteheadean concept that gives account of the anticipating concerns of perception beyond the actual senses and beyond metric time). He also focuses on the development of a dramaturgy of affective signs (a concept developed through Deleuze, Guattari and Massumi's theories on the signs and the events of change). 

Jacqueline van de Geer will perform a Dada-inspired expressionistic performance. After completing a Bachelor in Visual Arts and another one in Performance Arts in the Netherlands, she moved to Montreal, where she works and lives. She has performed in Canada, Europe and the USA. Her practice draws inspiration from universal themes such as heritage, family, democracy, warring and the politics of exclusion. Through her work, Jacqueline demonstrates that history is often closer to our present world than we realize. She researches and reveals those connections between the past and the present that are mostly covered and somewhat hidden. Jacqueline employs a variety of skills: movement, monologue, object manipulation and improvisation. She loves working with absurdity, dark humour and irony. It is important to surprise herself in her process, and to share this exciting feeling of 'the unexpected' with the participants, who witness her work. Creating intimacy, garnering trust and revealing the 'unsettling' are critical to her performance practice.

Saeed Kamjoo will improvise Persian music on his traditional instrument: the kamanche. He is a Persian musician and composer. His approach to playing kamanche is based on his perception of the values inherent in classical Persian music. Saeed's style combines creativity and authenticity with innovation. Although his practice has its roots in Classical Persian music, he allows himself to explore the new.

Mariana Marcassa and Sophia Dacy-Cole will present Chest Pressure Spell. They will perform a spell; an exorcism of sorts; a way to turn pain back towards the movement it came from. Mariana and Sophia met at Montreal's SenseLab, where Mariana is pursuing a post doctorate in Fine Arts and Sophia is an artist-in-residence. Mariana has a background in both performance art and clinical psychology. One of the main discussions she is now exploring in her solo career is the role of the voice in the production of language breakdowns, and, starting from these aphasic micro-fissures, the freeing of the 'Suonare la Voce' (as Demetrio Stratos would say) in its sound-potency of expression. Sophia is a performance-oriented sculptor. Her critical writing on the role of fine art in the political sphere forms a parallel practice to her studio work. Her main research and life interest is the affects and techniques of protest movements. Relation is a core value in her approach to everything. The two are united by their interest in the way that the human body stores and transmits affective resonances. And the ways that the body, heavy with affects, constitutes the political. Mariana comes alive in sound and vibration, Sophia in touch and texture. They work at the intersection of sound, sculptural materials, and the always-becoming human body, trying, failing and sometimes succeeding to ask "what can a body do?"

Matthew Ng will present Piece of Accentuated Space, this sculpture is part of a wider project responding to our contemporary age, where many of our experiences are mediated through the digital. It is estimated that in the 21st century, most people spend more time looking at the computer than eating and drinking, reducing the output of our physical energy to the action of scrolling social media and youtube sites. This shows that the way we structure our lives has become shaped by our interaction with technology. Often the elements that are working behind the scenes to make our digital experiences possible operate at a totally intuitive level. Matt explores these aesthetics of coded language, while engaging with the digital era through intuition and sensation. Matthew Ng is a Canadian artist who is currently residing in Montreal, QC. He has shown across Canada and the States and is a recent graduate from the Concordia MFA in sculpture. He works primarily in video, installation and sculpture. 
Celine Pereira will present Playing the Line, a participatory performance where the audience will be invited to experiment and feel the power and the inside-outside space of anonymity, a becoming-riot-body. Celine is an eventer and an "artivist", a term she uses to describe a social and professional commitment with an ethical and political stance in favour of the proliferation of art in all its forms. She holds two MA degrees, one in Economic and Social Administration from University of Paris I and the other in Communication from the University of Montreal. She has worked with various arts organizations. Since 2013, Celine continues to spread her experience and artivist practice through research-creation projects, event planning, and the welcoming of international artists and students with the Immediations research-creation project at Concordia university's SenseLab. Lately, she's been building a flourishing interest in performance. 

Guest DJ: Andrew Tay, the genereous host of Short and Sweat nights and one of the must talented to create a dancing music vibe in Montreal. 
5 pm to 11 pm
Performance evening