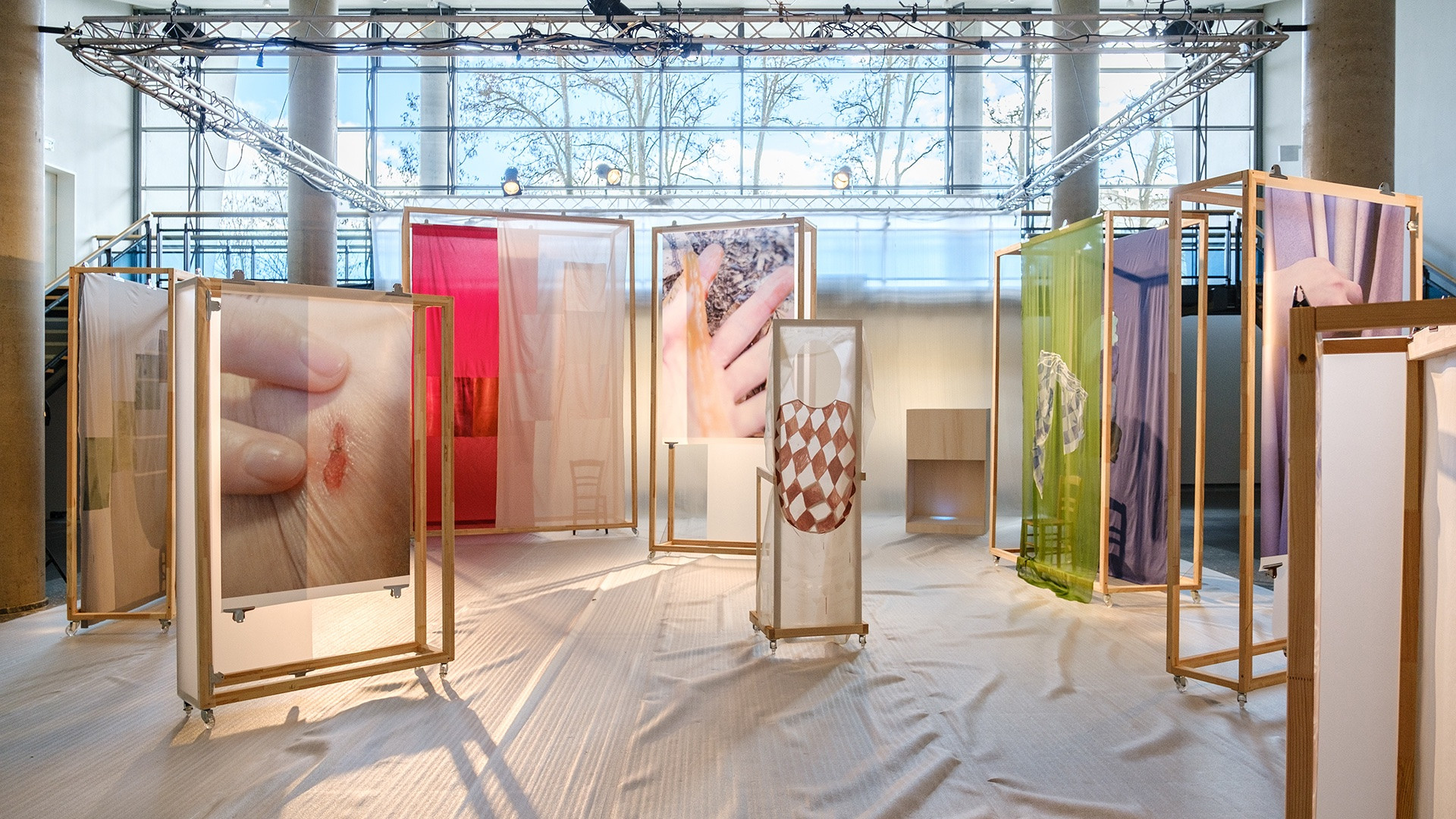 Suzan Noesen
Suzan Noesen's multidisciplinary artistic practice is carried by a performative approach whereby philosophical reflections and social situations of ordinary life are constantly being negotiated. Investigating interdependence and self-concept, her works explore the links between individual and collective perception, ghostly identity, psychosocial heritage and the language of gesture. Moving between "invisible spaces" and "scenic spaces", between high culture and rural contexts, Suzan Noesen investigates the coexistence of moral concepts from different eras, both temporally and physically. Often using media reminiscent of skin or thin film in her paintings, photographs and videos, or assembled in installations, she shifts the viewer between experience and contemplation, while associating the elusive image with a material corporeality.
Towards a Simple Talk in Utopia is a project of artistic experimentation dealing with the attribution of roles between members of a group. Developed during her residency at Fonderie Darling, Noesen's research is centered around the skills required to negotiate the right balance in the distribution of power. Suzan Noesen's investigation is based on a study of the traces of Christian spirituality within modern epistemology, as well as on the promise and failure of modern utopia in collective initiatives. With the intention of discerning narrative paths, the research process develops along "test-works" that take the form of exchanges and performative improvisations that the artist visualizes through video, photographic or pictorial installations. 
Biography
Suzan Noesen is an artist and director from Luxembourg. She studied conceptual art at the Royal Academy of Fine Arts in The Hague (KABK), painting at the Hochschule für Grafik und Buchkunst in Leipzig and mime at the Academie voor Theater en Dans(ATD) in Amsterdam. For two years she lived in the German ecovillage of Sieben Linden, where she studied various methods of communication and collective decision-making. Suzan Noesen was one of the shortlisted artists for the LEAP2020 award. Her work has been exhibited in Luxembourg, Germany, the Netherlands, Russia, Portugal and Brazil. Her studio is currently based in Luxembourg.
Recent exhibitions
2021

Ways of Domestication (with apples), performance in the context of the Water Walls Festival, Esch-sur-Sûre, Luxembourg

Brave New World Order, group show, Casino Luxembourg – Forum d'art contemporain, Luxembourg

Labyrinth der gestischen Tropen, solo show, CAPE-Centre des Arts Pluriels Ettelbrück, Luxembourg 

 

2019

Livre d'heures, solo show, BlackBox (Casino Luxembourg – Forum d'art contemporain), Luxembourg

Points-of-view, duo show, Luxembourg City Film Festival, Luxembourg
Origin
Luxembourg, Netherlands