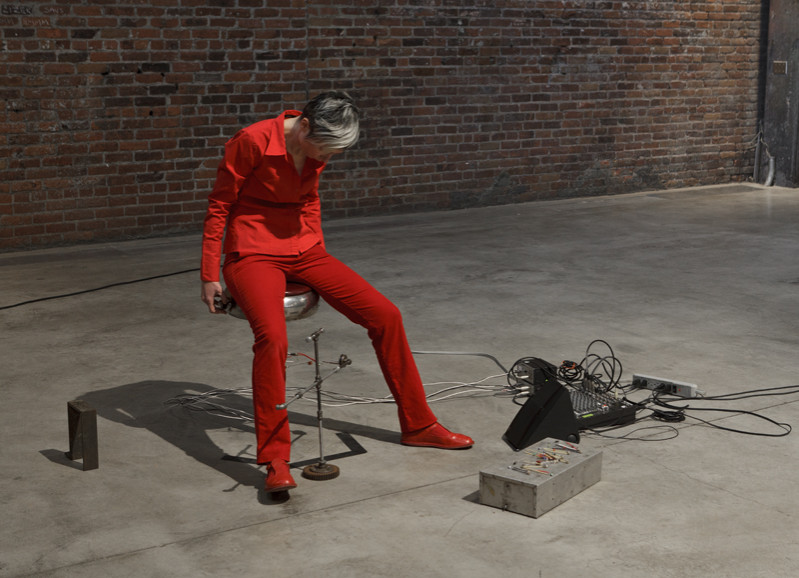 I am at the heart of a system conceived to slow down time.
A performer sits on a single legged stool in the midst of a gallery. She is summoned to each moment; a single lapse in focus means the risk of falling. Two large speakers surround the performer. The technological installation surpasses her. Each slight balancing movement of the stool provokes a variation of the sonic ambiance.
Sounds for Expire are electronic magnetic fields (EMF) and radio frequencies (RF) present in the space of the installation captured with transducers; similar to the way a microphone captures acoustic sound. Each place where electricity is present is imbued with electromagnetic fields. These sources vary according to time of day and room temperature. By way of subtle body movement, the performer interprets and modifies the sonic spectrum captured. The speakers amplify this presence–invisible but changing–which the performer construes instant-by-instant.
The experience of Expire is one of duration for the performer as well as the visitor. Time is long. For hours at a time, change is virtually absent. Working against the idea of the spectacle, Expire puts forth a revolutionary idea of time. It resists efficiency and speed through its urging for quiet movement and quasi immobility. Like an absurd paradox, Expire challenges contemporary silence evermore shaped and defined by overproduction, mass consumption, and superficial consciousness.
Expire is an installation by Nancy Tobin
In collaboration with:
Nikki Forrest
David Grove
Mél Hogan
Martin Tétreault
Robert Vincent
The artist thanks for their generous support: le Conseil des Arts de des Lettres du Québec, The Canadian Art Council, Ælab, Archinodes, minibloc, APL sonorisation, KGE Électroniques, Le Centre Clark, Karen Trask, Claude Cyr, Mario Gauthier, Charlotte Farcet, Manu Cognée, inquiet.net.
Expire is part of a series called Le Son a des Jambes curated by Eric Mattson.
Nancy Tobin
Nancy Tobin is an audio artist based in the St-Henri neighbourhood of Montreal. Her sound designs for dance and theatre productions have been part of the Festival TransAmériques, the World Stage Festival, the Festival d'Avignon and the Edinburgh International Festival. Tobin has, in her twenty years of experience, developed a specialization in vocal amplification for theater and is known for her distinct style using unusual loudspeakers to transform the aural qualities of her compositions.
More about
Montreal, Canada