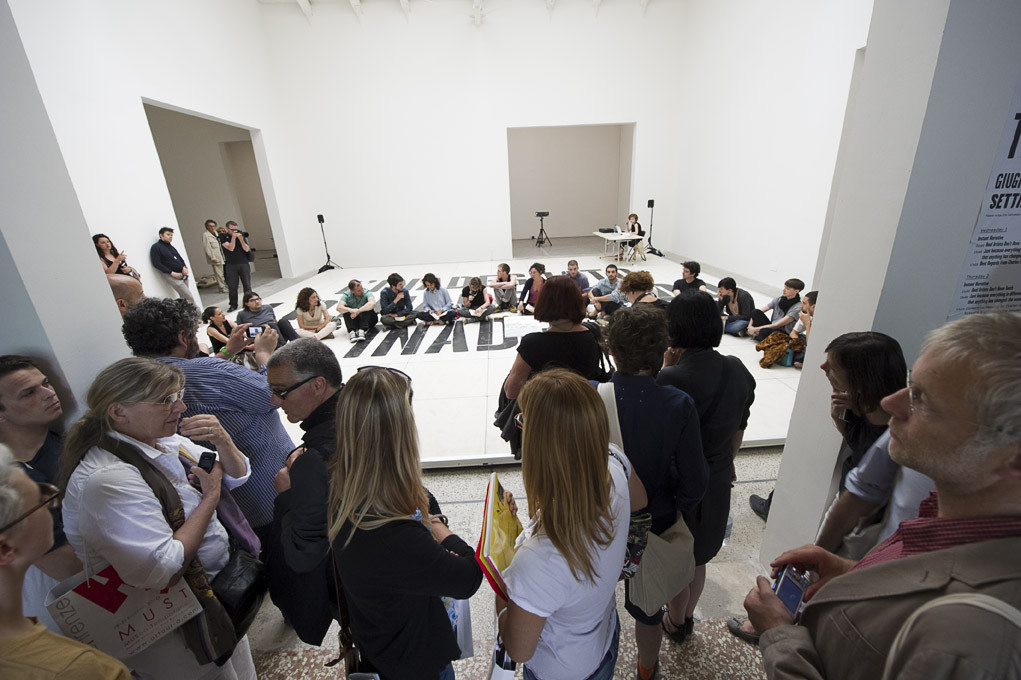 Dora Garcia
Contrary to the idea that would have art addressing the greatest possible number of people, Dora García (born in 1965 in Valladolid, lives and works in Barcelona), best known for her performance devices, is interested in what is enacted at the individual scale: in a radically conceptual form, at once accessible and elegant, she elects to transmit oddly coded messages, their ask being to bestir a specific relation with each and every visitor. Dora García is interested in everything that intervenes in the communication between an artist and his/her public: art no longer represents the world, but itself becomes a producer of realities often on the borderline of fiction and make-believe. It urges us to undergo experiences other than ordinary situations, at once simple and hard to grasp.
Since 2009, Dora García has been carrying out the Mad Marginal project, major stages of which were shown at the recent Documenta XII in Kassel and at the 54th Venice Biennale in 2012, where the artist was featured at the Spanish Pavilion. Her work examines the wellsprings of artistic experience, altering the traditional relationships between artist, work, and viewer, as well as those of the individual, whose daily behaviour she questions through performance, film, and discussion.
Dora García has had solo exhibitions at the MACBA in Barcelona, the Reina Sofia in Madrid and the SMAK in Gent. She represented Spain at the Venice Biennale in 2011, and was a part of the Skulptur Projekte Münster 07, the Sydney Biennial in 2009, the Biennale de Lyon in 2009 and Documenta 13 in 2012.
source : Les Presses du Réel

Biography
Dora Garcia is an internationally recognized artist. She has represented Spain at the last Venice Biennale in 2011 and was present again in 2012 with a work produced through Price Prince Pierre of Monaco, who was awarded the same year. She was also named co -director of Les Laboratoires d'Aubervilliers in Paris in 2013, and provides a parallel position of professor at the Ecole Nationale Superieure des Beaux - Arts in Lyon.
She was one of the great figures exposing dOCUMENTA 13 in 2012 KLAU MICH: Radicalism in Society Meets Experiment on TV. Her work is largely performative and deals with issues related to community and individuality in contemporary society, exploring the political potential of marginal positions, paying homage to the eccentric characters, anti-heroes. For several years, she leads a project called The Mad Marginal, in which she investigates figures from the literary history (Bertold Brecht and James Joyce), psychoanalysis and other fields in the humanities.
Recent exhibitions
2012

Die Klau Mich Show: radicalism in society meets experiment on TV, dOCUMENTA (13), Kassel, Allemagne

commissaire : Carolyn Christov- Bakargiev

The Beggar's Things, Galerie Michel Rein, Paris, France

2011

Power to the People: Contemporary Conceptualism and the Object in Art. The Australian Centre for Contemporary Art (ACCA), Southbank, Victoria , Autralia

The Inadequate, 54th Venice Biennale, Spanish Pavilion, Italy. Curator: Katya García-Anton

Real Artists don't have Teeth (RijksakademieLIVE #1), Rijksakademie, Amsterdam, Netherlands

Dora Garcia, Aubette 1928, Strasbourg, France