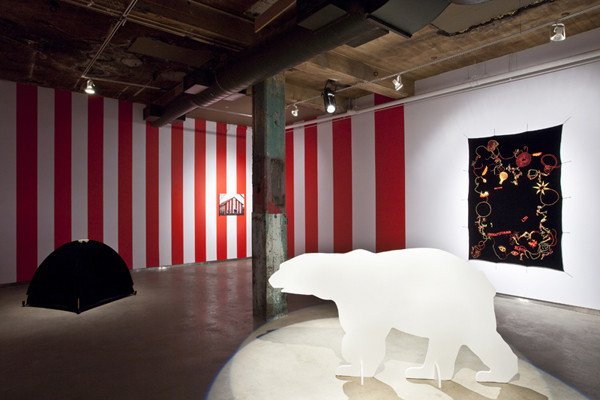 The Icelandic Love Corporation (ILC) is a group of three artists: Sigrún Hrólfsdóttir (1973), Jóní Jónsdóttir (1972) and Eirún Sigurdardóttir (1971), formed in Reykjavik (Iceland) in 1996.

In this exhibition the ILC presents mostly new works, created during their stay at the Darling Foundry: sculptures, photographs, needlepoint and an animated film, along with their video The Tent Lady's Hospitality (2007).
A majority of ILC's work is rooted in the traditions of their ancestors as well as the spirit of the moment. Mixing the old with the new fuels their work. Craftsmanship, playfulness, humour, sincerity and love for life play an important role in their conduct. This collection of works represents an abstract vision and understanding of the idea of hospitality.

The ILC is interested in the patterns of society, its traditions and systems, and at the same time in how seemingly random incidents become a puzzle in a bigger picture. In their collaboration they have strived towards maintaining certain artistic randomness and following a kind of gut feeling, weaving new thoughts and inspirations into their family tree. The works of The Icelandic Love Corporation are interconnected in many ways and their body of work can be seen as just that, a family tree, where new branches grow continuously but stay connected to the root.
During their stay at the Darling Foundry the ILC have been in the role of the visitor but have also acted as the inviting hosts of new ideas and influences, opening their hearts to the unexpected.
The Darling Foundry and The Icelandic Love Corporation thank the Embassy of Iceland for supporting this event.
The Icelandic Love Corporation
The ILC graduated from the Icelandic College of Arts and Crafts in 1996. Since then they have lived and studied in New York, Berlin and Copenhagen and are currently based in Reykjavik. The ILC has presented over 200 performances and exhibitions worldwide, mostly in Europe and the US.