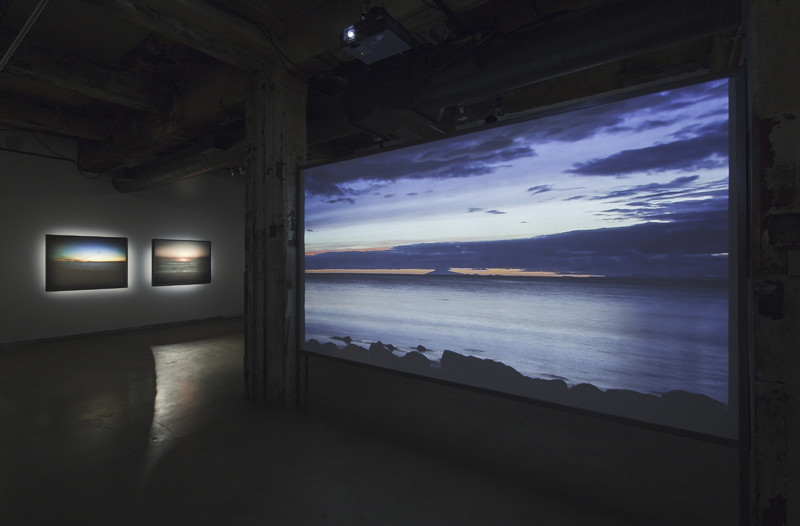 Central to the Les concordances du temps exhibit is a large-scale, video installation conceived as an exploration of the relationship between the practices of two contemporary artists: photographer Josée Pedneault and multidisciplinary artist Molly O'Dwyer. Having independently filmed the Snæfellsnes volcano on the same night – from opposite sides of Reykyavik – the artists decided to combine their films and project them one over the other, thus creating a temporal exploration of the space as the sunlight gradually changes. This piece, created while the artists were in residence together in Iceland in August 2011, presents contrasting views that mesh into a coherent amalgam of their respective aesthetics. The exhibition will also include individual works from both artists; shown for the first time together, they reveal the poetic quality inherent in the artists' work.
Molly O'dwyer
Molly O'Dwyer is an interdisciplinary visual artist from Dublin. She holds a research M.F.A. from the National College of Art & Design in Dublin and a B.A. in Fine Art from the Dublin Institute of Technology.
Josée Pedneault
Josée Pedneault lives and works in Montréal where in 2005 she completed a Masters in photography at Concordia University. Pedneault has also participated in residency programmes in Varsovie, Paris, Hong Kong, Scandinavia and Mexico.
More about
Dublin, Ireland

Montréal, Canada