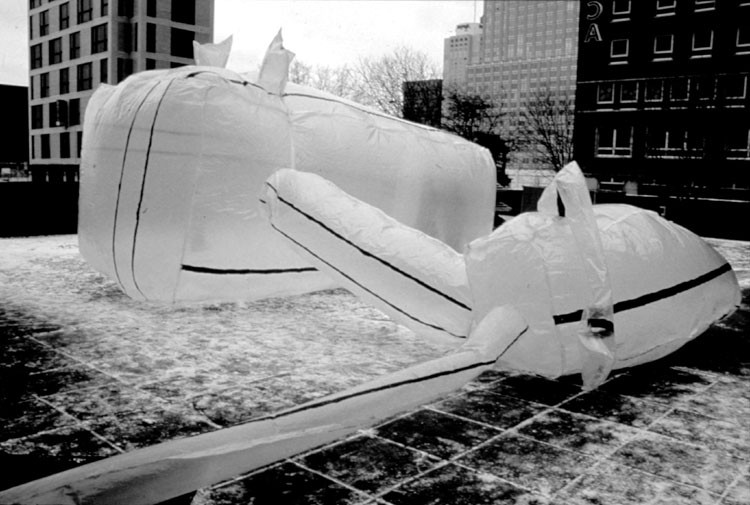 Suzanne Dery and Anthony Burnham started to collaborate in 1993. Both multimedia artists were then students at Concordia University in Montreal. Since 1995, the Flators create inflatable sculptures together while pursuing their solo careers.  
Both artists grew up in the suburbs of Montreal. They share a similar aesthetic and visual background. Their first piece, Inflatable #1 (1995), was made from tools and various materials found in their family's garages: some transparent plastic paper, wire, industrial tape, a sewing machine and a leaf blower. Since then, they refined the materials they use but they remain a staple of the Flators' inflatable sculptures.
Dery and Burnham shared a Vieux-Montréal studio for a few years. There, they got to know more about urban water systems such as canals and locks. In those places, they noticed that water is perceived as an element to be shaped, monitored and represented within a sanitized environment in order to use it, show it, admire it and maintain it. Following those observations, their work took a new turn. 
Inflatable #10 was a monumental piece built specifically for Quartier Ephémère during Fall 1998. It consisted in a two-parts installation. The main hall featured a giant still wave that seemed to move inwards. Outside, still waterfalls sprung from Burnham's second-floor studio and streamed down to the sidewalk. The structure of Inflatable #10 was made of transparent plastic and swimming pool liners reminding of water. That artificial construction that imitated nature forced one to question one's own relation to the elements. 
Near the very urban although obsolete Lachine canal, Dery and Burnham created a new transfiguration of water as a living element, interrogating the way it is perceived in the suburbs. 
Along with the previous works at Quartier Ephémère and near the Lachine canal, Inflatable #6 demonstrated the importance of water to the Flators. This project was a sculpture suspended above an empty swimming pool. In their perspective, water is like a commodified piece of art, a decorative element that leads the viewer to question the role of the artist as creator and the role of the spectator as consumer of art and represented objects.
The Flators
"The Flators," created an inflatable sculpture from plastic and blue swimming pool materials. Installed just meters away from the Lachine Canal, its presence suggested a wave unfurling in the exhibition room. Another of their sculptures overflowed from Anthony Burnham's 2nd floor studio windows, like a waterfall.
More about
Montréal, Canada