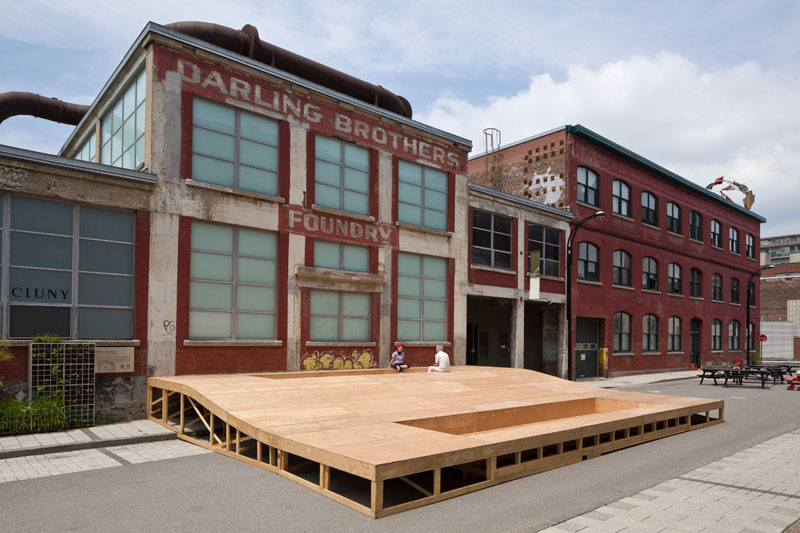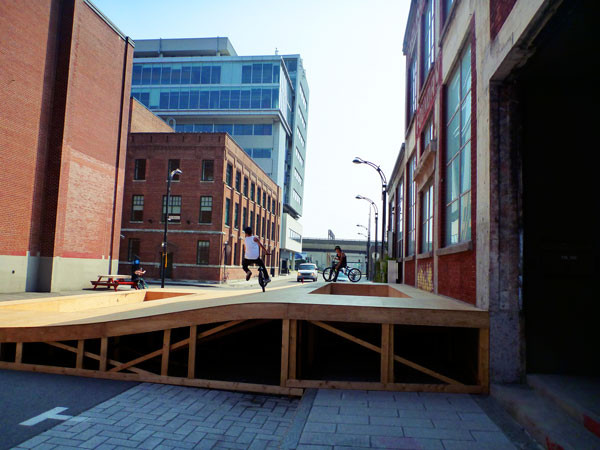 Plate-form, a sculpture by Alexander David on the Darling Foundry's public square, fits somewhere between furniture and architecture. Plate-form deals with man's mobility, the interactivity he generates, even as it affords the pleasure of experiencing a raw mass, a wooden monolith open to urban life. A "formless" sculpture, malleable, open to new design, a kind of urban kit using plane geometry, Plate-form belongs to "an experiment in rhythm rather than in a desire to find an ideal form", according to the artist. It invites visitors to appropriate "this place that takes shape from the use of an object." Plate-form can be used as a public bench, a trekking ground, a skateboard rink: "I seek instead to introduce a rhythm into experience, a rhythm made possible by shapes that at times relate the possibility of a familiar and recognizable use to a less definable visual experience, at other times combine a clear visual experience with an indeterminate use".
Made by quasi-industrial means, Plate-form is a work whose craftsmanship and artistic content are minimal; it could be likened to minimalist geometric sculptures insofar as it attempts to reduce to a strict minimum the relationships within a work and to make the sensation concrete and immediate. The relational component invites us to physically experience the work as a locus of raw emotion, as though "going along a wall, turning a corner or moving around a square". Plate-form holds manifold interrelational experiences that will "trigger a mental image", as pure sensation.
Alexandre David
Alexandre David lives and works in Montreal. His work has been shown in various museums and galleries in Canada, the United Kingdom, the Netherlands, Austria and France. He has exhibited his work in solo exhibitions at Optica and Dare-Dare in Montreal and La Chambre Blanche in Quebec City in 2007 and, in 2009, at Ace Art inc in Winnipeg and Grunt in Vancouver. In 2011, his work was shown in solo exhibitons at YYZ in Toronto, Espace Tilt in Lausanne, as well as Plein Sud in Montreal. He had a solo exhibition at the Parisian Laundry in Montreal in 2011 .