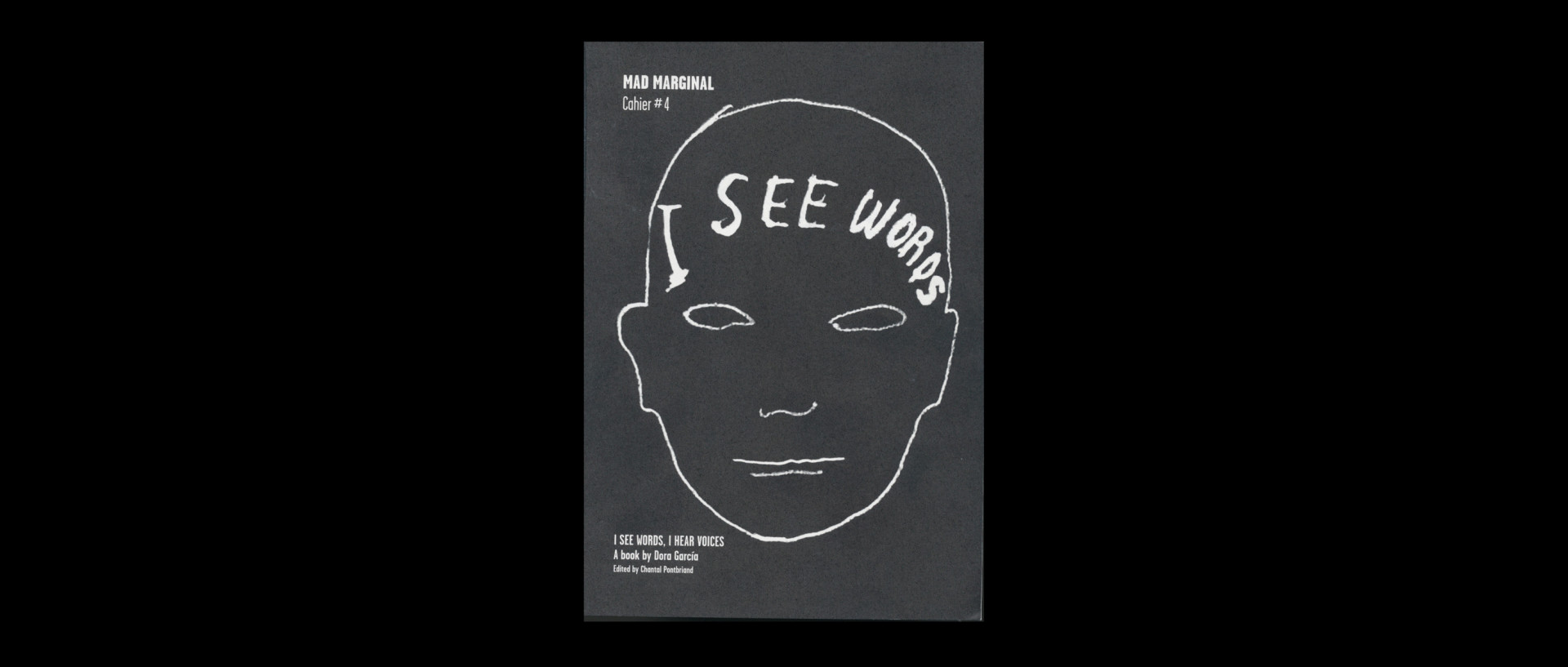 Presentation of Dora Garcia's Book
Presentation of Dora Garcia's book, Mad Marginal Cahier #4,  I See Words, I Hear Voices
The book will be launched at the Westmount Library on Wednesday, September 16, on the occasion of a group reading of James Joyce's Finnegans Wake organized by Bloomsday, a Montreal organization devoted to Joyce's works. The event is inspired by García's film The Joycean Society, which features a reading by the Zurich society. An excerpt of the film will be screened.
Mad Marginal Cahier # 4: I See Words, I Hear Voices, edited by Chantal Pontbriand, brings together essays by international authors who comment on different aspects of García's research. She explores "minor" literature, "exploded" language, and the unconscious, specifically through the figures of James Joyce and Robert Walser, as well as the notion of exile within art practices. More recently, she has become interested in people who hear voices and have extra-sensory perceptions. The Mad Marginal Charts mark her progress through a cycle of exhibitions mounted in 2014 and 2015, of which the first took place at the Fonderie Darling (Autour des crimes et des rêves/Of Crimes and Dreams) in 2014, followed by exhibitions in Amsterdam, Hamburg, Madrid, Moss, and Buenos Aires. The final one, which bears the same title as the book, will open at The Power Plant on September 25. Pontbriand is curator of the exhibitions in Montreal and Toronto.
Authors: Caroline Andrieux, David Dorenbaum, Dora García, Christa-Maria Lerm Hayes, Maria. C. Havstam, Britta Peters, Lisa Ohlraun, Chantal Pontbriand, Kjetil Røed, Margit Säde, Caroline Von Taysen, David Tomas.
Mad Marginal Cahier # 4: I See Words, I Hear Voices, a Book by Dora García
Essays in English and French
21 x 15 cm, 400 pages
46 pages of images, 31 b/w and 16 col.
1,000 copies
ISBN 978-3-956791-57-4
Distribution: Sternberg Press (DAP in North America)
Price: $35  (€25)
Co-published by:
Oslo Academy of Fine Art/ Oslo National Academy of the Arts, Fonderie Darling, Punkt Ø, The Power Plant, Sternberg Press
EVENT
Westmount Library
4574 Rue Sherbrooke O, Westmount, QC H3Z 1G1
Wednesday, September 16, 7:00 p.m.
For more information:
http://fonderiedarling.org/exposition-dora-garcia.html
www.bloomsdaymontreal.com/

More about
Valladolid, Spain