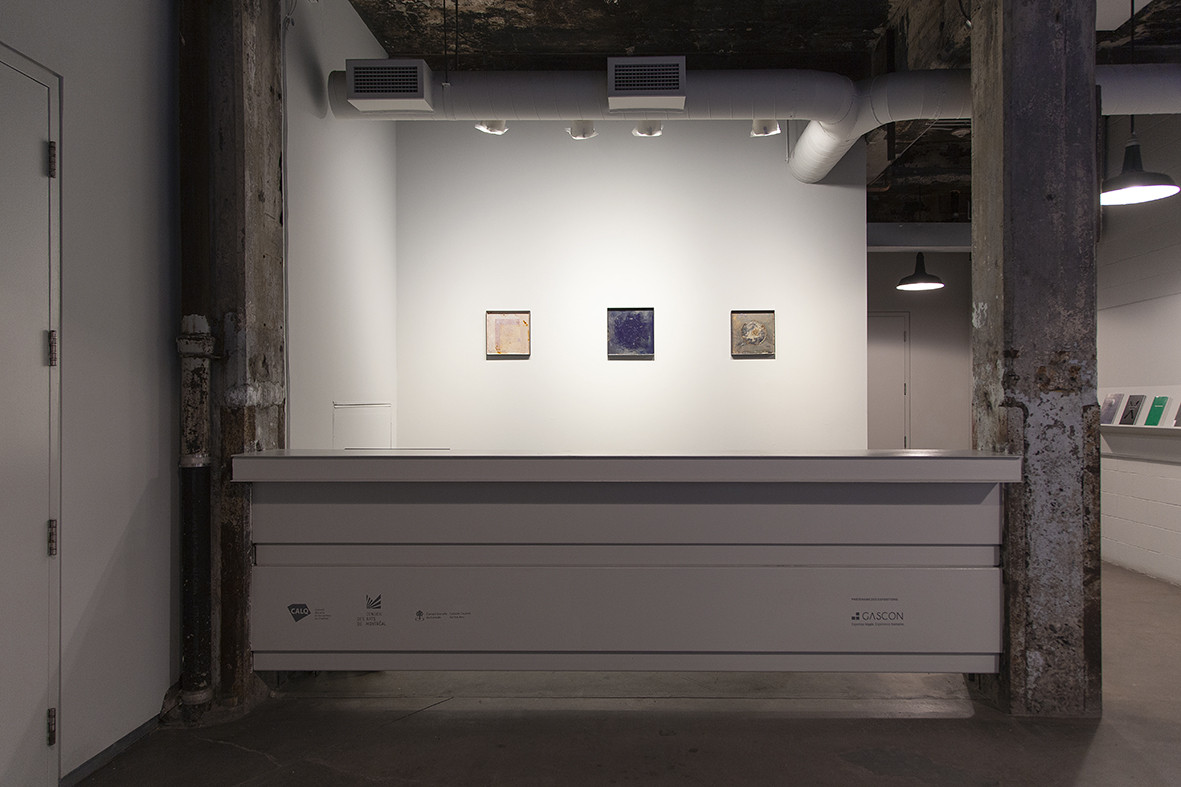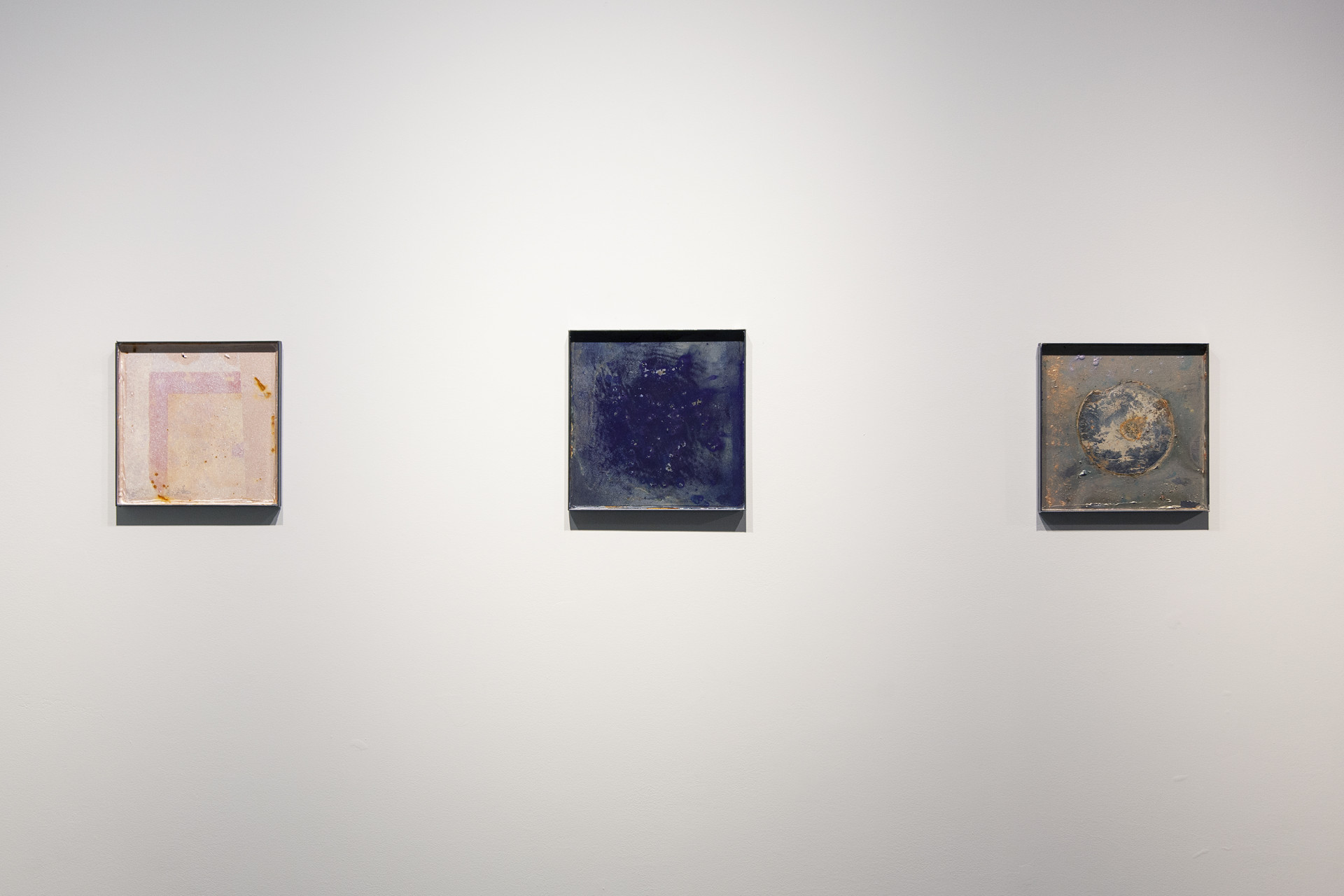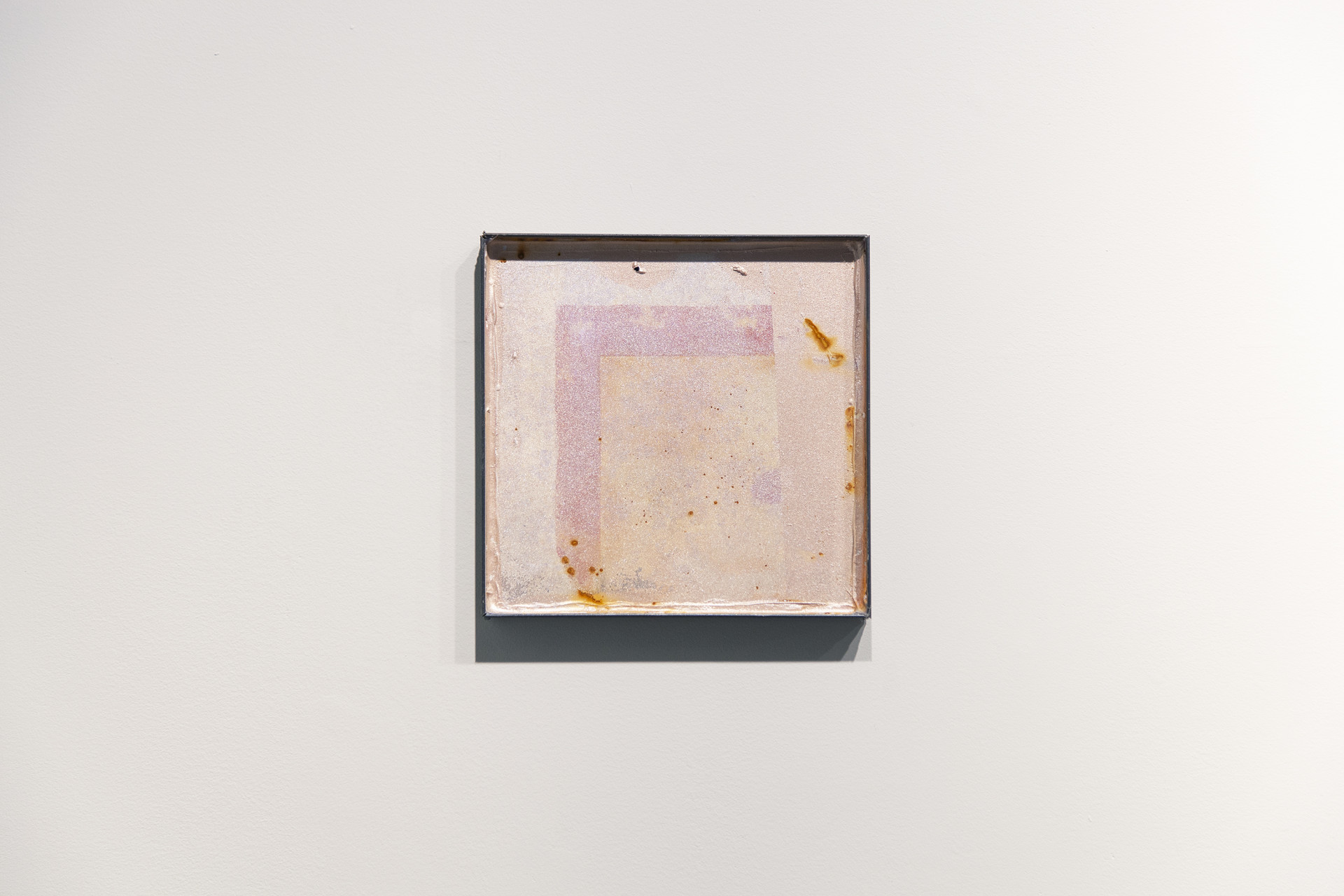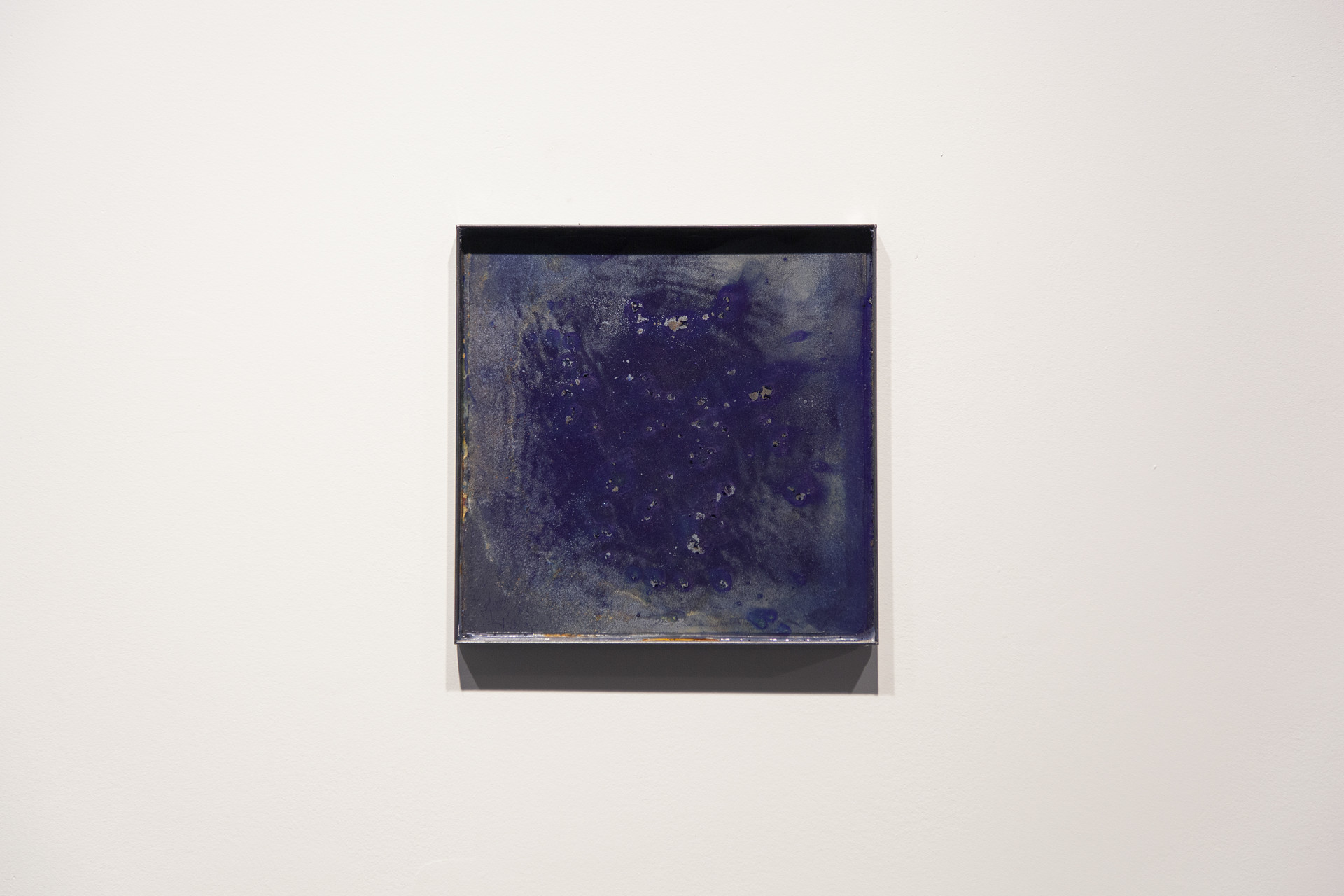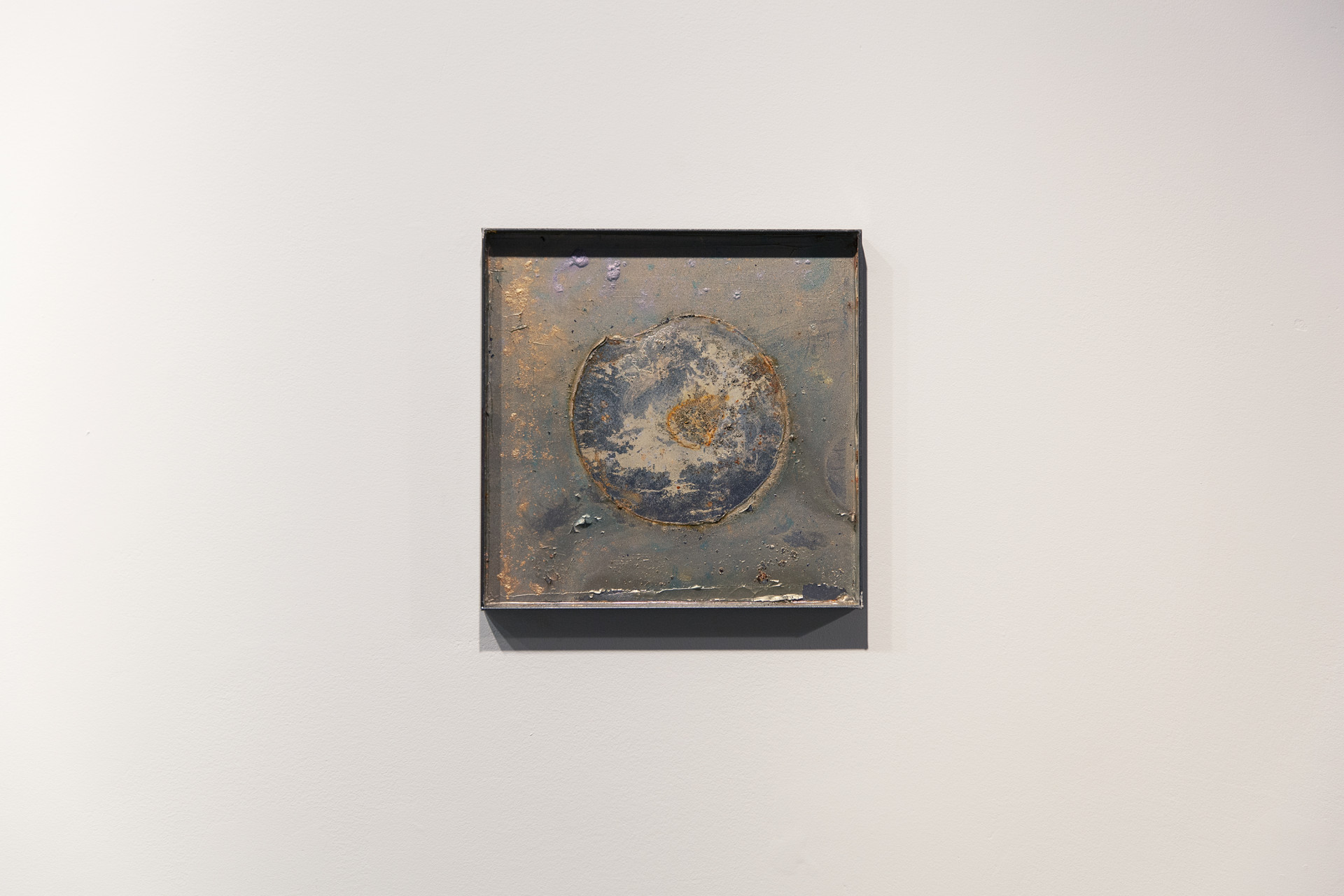 With each successive exhibition, the wall behind the reception desk has become a privileged place to offer visibility to the artists in residence at Fonderie Darling. In situ proposals, recent works or research in progress; the projects exhibited are an entry point to an artistic practice, an invitation to meet the work of the artists who occupy the building, this place of life and experimentation. This time, the space is occupied by Sandra Volny, artist winner of the Montreal Studios 2019-2022 residency program. 
Situated at the intersection of the acoustic and the visual, Sandra Volny's practice explores sound perception as a vector of individual and collective imagination. In pursuit of a sustained interest in what she calls "surviving aural spaces''1, she presents three behind-the-counter objects that are part of an ongoing research on the transformation of matter by exposure to sound. For the artist, space is composed of sound waves, fluid particles in motion that vibrate at different densities and through different temporalities. By listening carefully to her space, Volny attempts to capture its sensitive variations and to make visible the textures and colours that form what she describes as sound residues. The latter are those remains suspended in the tenuousness of spaces, in background noise or an echo. The three objects presented act as screens, which once entered in contact with sound, render the wave and the vibratory friction of sound visible. Usually intangible, or invisible to the naked eye, the physical presence of the audible is thus revealed in strata of colour. This a priori approach to the study of sound curiously recalls a pictorial experience, such as that of the painter's canvas. Each frame thus exemplifies different stages of Volny's research and creation process within the studio. 
---
[1] Sandra Volny (2017). Survival of sound spaces. Auditory awareness and practices of body-sonar space [PhD thesis], Université Paris 1 Panthéon-Sorbonne.
 This installation s made possible thanks to the generous support of the Canada Council for the Arts.
Sandra Volny
Sandra Volny is an artist and researcher. Her work develops through explorations of sound, moving image, photography, sculpture, text, and takes shape in installations, instruments and videos. She received her PhD in Arts and Sciences of Art from the University of Paris 1 Panthéon Sorbonne exploring the concept of "surviving aural spaces" in its material, sensory and social constellations. Her most recent work explores sonic soils as witnesses to climate change from a non-anthropocentric perspective, realized in collaboration with researchers in biology and environmental sciences. Volny has exhibited her work in Canada and Europe, including at the Dazibao Centre, FOFA Gallery, the Clark Centre Audio Station, the Centre d'Exposition de l'Université de Montréal, the Fonderie Darling's Place Publique, Michel Journiac Gallery, the Ionion Center for the Arts and Culture, and Raumlabor 267- Braunschweig. Volny is the founder of the artistic research platform Sound and Space Research.