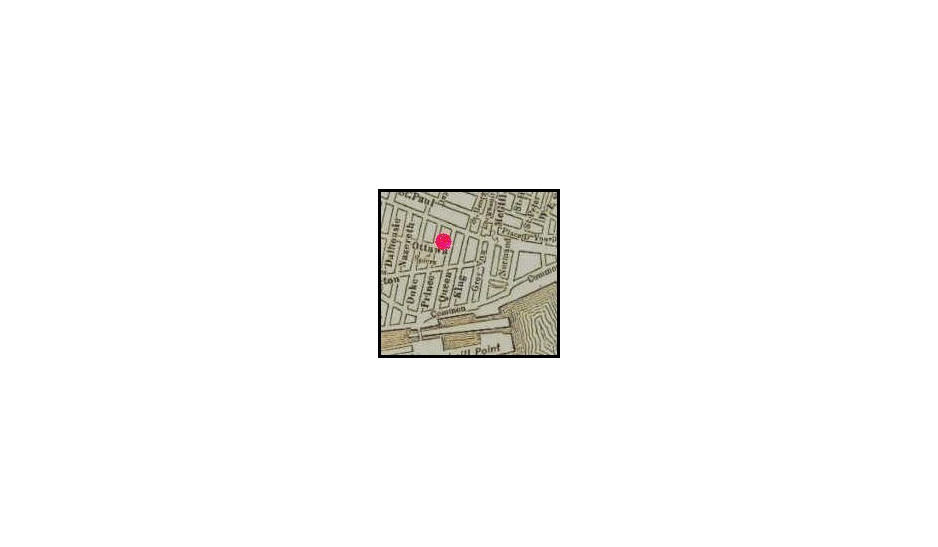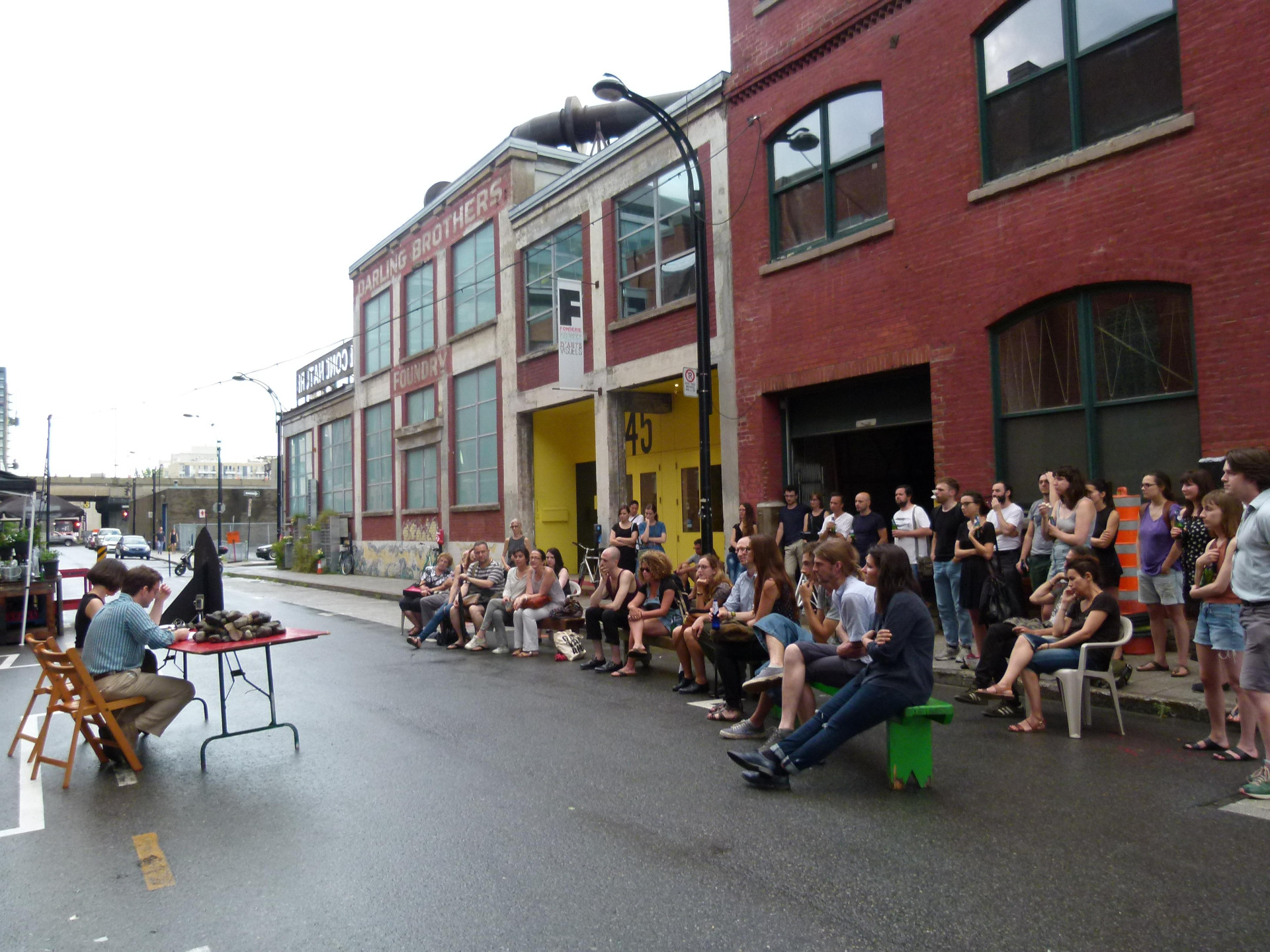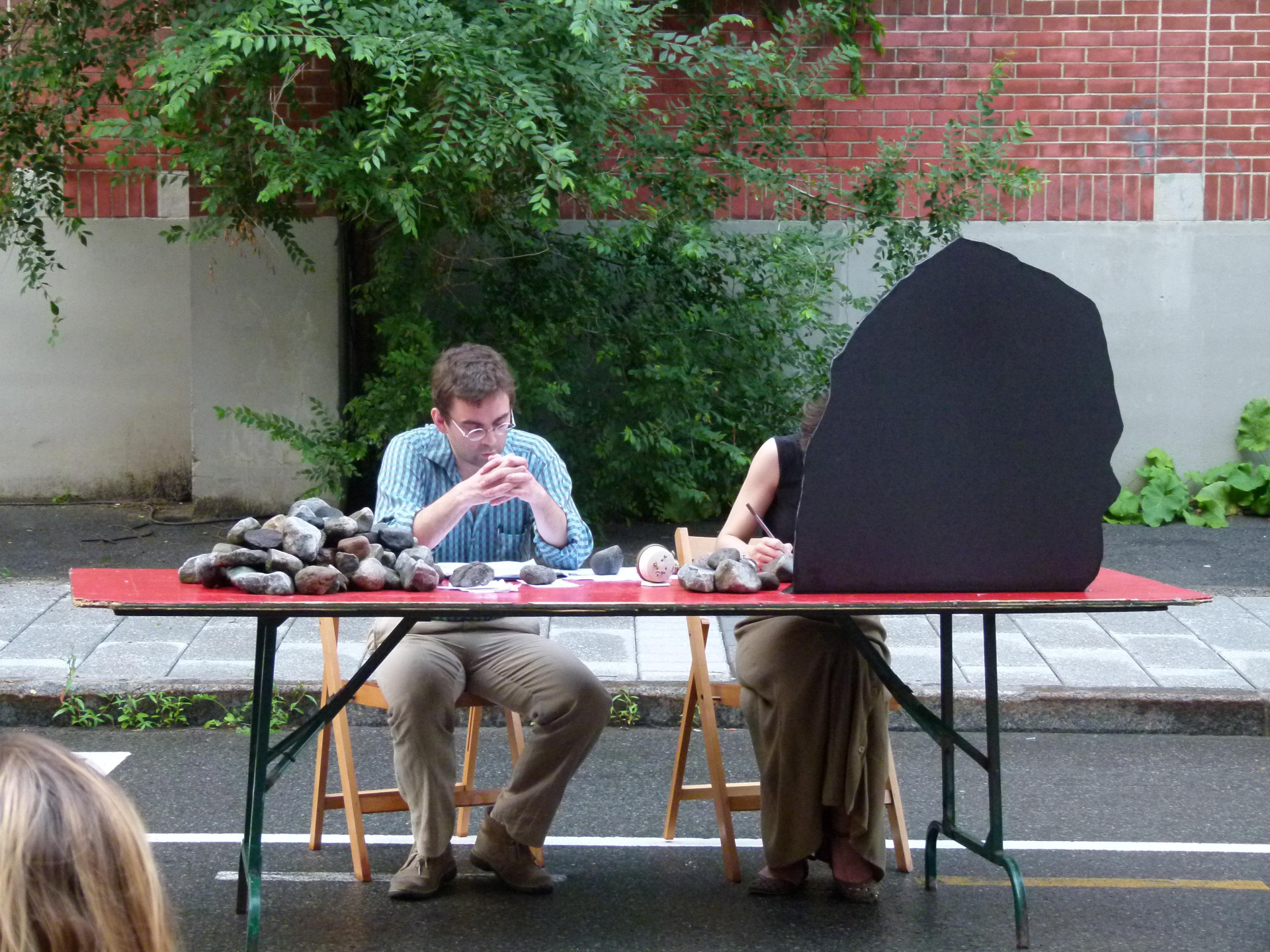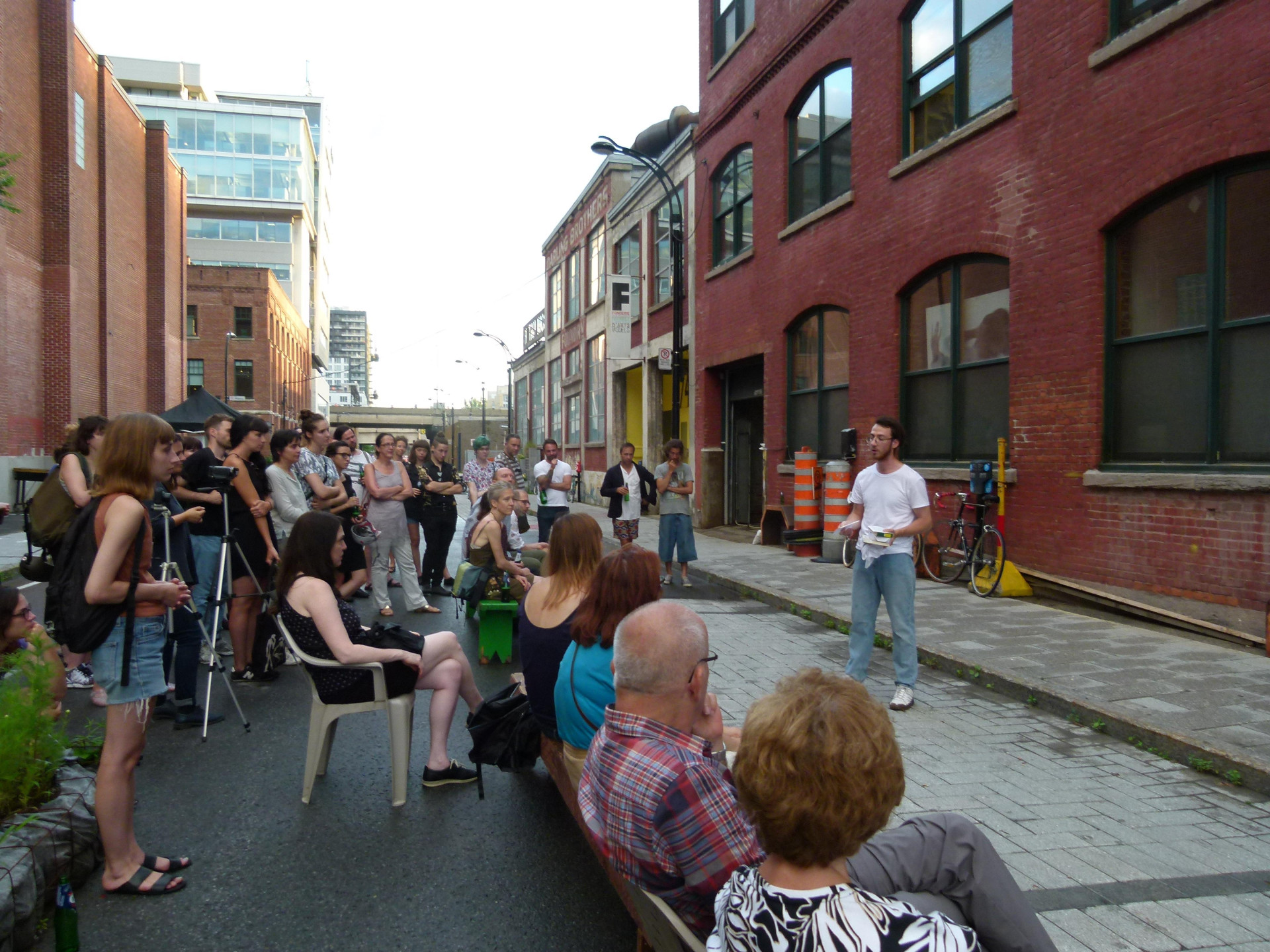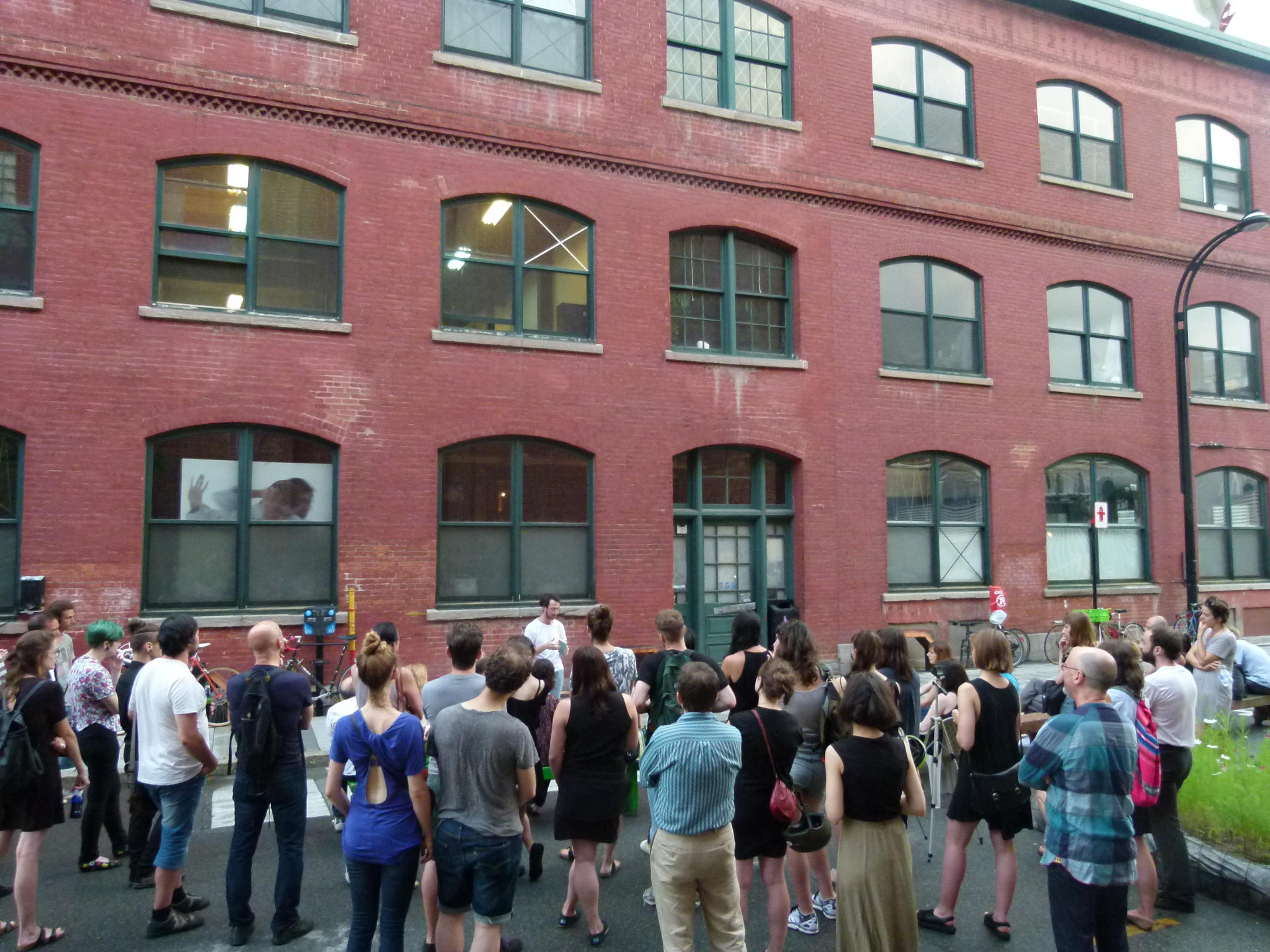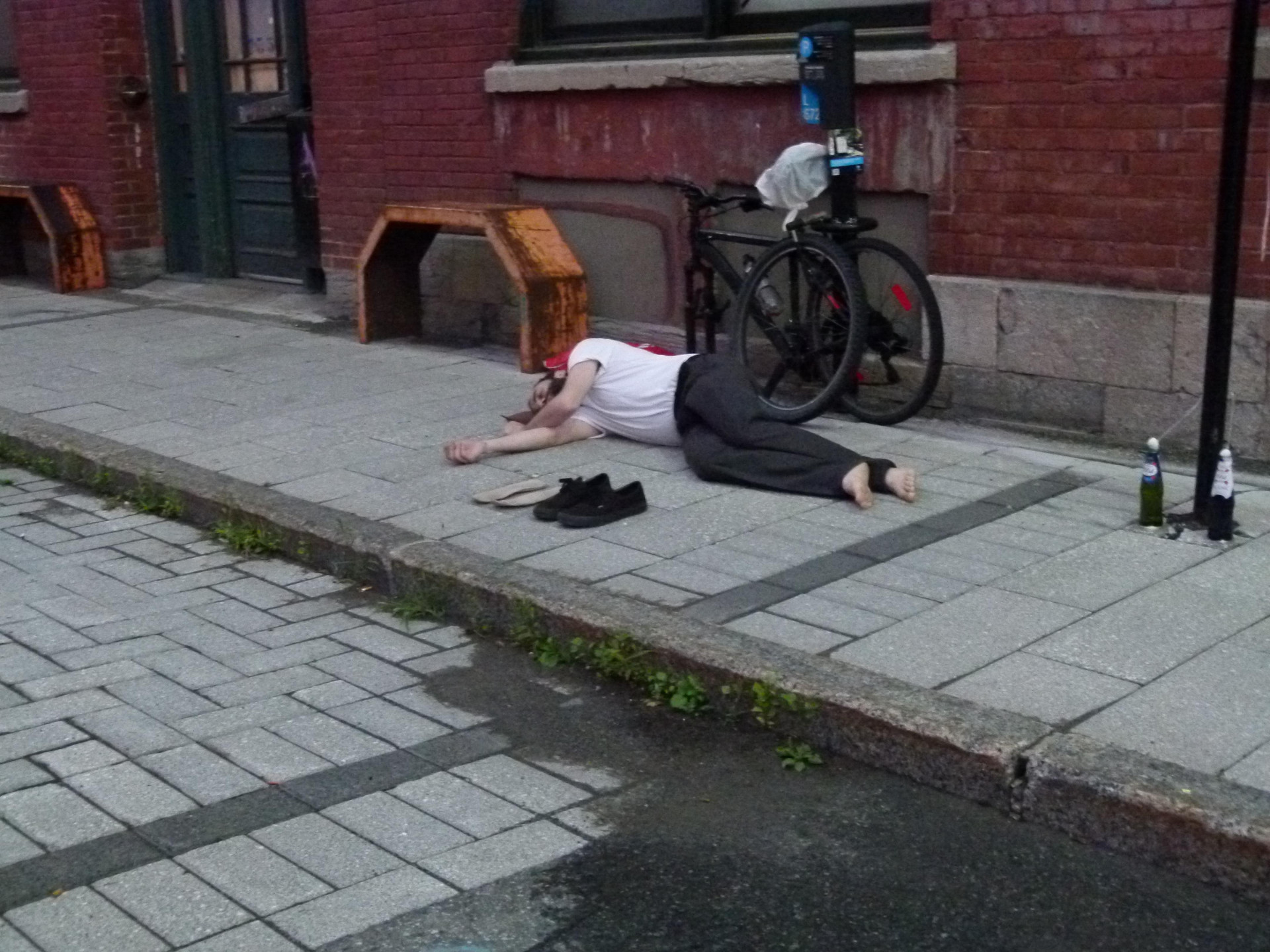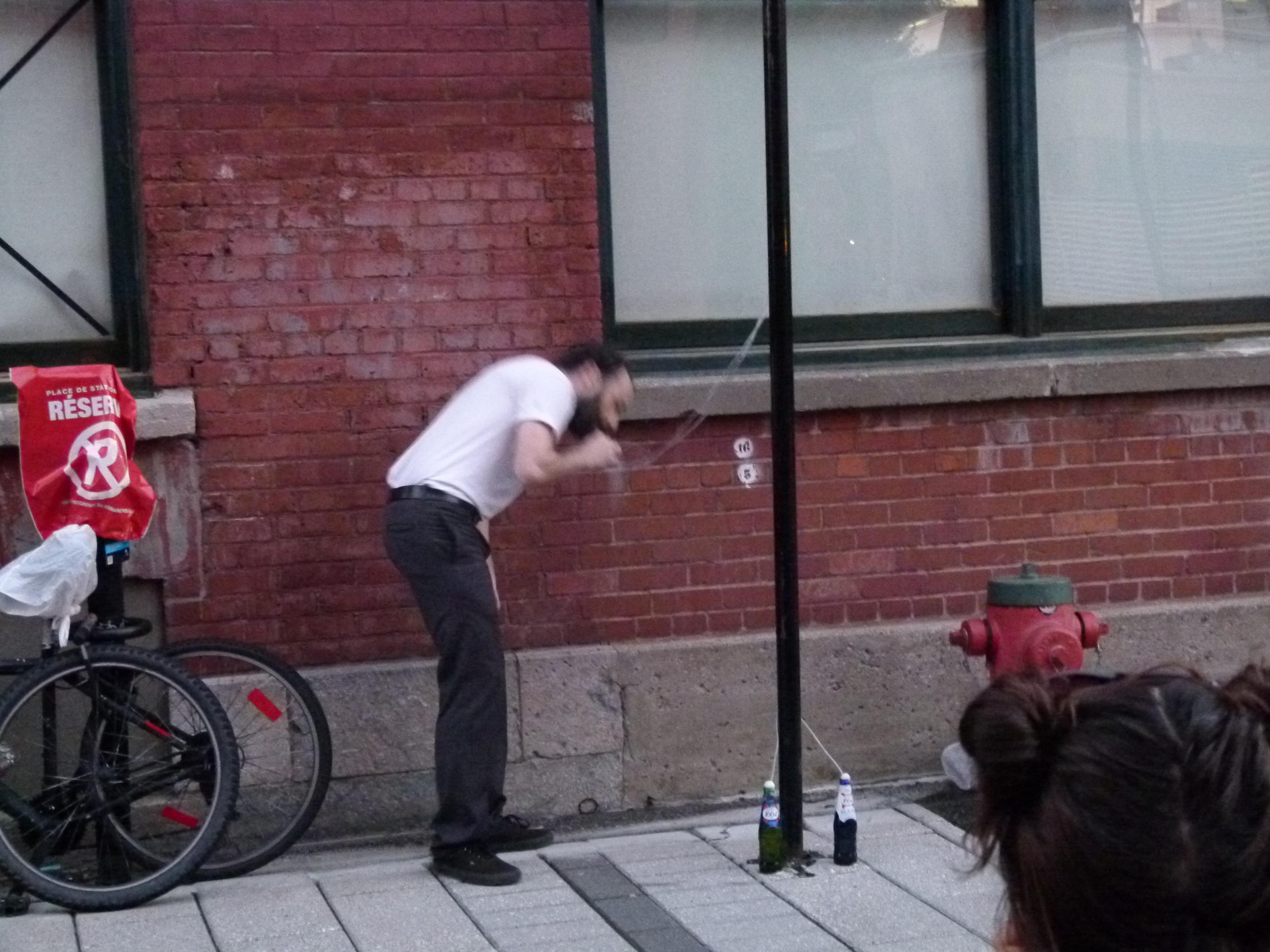 Performance Ceptuel, Textuel et Férentiel
Program Thursday, July 30
AN EVENING CURATED BY JEAN-PHILIPPE LUCKHURST-CARTIER - 
7PM
This evening of performances will introduce practices that revolve around the expression of an environment embodied by humans. 
Maude S. Pilon and Simon Brown (Montérégie), Christophe Barbeau (Quebec) and Hugo Nadeau (Chaudière- Appalaches / Montreal) 
will propose a series of 
alternative actions inspired by spoken word, text and gesture. Their
 actions are informed by specific contexts, which they help to reveal. Each in their own way, their approach is both fun and serious, sacred and profane, imbued with history, simple objects and philosophical structures based on the intimate being and its public presence. 
It is a propitious time to present social and micropolitical experimentation based on conceptual, contextual and "conférentielles" 
expressions
. We must, together, expose our environments. Environments incarnated by humans. Environments both sacred and secular. Physical agoras which disappear. We must disclose the collective and intimate thoughts.
Biographies
Maude S. Pilon et Simon Brown
Individual practices of Maude S. Pilon and Simon Brown intersect here in performative mode. While different, the two approaches have as main concern the complex relationship between speech and text, between memory and history.
Christophe Barbeau
He lives and works in Quebec City where he has just completed a degree in visual arts at Laval University. Its projects focus on the exhibition as form and subject, by integrating notions of curating in his artistic practice. Still in a collaborative vision of art, he presented The Die Has Been Cast (2014, Villa Arson, in collaboration with Eric Mangion involving Ryan Gander), in the small gallery. architecture, archives, Francis Arguin, BGL, Blaise Carrier-Chouinard, Alexandre David, Isabelle Demers, Clement Gaulejac, history, Marc-Antoine K. Phaneuf, Frédérique Laliberté, Josée Landry Sirois, Hugo Nadeau, David Naylor Dominique Petrin, the photocopier (2014, The Eye of Fish, duet with Frédérique Hamelin and in collaboration with a dozen artists) and also in this case (if), the original is a copy; Within a Given structure. (2015, group exhibition project with a dozen artists). Christophe Barbeau also explores the performance space as exhibition space and had the chance to present his work in Quebec City, Montreal, Kingston, Boston, Nice and soon in Rouyn-Noranda in 2016.
Hugo Nadeau
Free actor of visual and digital arts, performance and poetry, Hugo Nadeau presented its projects in Canada, the United States, Brazil, England and China. He has received numerous grants and local prices, provincial and national. His diverse background and his conceptual vision of art led him to found a perpetual series of projects such as H1N1 Conspiracy, Model Citizen Project, the Building H. Nadeau for poetry, the NHS (Hugo Nadeau League) and CACHE (Center for Hidden Hugo Art for Eternity) in order to achieve some media autonomy. He is a native of Saint-Zacharie in Chaudière -Appalaches and lives in Montreal.
Jean-Philippe Luckhurst-Cartier
Multidisciplinary artist, he practices the art-action with a view to mediation and appropriation of historical and daily drifts. The contexts in which he works somehow become the first materials of his art. The environments he explores are revealed through found objects, installation, painting or performative way, they all become personal reflections or micropolitical potential of public and private places that we live in.
His work was presented at the gallery Espace Project at Articule with Nomad Peristyle, the Off- NLDI, the former St. Bridget of Kildare Church; and grocery Metro Dufresne & son Val David Papineau to the offices of the Honourable Mr. Justin PJ Trudeau, it will be in October in Quebec City with a performance by Folie Culture and VIVA ! Art Action Montreal.

7 pm
Performance evening
Place publique