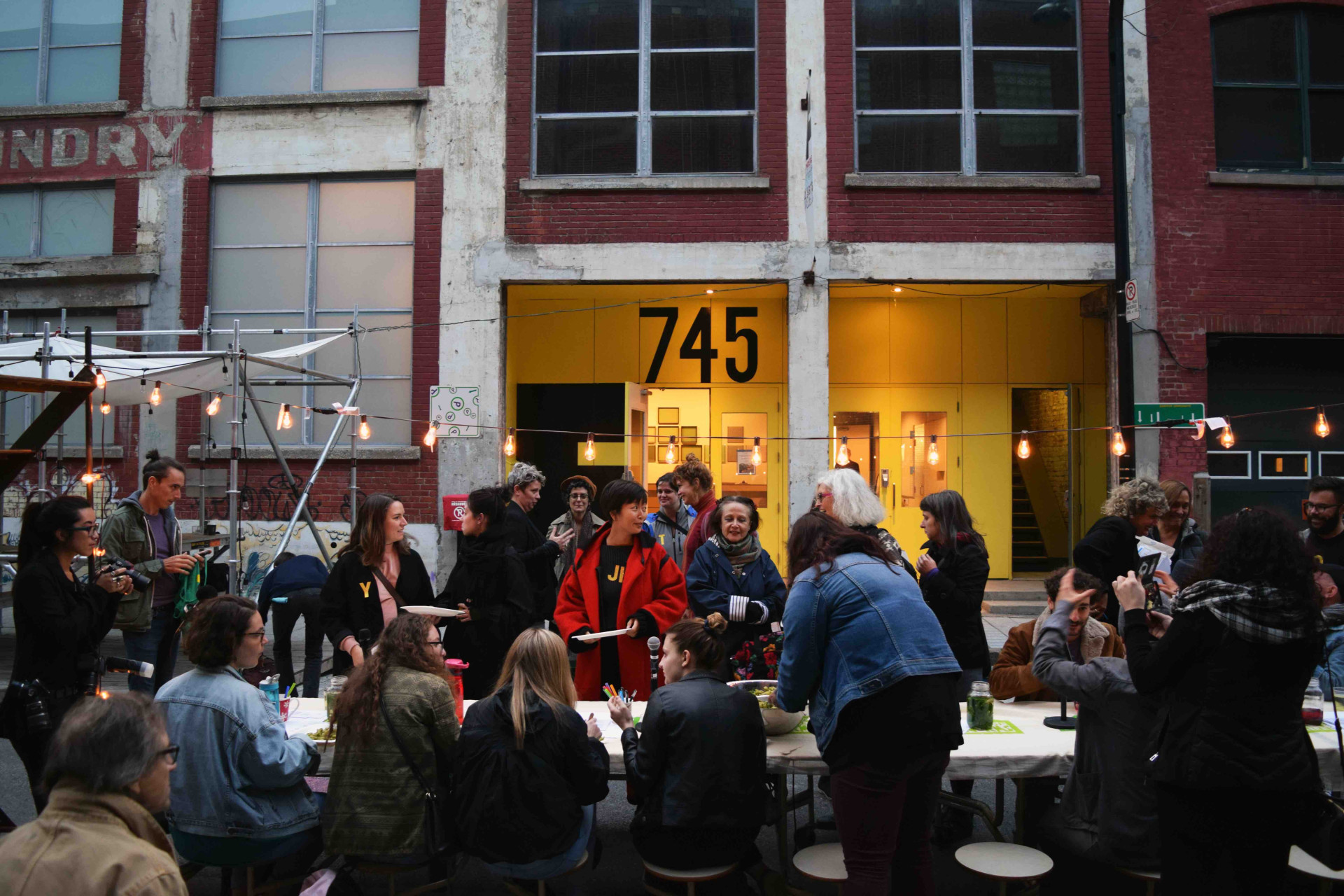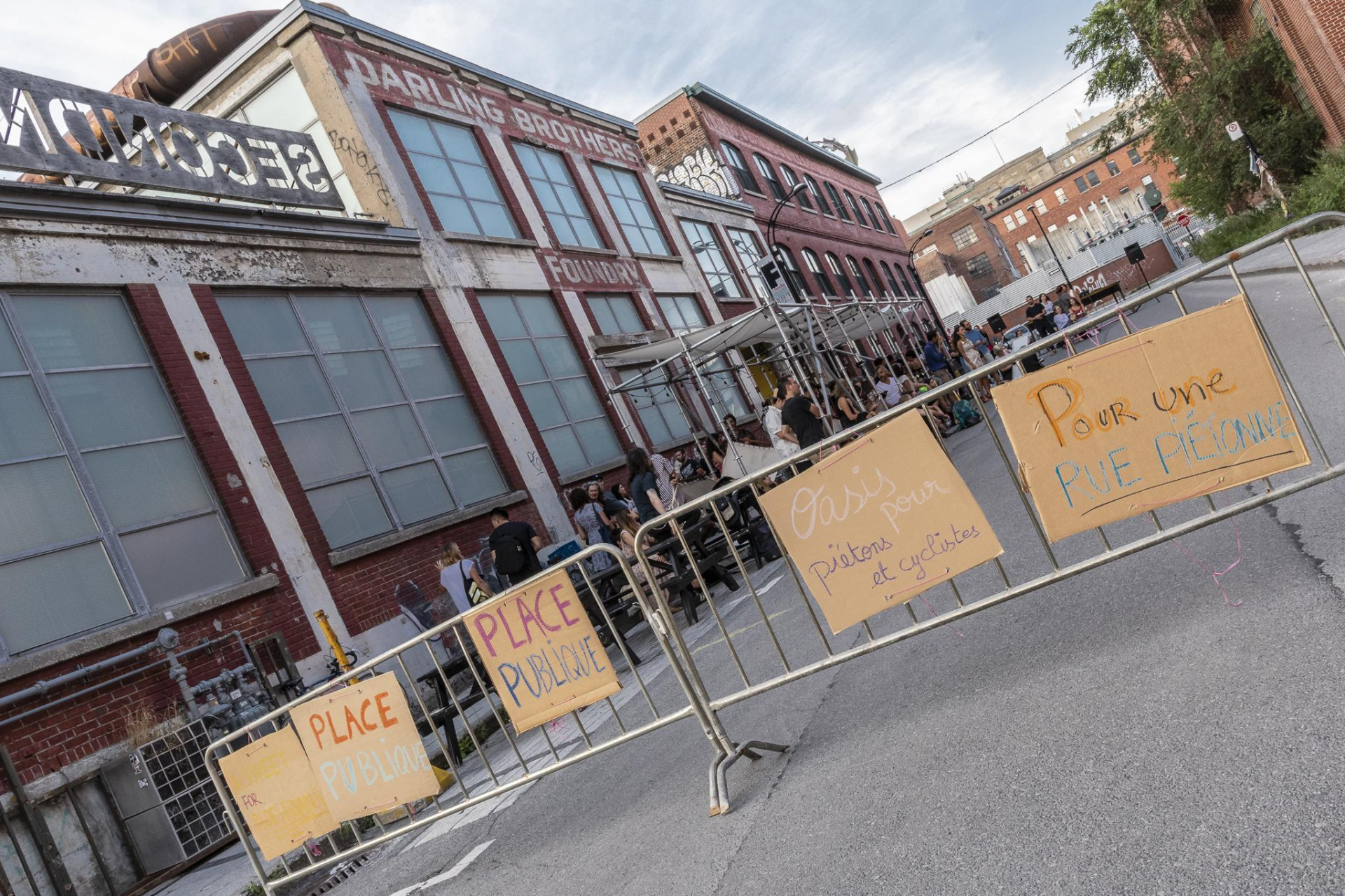 Sit-in for a permanent Place Publique
The Darling Foundry organized, the September 27 of 2018, a peaceful and performative protest to advocate for a permanent Place Publique on the part of Ottawa Street that runs between Queen and Prince Streets. For over ten years, the Darling Foundry has made a concerted effort to create a space for interaction and artistic exploration that benefits the general public. Facing increasing difficulty to obtain the authorization needed to close the street to vehicle traffic, the Darling Foundry organized a sit-in so as to create a forum for the breadth of voices and issues relative to public space and to build the Place Publique of the future together.
On program:
3pm : PPP, intervention by Gilbert Boyer

Gilbert Boyer presents a series of trafic signs hijacked by PPP claims: Place Publique Permanente, Parole Publique Privée, Permis Pas Permis, etc. Protesters are invited to imagine their own slogans based on PPP or by messing up the letters of the alphabet. or Les manifestants sont invités à composer eux-mêmes des slogans PPP ou sur la base d'une mise en désordre des lettres de l'alphabet.
4 pm - 6 pm : A Thousand Years of Place Publique, performance with Nicole Fournier

Nicole Fournier presents a performance based on education and sensory experiences in order to highlight farming and culinary gestures. On the menu: identification of plants, small harvests, tasting, all coming from the biodiversity at work in 
EmballeToi! Landscape
 - in performance on Place Publique for a thousand years. In this itinerary, Fournier will also address the complex powers of the biodiversity of soils and plants, to the benefit of a place's health and bioremediation. 
6pm - 8pm : Banquet des refusés, intervention by Institute for Urban Futures

A site responsive social intervention, Le banquet des refusés invites guests to consider, through dialogue and other gestural forms, under what urban conditions are spaces being imagined as public realms. The event, produced by Concordia University's Institute for Urban Futures, is a response to questions about public space, spatial politics, the role of artists in mobilizing publics and the right to the city. While rehearsing the site's publicness, the event aim's to reflect on how concepts of publics and publicness may not always be a product of the designed built environment. As art historian Rosalyn Deutsche asks: "what does it mean for space to be public – the space of the city, a building, exhibition, institution, or work of art?"[1] This banquet, where foraged urban food will be served, is imagined in direct relationship to the very particular context of the Place Publique initiative, where, for a decade, the Darling Foundry has temporarily occupied a section of Ottawa Street, through the programming of cultural and artistic activities. Throughout time and the rapid gentrification of the Griffintown neighbourhood, claiming this space has come to operate as an act of resistance towards the city's refusal to transform the street into a permanent public space, closed to traffic.
Le banquet des refusés reorients this discourse away from the tropes of resistance and towards a reconceptualization of making publics through performances of spatial agency, and by engaging critically with streets, not just as material conveniences that provide passageways for the transport of people and goods, but as important urban social spaces.
Text and project conceived by: Dr Shauna Janssen
Curatorial and Design Team: Atom Cianfarani, Shauna Janssen, Sylvain Lavoie, Alex Tigchelaar, and Avery Zhao-Djokic

[1] Rosalyn Deutsche, Evictions: Art and patial Politics. Cambridge: MIT Press, 1998.