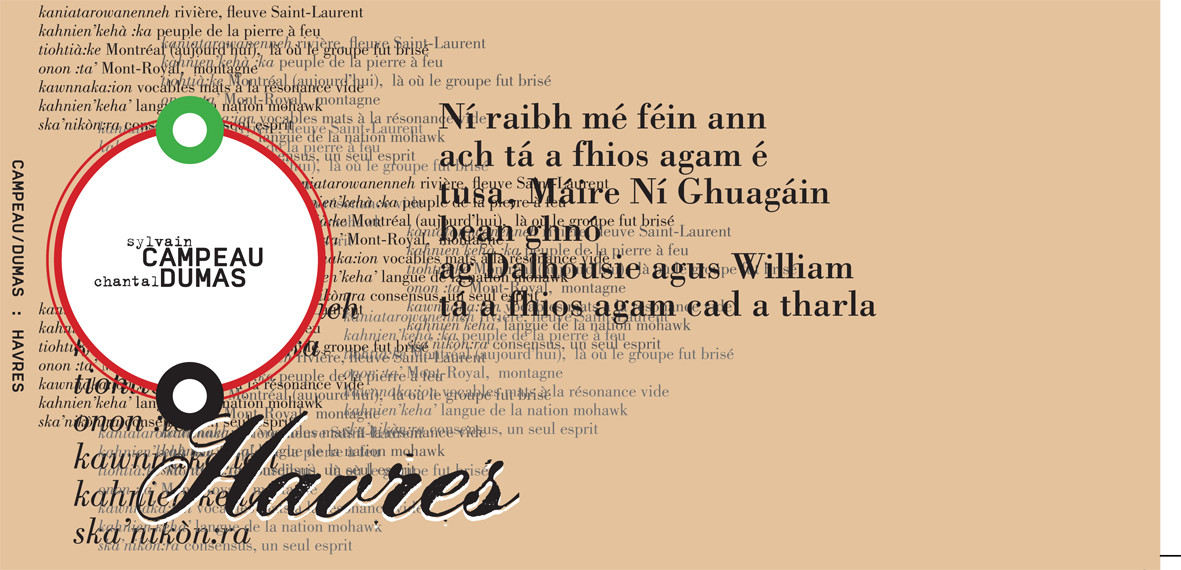 Sylvain Campeau / Chantal Dumas: Havres
Havres is a collaboration between two artists, poet Sylvain Campeau, and sound artist Chantal Dumas.  The artificiality of Montreal's industrial and urban landscape was first and foremost the starting point of their work.
This work explores the Parc de la Cité du Havre, Griffintown, and the Lachine Canal.  Their research is taken directly from history: Beginning when the European explorers arrived and met the Kahnien'kehà:ka (the first inhabitants of this land), up until the revolt in 1843, after the Irish were hired to build the Lachine Canal.
The words you hear in kahnien'keha' and Irish are translated in the CD booklet, to be launched alongside the presentation of their work on September 25. In the beginning, kahnien'keha' existed only as an oral tradition. Its written language is actually a Western construction modelled after the alphabet of the colonialists. Sylvain Campeau
Narration:
José Acquelin: The Arrival
Sylvain Campeau: The Invasion
Catherine Kidd: Mary Gallagher
Trina Stacey: Voice of the Kahnien'keha':ka
Seaghan Mac an tSionnaigh : voix irlandaise



Thanks:
For taking the time to teach us the Irish language: Thank you Seaghan Mac an tSionnaigh, Professor of Irish language, Concordia University
For their assistance with kahnien'keha', the mohawk language of the Kahnawàke people: Thank you Trina Stacey, Kanien'kehá:ka Onkwawén:na Raotitióhkwa Language and Cultural Center 
Mastering: Christian Calon
Production realized in Montreal, Winter 2014
6 pm to 9 pm
Performance evening
Place publique