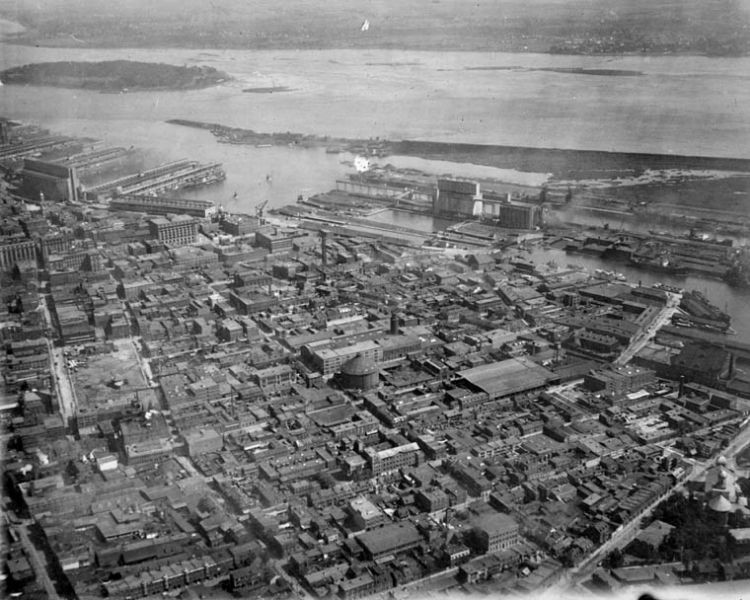 Toolbox
VIDEO INTERVIEWS 
1. STEVEN HIGH: WORKING CLASS HISTORIES
2. SYLVIE DUFRESNE : ENJEUX TOPONYMIQUES
3. EVA-ELEONORA INCZE : HISTORIQUE 101 
4. MARDJANE AMIN : MISE EN VALEUR DU PATRIMOINE INDUSTRIE 
5. LAURIE COTTON PIGEON : LES ARTS SUR LA PLACE PUBLIQUE 
6. LORI BEAVIS: ODAWA STREET
7. JOANNE BURGESS: LE PATRIMOINE DU LIEU
8. SYLVIE DUFRESNE: LA GRANDE PAIX DE MONTRÉAL, 1701
BIBLIOGRAPHIC RESOURCES
1. GUY MONGRAIN, « LE SITE DE LA FONDERIE DARLING. UN SIÈCLE DE MÉTALLURGIE À TRAVERS DES TÉMOINS REMARQUABLES » (2000)  
Dossier historique complet sur les activités de la Fonderie Darling de 1888 à 1991, détaillant les différentes étapes de l'industrialisation de Montréal puis du recul de la production métallurgique dans la métropole. L'étude avance plusieurs éléments en faveur du statut patrimonial exceptionnel des bâtiments de la Fonderie.

2. EVA-ELEONORA INCZE "LA MISE EN VALEUR DE LA FONDERIE DARLING" (2019)
Academic study carried out within the framework of graduate research and registered with the Quebec Association for Industrial Heritage (AQPI). Architectural historian Eva Furdui sheds light on the successive phases of occupation of the Darling Industries buildings and details ways to enhance and preserve the architectural elements that are still visible today.
3. CHRISTIAN ROY "LA RUE OTTAWA, COULOIR CULTUREL ET AXE DU REDÉVELOPPEMENT DE GRIFFINTOWN" (2010)
A member of the Place Publique committee and former administrator  at Fonderie Darling, Christian Roy proposed in 2010 the creation of a cultural corridor in Griffintown and supports this project with a historical contextualization of the area and its creative forces. 
4. CHARLES DUDEMAIN, "TOPONYMIES POLITIQUES. LES LUTTES POUR NOMMER ET RENOMMER" (2018) 
An academic article from the field of political history presenting the specific issues of the toponymic question in Canada. The author examines several controversies related to place names during the 20th and 21st centuries and analyzes the dynamics of the memory struggles that were expressed on these occasions.
5. BRIGITTE TRUDEL, "LES ANGLES MORTS DE LA TOPONYMIE" (2017) 
In a feature devoted to toponymic heritage, journalist Brigitte Trudel looks at the issues and historical omissions in Quebec toponymy and the measures taken today to remedy them. Article from the magazine Continuité dedicated to Quebec's cultural heritage. 
6. DOMINIQUE DUFORD, "GRANDS PRINCIPES DE LA TOPONYMIE MUNICIPALE À LA VILLE DE MONTRÉAL" (2021) 
Presentation outlining the principles guiding toponymic designation at the municipal level, as well as the various specialized organizations and levels of government involved in the toponymic selection process in Montreal.
7. MARTIN LANDRY,  "LA GRANDE PAIX DE MONTRÉAL" (2017) 
Document presenting the central historical elements related to the signature of the Great Peace Treaty of 1701, also containing a reproduction and explanation of the different pictograms of the signatory nations.
8-14. GOUVERNEMENT DU QUÉBEC,  "RESSOURCES TOPONYMIQUES AUTOCHTONES" (1985-2003) 
Six open-access guides present the state of the aboriginal toponymic question in Quebec for the Abenaki, Algonquin, Atikamekw, Cree, Huron-Wendat and Naskapi nations.
CLICK HERE TO ACCESS THE DOCUMENTS