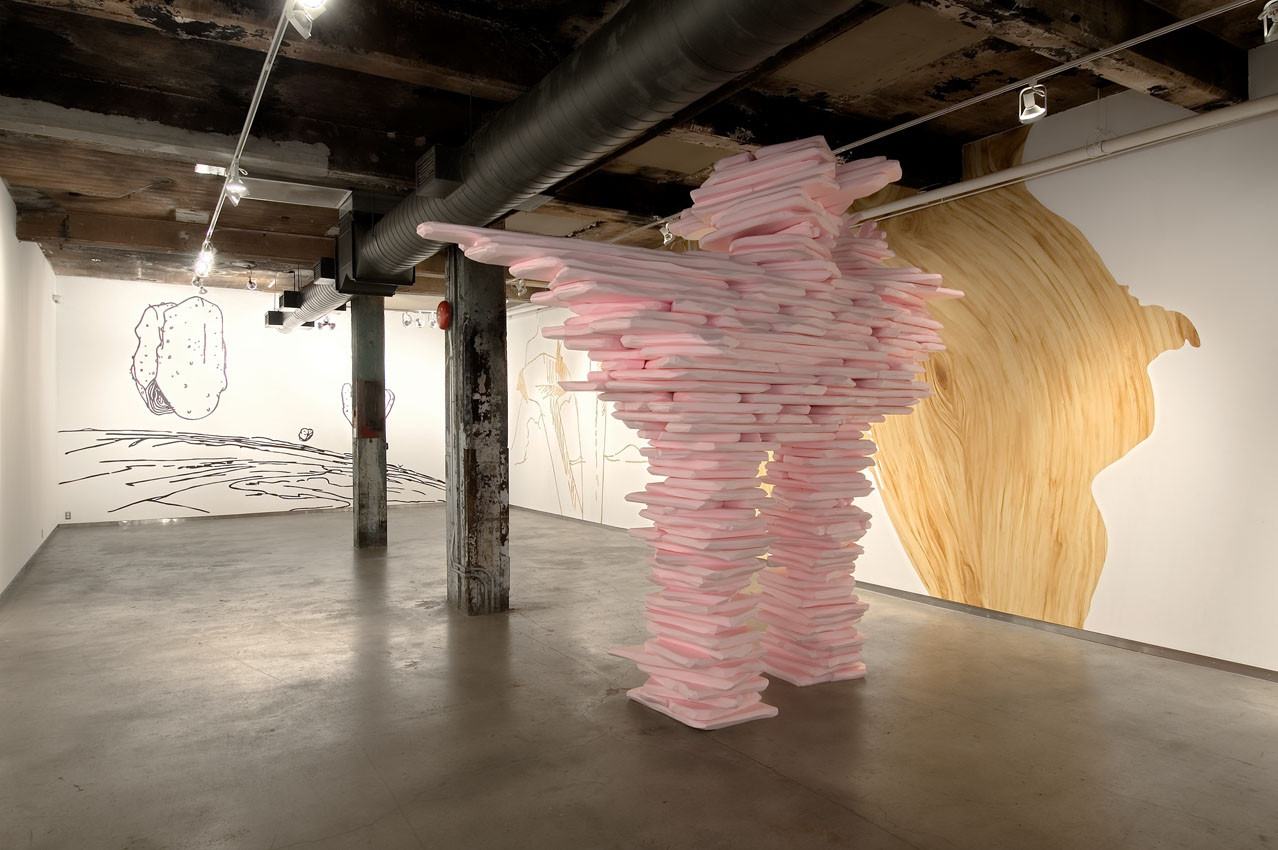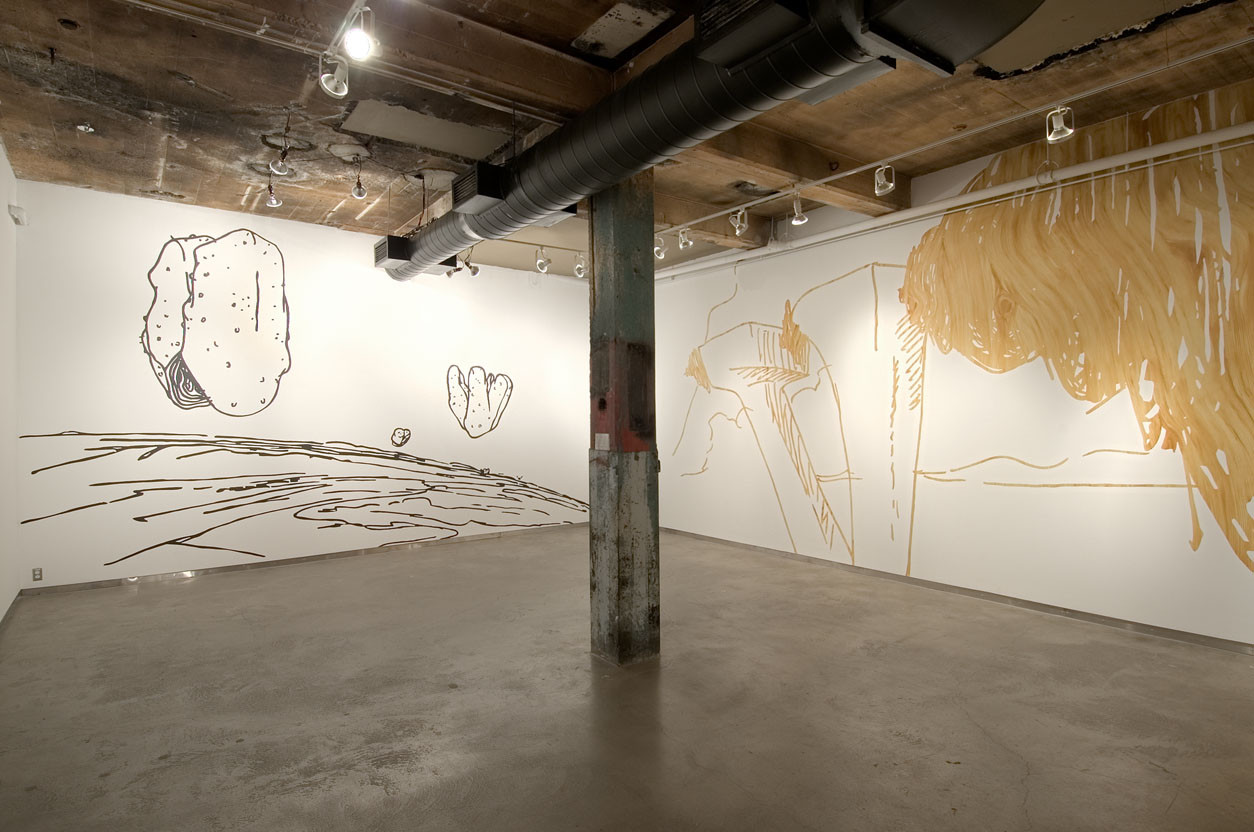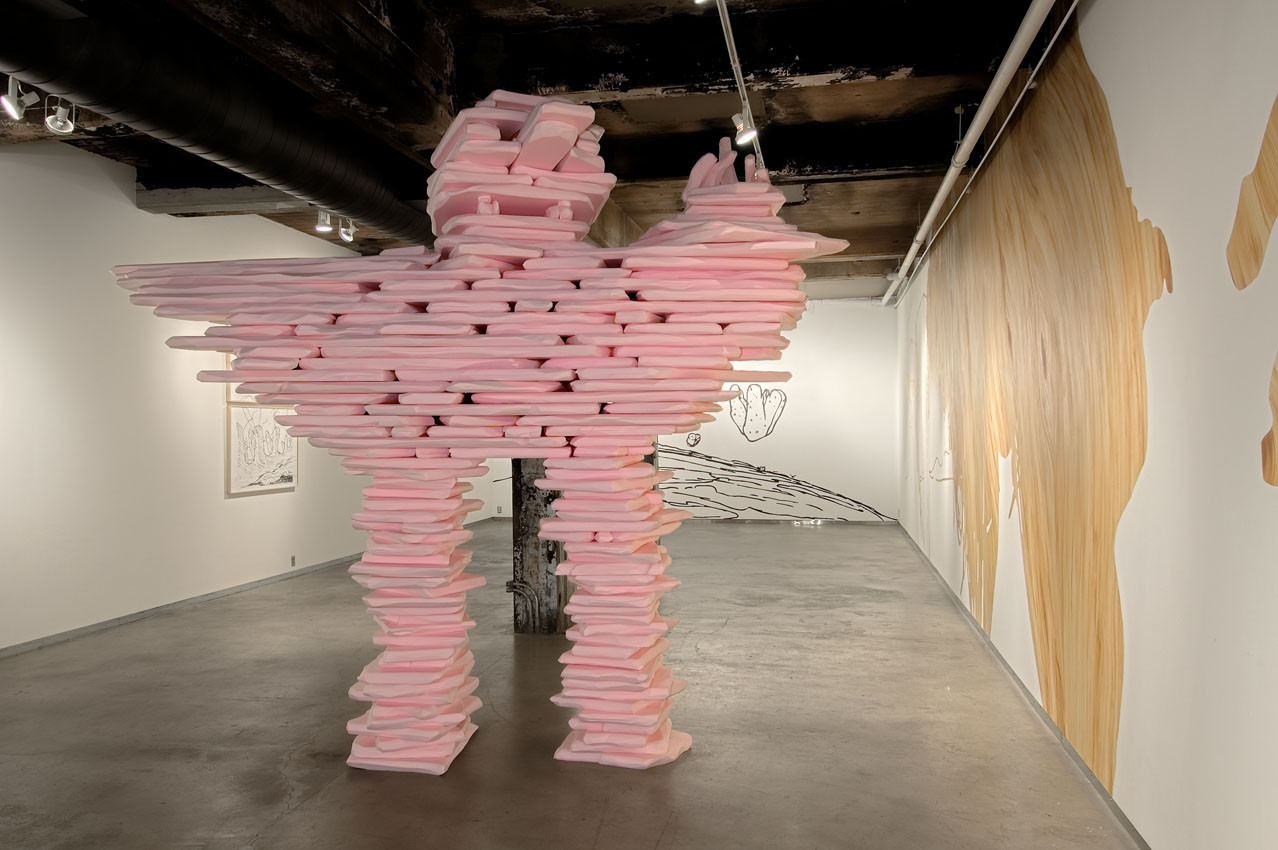 To begin with, there is the exhibition's title, which combines the opposing terms FortMou "fort"(strong) and "mou"(soft), and is intended, as Jerome Ruby explains, to evoke the paradoxical image of a "soft fortress". Such contradictions are also to be found in the style of the drawings, which take their inspiration from such disparate sources as old Wild West iconography and the corporate logos of American multinationals.The original black-and-white drawings, not themselves on display, have been digitized, vectorized and enlarged, after which they can be printed up to allow for a potentially infinite amount of copies. Each step in this procedure serves to distance the viewer from the original artwork, and the artist from his artistic labour, through a detachment and estrangement of the creative act. Forsaking materiality in favour of the image, these printouts sharply distinguish themselves from the mural. Their coldness stands in marked contrast to the warmth of the faux-wood finishing, hand-painted by the artist directly on the gallery wall. This lush mural spreads itself across the surface of the wall, taking on suggestive and mysterious shapes, like shadow puppets whose coded meanings we must patiently unravel. Also painted directly on the wall, though in a different style, an enormous shell, half-organic and half-animal, outlined in black, lies suspended within a landscape. Through these various methods of representation, the artist calls into question our notions of "authenticity": Is a work of art as much the reproduction of an original as it is the real imitation of a fake? More contradictions, this time having to do with the distortion of meaning and proportion, are also apparent in a sculptural work reveling in its own sense of immoderation: An oversized "Inuk Shuk" , merging into one of the gallery's supporting columns. Assembled out of pieces of bright pink construction material cut into the shapes of stones, "Inuk Shuk 1" constitutes an essential landmark within the Fort Mou landscape: Depending on whether one is arriving or leaving, it can be seen as offering up a gesture of welcome or one of insult.
Jérôme Ruby plunges the spectator into an entrancing imaginary world, all the while calling into question, through the diversity of his techniques, our notions of contradiction and excess, of originality and superficiality in artwork.
Caroline Andrieux.
Jerome Ruby
Jérôme Ruby has lived in Montreal ever since arriving there to complete a residency at Quartier Éphémère in 2000. He studied at the Beaux-Arts du Havre school in France, and has displayed his work in such venues as the Fresnoy, studio national des arts contemporains in Tourcoing, France and at the Lobe in Chicoutimi, Quebec.
More about
France

Curator
Caroline Andrieux