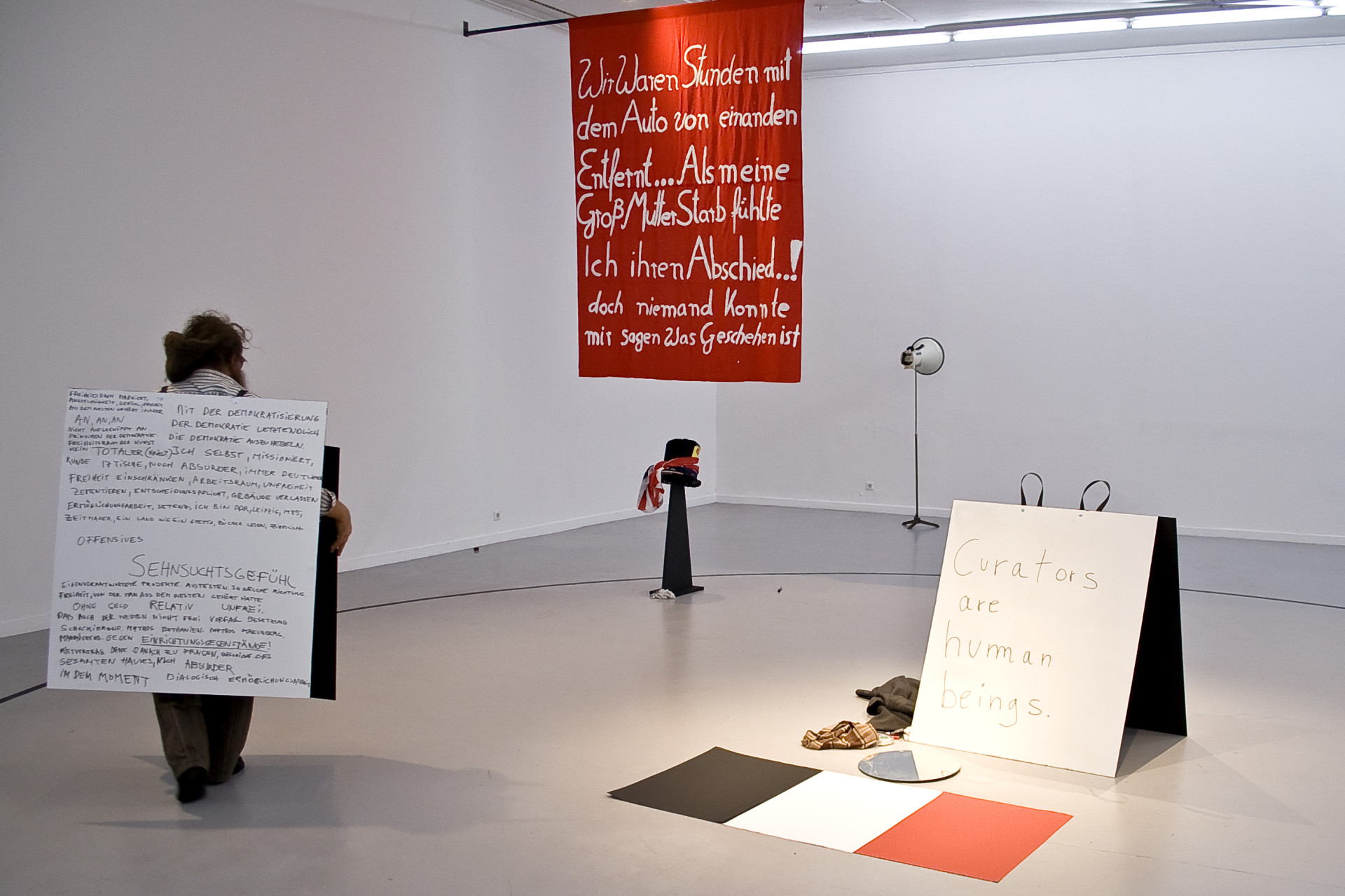 Romeo Gongora
Romeo Gongora considers himself a researcher: his aim is not to create an art object but to give a transdisciplinary form to his research (installations, performance, photography, meetings, writings, etc.). Emphasizing the process rather than the final product, his recent works use dialogue, empathy and confidence as strategies of production. This procedure generally implies a period of research in close collaboration with different communities. The result is an emotionally intense in situ work which aims to analyze the socio-psychological constructions of a physical and mental environment.
In his projects between 2002 and 2007 he dealt with questions of identity, alterity and the feeling of community which is created between individuals, and with formal problems of the fixed and moving image. He then turned to high definition video, as in the project that he made in prison, Forgiveness (2007-2008). More recently his works Sin Island (2008), I'm the Other (2009) and Volkskunsthalle (2009) have acquired a more social dimension, integrating politics, activism and marginality in the practise of performance. Family to Nation (2010) and Movimiento Social del Cuerpo (2011-2012) continues his dialogue between representation and reality in performances, inspired by Paulo Freire and Orlando Fals Borda, on social and political questions.
Biography
Romeo Gongora (Canada/Guatemala) is an internationally active visual artist. In 2005 he graduated in media arts from the UQAM (Montreal). He has collaborated, amongst others, with the Kin Art Studio (RDC), Centre Makan (Jordanie), Platform Garanti (Turquie), Center for Contemporary Art - Lagos (Nigeria), Centre of Art Torun (Pologne), HISK (Belgique), The Office (Berlin), le Centro de la Imagen (Mexico), le Centre Culturel de Neumünster (Luxembourg), Festival Belluard (Suisse) et Cell Project Space (Londres). He has been awarded residences at Rijksakademie van Beeldende Kunsten (Amsterdam) and Kunstlerhauss Bethanien (Berlin). He published a book on the Volkskunsthalle exhibition in collaboration with the video artist Aernout Mik, the curator of the Pinakothek of Munich Bernhart Schwenk and the sociologue of the et Humboldt Universitat, Gökce Yurdakul. Between 2010 and 2012, he has collaborated with various universities in Latin America (Argentina, Brazil, Colombia, Guatemala and Peru). In parallel he has maintained an active presence in Canada, collaborating with Dare-Dare (Montréal), le Musée d'art Contemporain de Montréal, la Galerie de l'UQAM (Montréal), le Centre Optica (Montréal), le Centre VU (Québec), la Gallery 44 (Toronto), le Centre Dazibao (Montréal), la Mackenzie Art Gallery (Regina) and the Pari Nadimi gallery (Toronto). He has also benefitted from the resources of organizations specialized in new media such as CIAM, Vidéographe, Méduse and PRIM.
(source : romeogongora.com)
Recent exhibitions
| | |
| --- | --- |
| 2014 | Leonard & Bina Ellen Art Gallery, Montreal, CA |
| 2014 | 3e Imperial, Granby, CA |
| 2013 | Laura Mars GRP, Berlin, DE |
| 2013 | Dare-Dare, Montréal, CA |
| 2013 | FAMAF-UNC, Cordoba, AR |