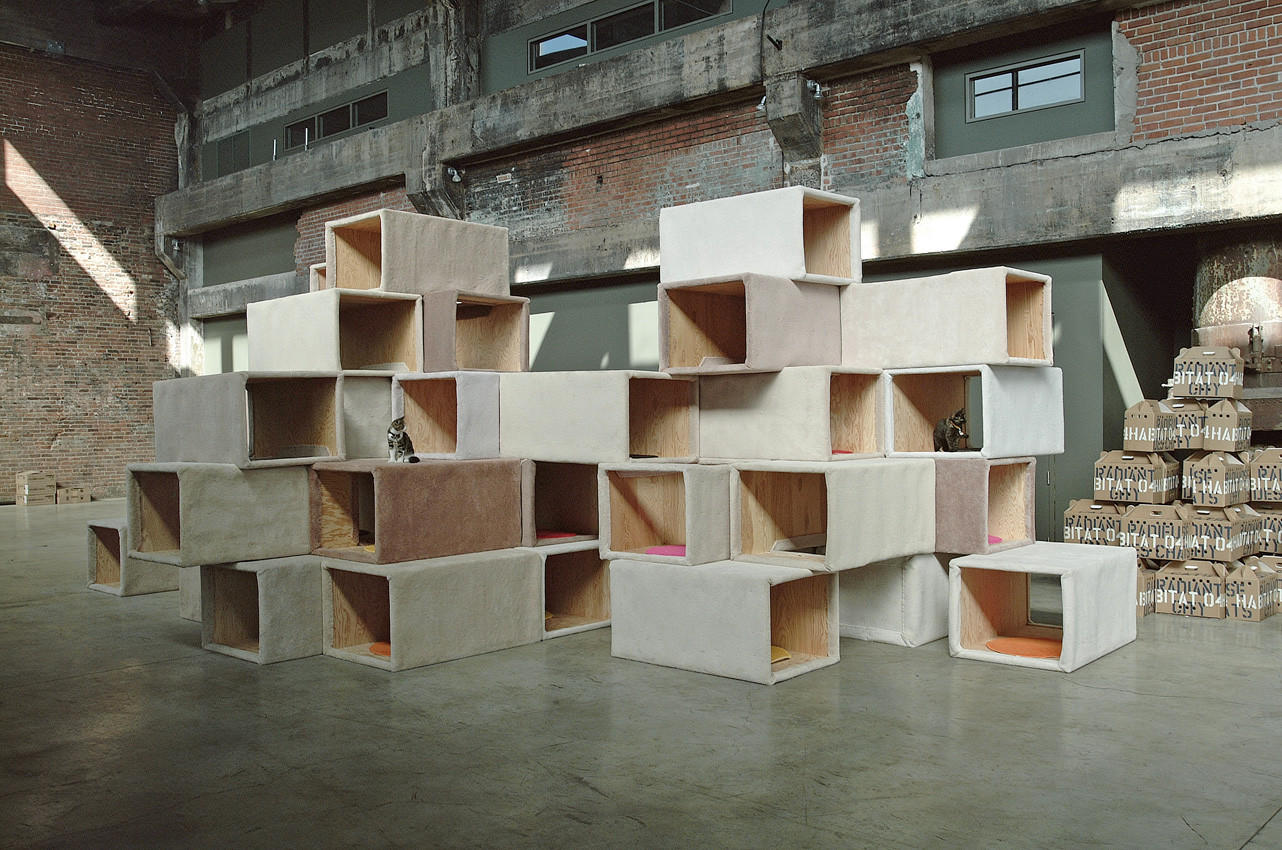 Brian Jungen is interested in hybrid combinations and eclectic mixes from different cultures. He creates interfaces between distinct universes so apart that they collide while delivering a critical message. Themes such as: ecology, anthropology, ethnology or mythology is the most recurrent in his work. Sociological archetypes, such as mass culture and pre-fabricated materials are sources of inspiration as well.
Again, two worlds are juxtaposed in the artwork installed at the Darling Foundry: an ideal city for cats, based on the plans of Habitat 67'. Inspired by Le Corbusier's Radiant City, which prioritized esthetical standardization "for more harmony", Moshe Safdie conceived and realized Habitat 67 at the age of 23. His principle, based on assembling pre-fabricated concrete modules, makes it mass production architecture, closely associated with the ideals of community and equality. Paradoxically, Habitat 67 today has become one the most expensive lodgings in Montreal.
Inside a variation on this structure, Jungen will introduce orphaned and abandoned cats. The artist has created for them a genuine luxurious city, made with inter locked modules. By doing so, each cat that is part of Habitat 04 becomes imbued with all the impetus of Brian Jungen's name in today's modern art world. As Kitty Scott, curator of Contemporary Art at the National Gallery of Canada explains: "In offering a version of the complex to the disenfranchised cats, the artist appears to be salvaging something of Safdie's original plan".
The artist goes beyond simple compassion by associating with the SPCA, whose reputation as an animal protection organization is known by all, to create an adoption mechanism. The project is inspired by "The Cat's Sanctuary", on Ottawa's Parliamentary Hill, where volunteers have erected a shelter for homeless cats. By adding this ethical dimension to his work, Jungen once again demonstrates his belief in an engage art that goes beyond the boundaries of the exhibition. Herein lies the true meaning of his living installation. Much more than an exhibition, the artist has envisioned Habitat 04 as a way to support the SPCA's cause, a cause that he, as well as his entire body of work embraces totally.
12 February 2004

Dear Brian,
As you are well aware, I am writing this letter before the project for the Quartier Ephémère has been fully realized. Josée St-Louis, the Head of Programming, forwarded a copy of your proposal and the gallery's press release. I would have liked to have spoken with you more about the proposal, but given our current schedules this has been next to impossible. What follows are my thoughts on such a project.
As I understand it, you are transforming Quartier Ephémère into a temporary satellite of the Society for the Prevention of Cruelty to Animals (SPCA) for the duration of what was to be an exhibition. The gallery space will contain an enclosure housing three cats and a volunteer from the SPCA will be on site at all times. A respectful sculptural interpretation of Moshe Safdie's Habitat '67, modelled out of cat furniture, will be displayed within the enclosure. By cat furniture, I mean those vertical towers consisting of carpet covered scratching posts supporting inhabitable boxes, trays and cylinders. I imagine the new cat-friendly Habitat '04, a spin on pet paraphernalia designed to achieve maximum feline happiness, will offer the confined animals a humane and attractive backdrop providing of hours fun.
Rather than treat this situation as an exhibition, you have conceived of it as a mechanism in support of the mandate of the SPCA. To this end all publicity will be directed towards finding permanent homes for these homeless animals. There will be no opening, as this type of art world event would presumably make the cats nervous. Thank you, by the way, for the invitation to attend the fundraising dinner for the SPCA. I am honoured to be invited and graciously accept.
I have always loved Safdie's iconic modular building. When Safdie was designing Habitat, his intention was to make affordable, community-oriented, mass-produced housing using a pre-fabrication process. However, the units were very expensive to produce and paradoxically, Habitat is now an exclusive condo-community. In offering a version of the complex to the disenfranchised cats you appear to be salvaging something of Safdie's original plan.
At the other end of the spectrum, you have homeless cats and the SPCA. Both have a direct relation to your interest in labour and the consequences of mass production. The SPCA, originally a British institution, was founded, in part, to protect working animals during a period of increasing industrialization. With a little research I learned that the Montrealers who imported the concept in 1869 and founded what was then known as the Canadian Society for the Prevention of Cruelty of Animals, were mostly concerned with the conditions of Montreal workhorses. I was surprised to find out that the formation of the RSPCA in England in 1824 predated the founding of the National Society for the Prevention of Cruelty to Children in 1884 and that both institutions have a shared history.
One of the primary reasons the SPCA concerns itself with the welfare of cats today is that the supply far outweighs the demand. In this situation the institution functions as a feline halfway house between life and death. One of the SPCA's goals is to find prospective homes for cats. Sadly, the remaining cats that do not find homes are put down. As I understand your proposed scenario, the cats brought to Quartier Ephémère will remain there until adopted and new cats will replace those that leave. Effectively, this means you are extending the lives of a number of cats and for those that find homes, you are giving the gift of life.
Your proposition is worthy enough. Still, I cannot escape the art context and the value of your increasing fame within this system. For every cat passing through the Safdie inspired compound becomes a ready-made imbued with all the worth your name signifies in the current art world. In other words, the value-added cat becomes a Jungen artwork, or perhaps "multiple" is a better word. Such signification will hopefully increase the chances a cat will be "collected" and thus survive.
I wish you every success with this ambitious project and look forward to seeing it.

Kitty Scott is Curator of Contemporary Art at the National Gallery of Canada, Ottawa.
Brian Jungen
Brian Jungen comes from Fort St-John, British Columbia. He lives and works in Vancouver. Since 2002, he has been represented by the Catriona Jeffries Gallery in Vancouver. From 2003 on, his career took an international turn towards the United States and Europe. Habitat 04 was his first solo exhibition in Montreal. 
More about
Fort Saint-John, Canada