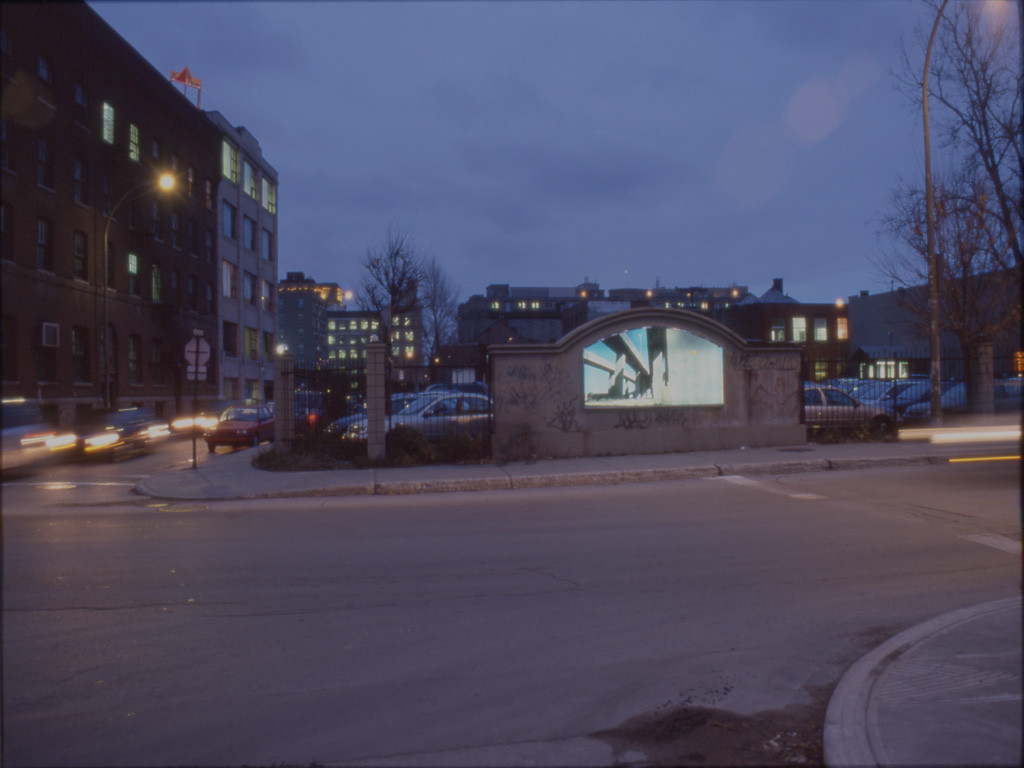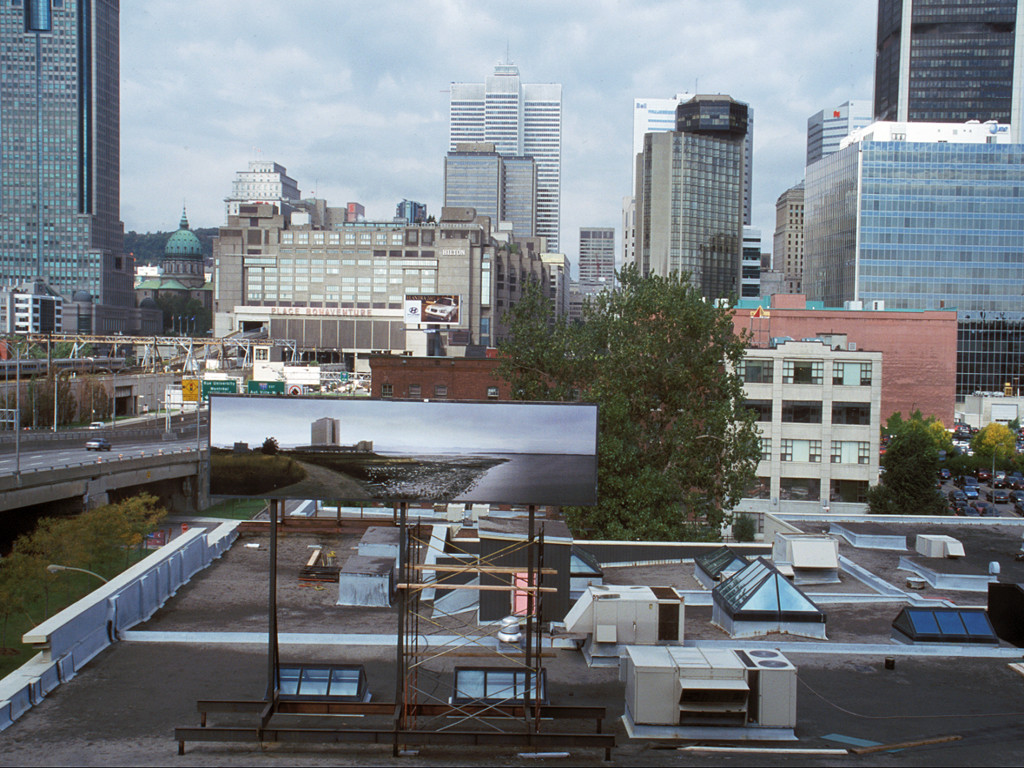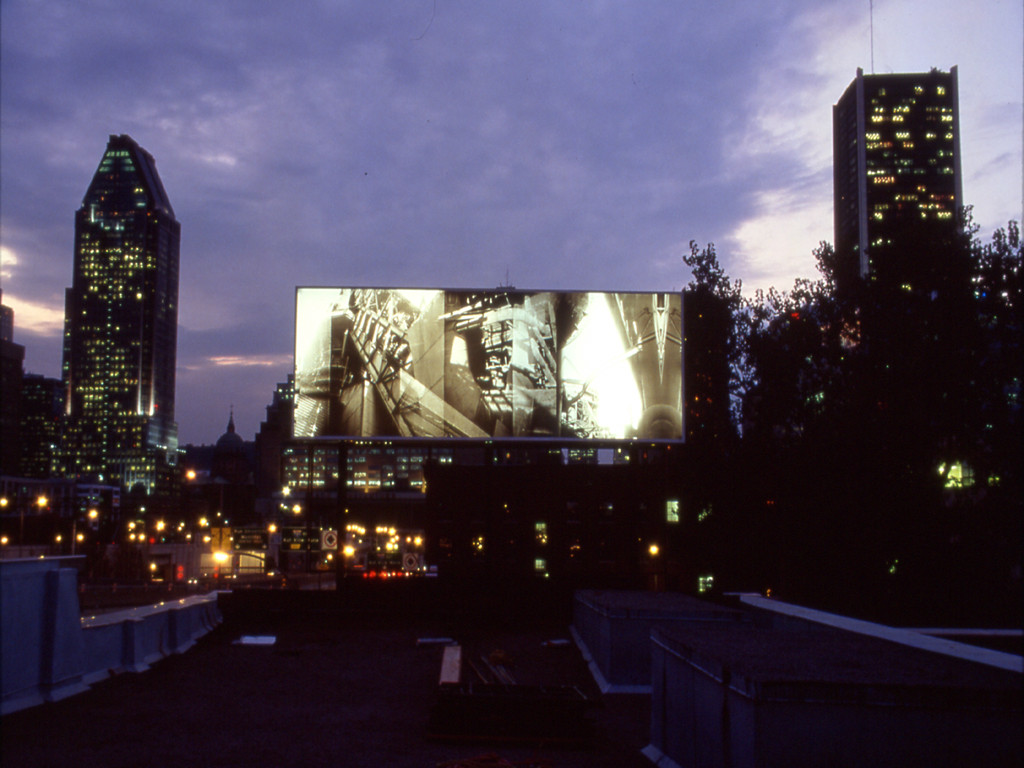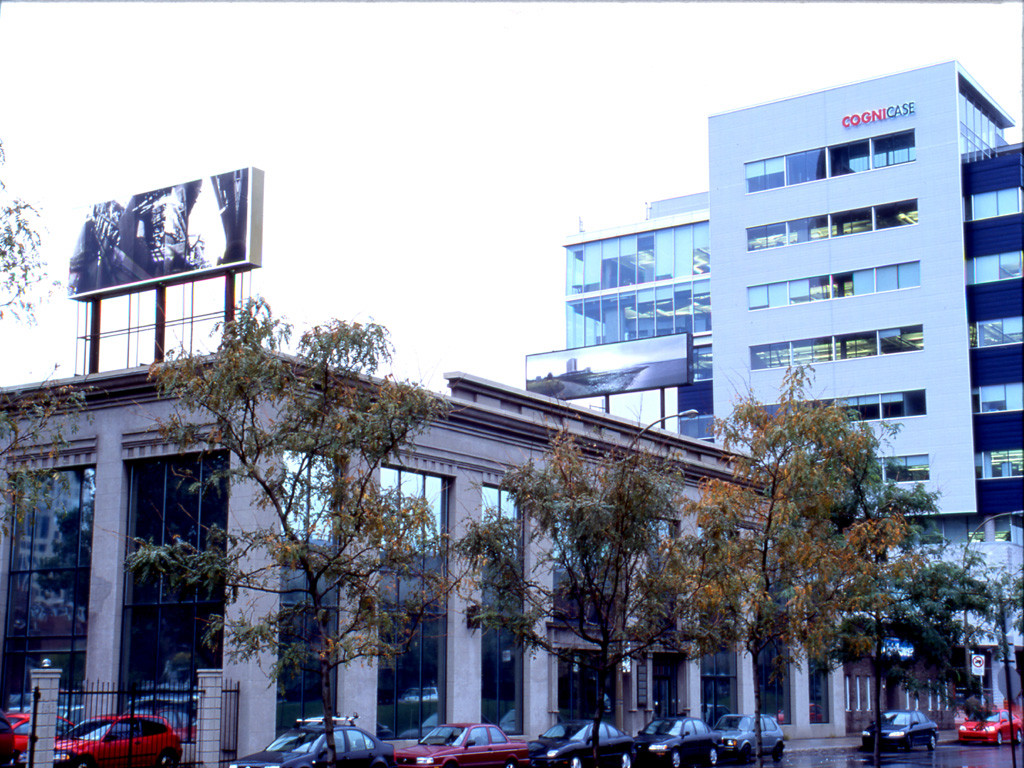 plan large 2001
Are presented, on the corner of Duke and Ottawa street in Montreal these three interventions on abandoned billboards were apart of the Mois de la Photo (The Month of the Photo).
BELDUM XVIII (1998-1999) Photomontage 8' X 24' (2.44m x 7.32m)
Neil Budzinski photographs industrial relics and traces of history that he juxtaposes and superimposes in a manner that constitutes a utopian montage essentially removed from any context or reference. The photomontage Bedlum no 18, segments an ancient mill located in Pennsylvania that he managed to capture little of before its demolition. The artist wanted to present a machine in a sculptural and architectural form by accentuating its metallic structures that entangle themselves, punctuated with a full or open volume.
Isabelle Hayeur defies the creative process of traditional photography and conceives her images uniquely through montage on computer. Station is an artificial landscape created with the aide of information technology making reference to the localization of the Cité du Multimédia. This image shows an isolated building at the edge of water, a desolated and austere landscapes surrounds it that hesitates between the industrial and the post card. Station (2001) Photomontage 7' X 30' (2.13m x 9,15m) Station shows an isolated building close to sprawling water and a road. The image is ambiguous: at times austere, desolate and banal but also theatrical and dramatic. She evokes a vacation landscape as well as a non-space. In a landscape that hesitates between the zone and the postcard, it is maybe a hotel at the tip of the ocean or an office building in an industrial park.
With her work Singing in the Box, Alexandra Sà proposes an image on the theme of displacement. Cornered in a cardboard box, a woman sings, manifesting in vain her presence under this imposing, loud super-structure. Facing the Ville-Marie highway, angled towards a busy crossroad, this image symbolizes with humour the presence of humanity in the invasive urban context.
SINGING IN THE BOX (2001) | Photography 70" X 140" (1.78m X 3.56m)
Alexandra Sà takes her inspiration from the city and its dwellers. From the direction of performance, video, intervention and activism, she seeks to enter in dialogue with them. She usually works within open spaces, often urban, where she presents evoking situations that question and jostle certain normative behavior in our society to the passers-by