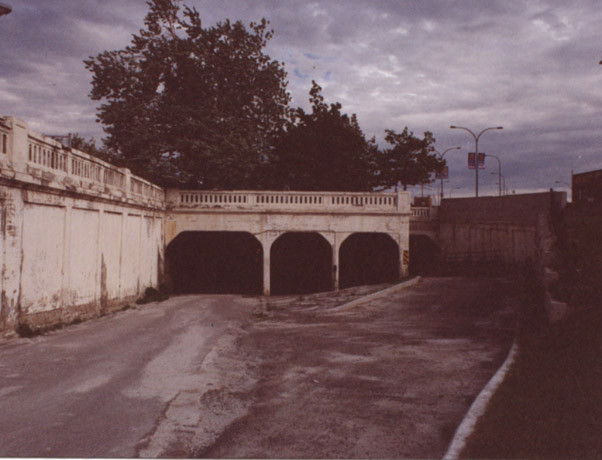 With the collaboration of Sophie Herché and Franck Légale     
The Wellington Tunnel once crossed the Lachine Canal near the bottom of de la Montagne. For security reasons the tunnel has been closed to the car and pedestrians passage and replaced by a bridge. Now abandonned the tunnel has become part of the urban poetry and is an inspiration for the creative process. To promote awarness of urban heritage and to advance public consciousness of contemporary art, Quartier Éphemere encourages and supports in situ artistic projects.
Inspired by this exeptionnal site, artist Marcus Macdonald presents Proposition for three tunnels. Using lights, sound, and physical elements this installation through its use of cultural and natural references, symbolizes the entrance to the underworld. In the first tunnel, a vision of a wateraway plunging into the dark abyss, invites our eyes into infinite depths: two beams of light, lazer generated float, perfectly parallel, from the bowels of the second tunnel and beam out over our heads and the city beyond : vapors creep across the ground of the third tunnel.
Sounds spew forth from each of the three tunnels and mix in the space of the entrance. Bass dominates the first tunnel – midrange the second – high end sounds are produced by the third tunnel, thus creating a total spectrum of sound. In thinking about the underworld as a symbol of the subconscience, Marcus Macdonald plunges us into a magical and mystical universe.
This installation is made with the generous help of: Conseil des arts et des lettres du Québec, Conseil des arts de la Communauté urbaine de Montréal, Ville de Montréal, Service de la culture and Bridges and Tunnels services, Ministère du patrimoine canadien - parcs canada, École de technologie supérieure, and the companies: Ispat Sidbec, Coldjet & A.V.M.
Marcus McDonald
Marcus McDonald was born in Edinburgh, Scotland. In 1962 he received his Canadian Residency. He lives and works on Prince Edward Island since 2007.