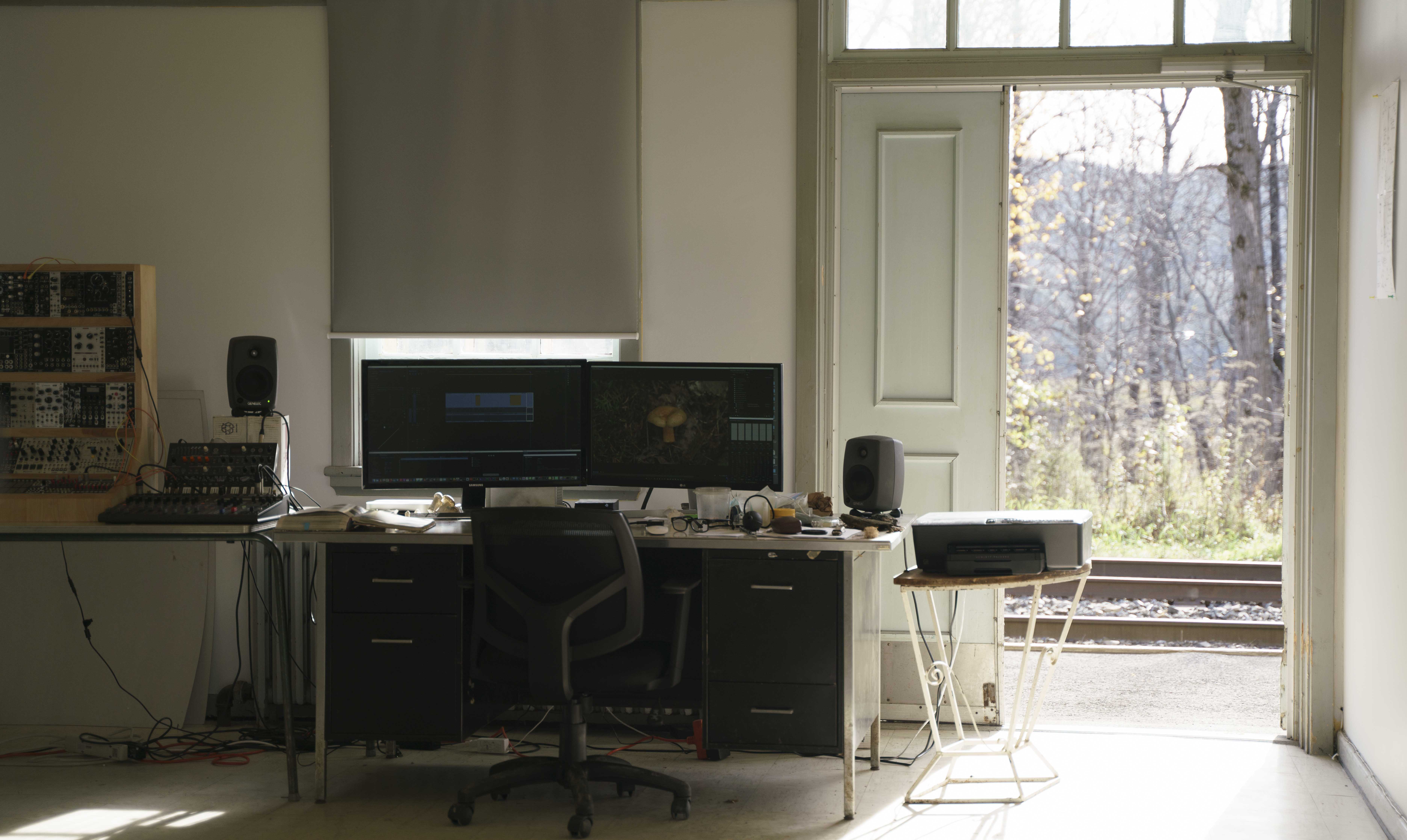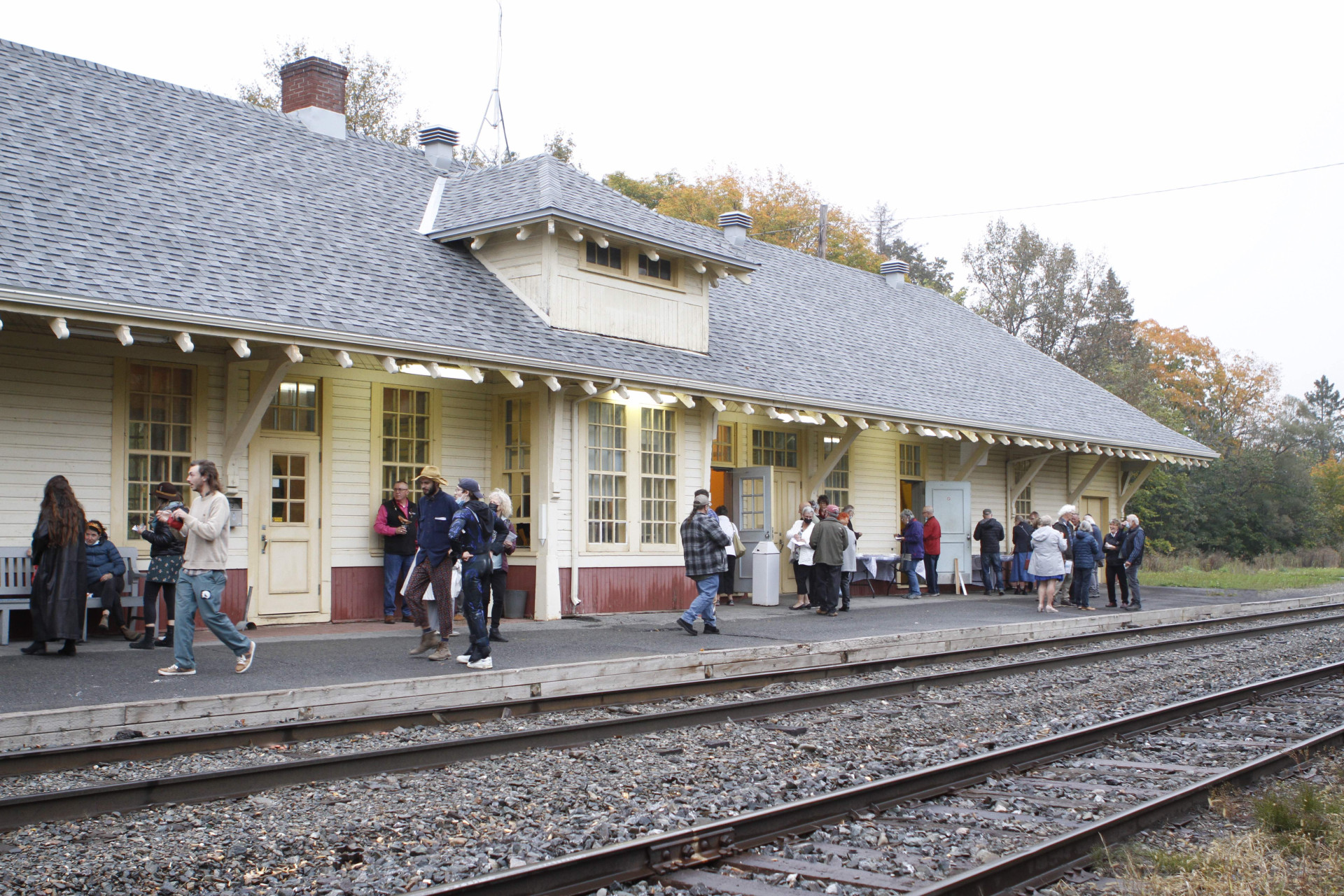 Cross-Residency between Matapedia-Montreal
Inaugurated by Quartier Éphémère, Centre d'arts visuels, and the Centre d'artistes Vaste et Vague in the Fall of 2021, the Gare de Matapédia - Pôle artistique et communautaire is situated in the heart of the municipality of Matapédia, amidst a natural setting as grandiose as it is inspiring, in the Gaspésie region. This contemporary visual arts project highlights the local heritage by integrating artists' residences, exhibition spaces and mediation activities in order to create a meeting place for art. This exchange project offers both a place of creation outside the metropolis and an influence in urban areas according to the needs of the artists.
For a 3rd edition of this program of cross-residencies, Vaste et Vague and Quartier Éphémère invite artists to propose their candidacy for a 3-month residency, at the Gare de Matapédia for artists living outside the Gaspésie region and at the Fonderie Darling for artists from Gaspésie.
In Matapedia, the studio is located at the train station, while independent housing is located centrally in the village. At Fonderie Darling, a small industrial complex west of Old Montreal, artists are housed in one of the spacious live-in studios.
Four residencies of three months each will be realized between August 2023 and June 2024. These periods have been chosen in order to tie in with the school calendar in order to develop educational activities with the students, on the one hand, and to occupy a low-traffic period as part of an effort to revitalize and extend the tourist season in the region, on the other. In Gaspésie, it is an opportunity for artists to live their northernness to the fullest, while in Montreal, these periods correspond to an intensive period of activity within the cultural scene.
RESIDENCIES IN MONTREAL
December 1 2023 to March 14, 2024
March 15 to June 15, 2024
Fonderie Darling is housed in a former industrial foundry with large spaces and offers inspiring facilities for creation and production. The residents benefit from a live-in studio of approximately 60m2, equipped with a kitchen corner, access to production facilities outfitted to work with wood, metal, ceramic, and CNC cutting. 
The residency at the Fonderie Darling includes : 
• Round-trip train ticket to Montreal
• 12-week studio accommodation at the Fonderie Darling
• Weekly stipend of $400 CAD for 12 weeks
• Production budget of $1500 CAD
• $350 CAD stipend for activities related to public programs
• Access to the production studio
• Promotion and support program
MATAPEDIA RESIDENCIES
August 1 to October 31, 2023 
January 1 to March 31, 2024
In the context of this residency, artists benefit from a spacious and inspiring studio in the Matapedia train station, a heritage building in the heart of a region known for the majesty of its landscapes. Located outside the urban centres, this residency offers optimal conditions for research and creation, as well as the opportunity to meet the vast and warm Gaspesian community.
The residency at the Gare de Matapédia includes: 
• 

Return train ticket to the Gaspé Peninsula
• 

12-week studio at the Matapedia train station and lodging in the village
• 

Weekly stipend of $400 CAD for 12 weeks
• 

Production budget of $1500 CAD
• 
350 CAD fee for public program activities
• 

Access to production workshops possible
• 

Promotion and Support Program
Artists applying to this program must submit a complete application via the online form no later than March 31, 2023 at midnight (UTC-4, Eastern time). Only complete applications submitted via the online form will be considered.
In residency
Currently
Émilie Bernard
FONDERIE DARLING, QUÉBEC, Québec, Canada