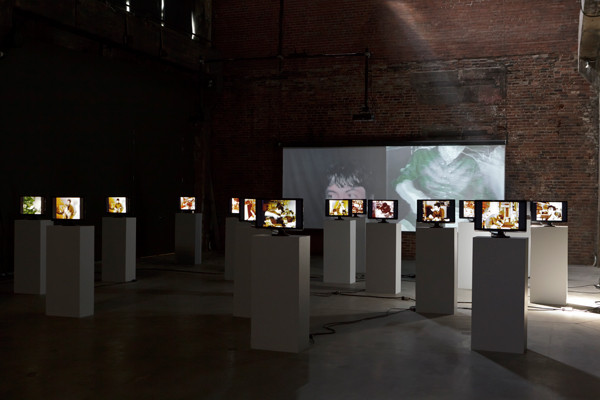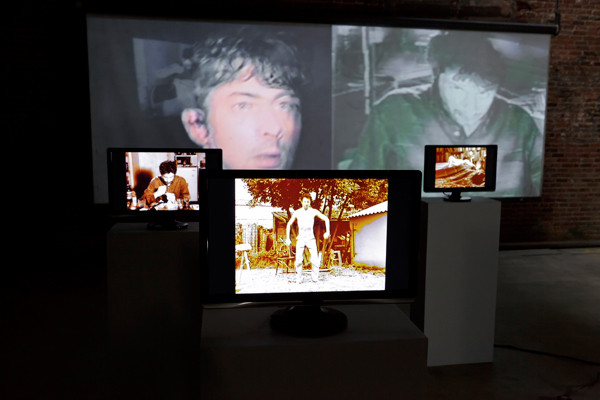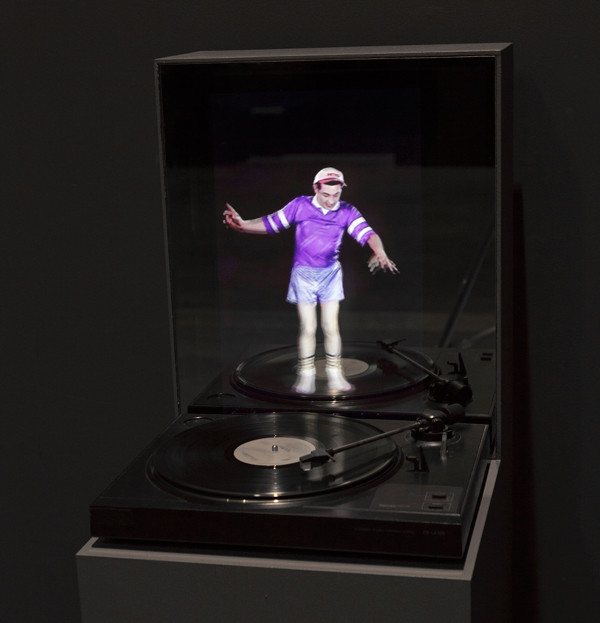 Pierrick Sorin became known at the end of the 1980s for his "auto-filmages", short films or videos dealing with daily life. In these burlesque skits, tragi-comic in tone, Sorin plays an anti-hero whose pathetic existence seems to be but a succession of insignificant gestures and self-criticisms. By saturating visual space with representations of himself, he puts into question an alienating system, centred on one's own person, that leaves little room for difference, as well as questioning art as a priviledged mode of being. In the main installation, Une vie bien remplie, a constellation of images of the artist in his daily actions ("getting up", "brushing his teeth", "blowing his nose",…) invades the large hall of the Darling Foundry, in whose background two gigantic self-portraits merge on the brick wall.
Of the different media used by the artist – installations, sculptures, videos, performance- almost all are present in the exhibition: two short films, Nantes, Projets d'artistes (2000) and C'est bien mignon tout ça (1993); two optical theatres, a kind of sculpture animated by a video projection, including the famous Tourne-disque commissioned from the artist by Robert Lepage, and the Aquarium aux danseuses. One of his latest creations, the performance 22h13, which he directs but does not act in, consists in a montage put together from shots of the show.
Pierrick Sorin
Pierrick Sorin is a major figure of the French art scene. In his hey-day in the 1980s and 1990s, he represented France at the Venice Biennale, had a solo exhibition at the Centre Georges Pompidou in Paris and was represented by the Barbara Gladstone Gallery of New York. His works echoed an era's technology, and as he turned more and more to live performances, his name came up less often in visual arts circles. Pierrick Sorin has come back in force over the last few years, with a great retrospective at the Lieu Unique in Nantes in 2010, at 104 in Paris, the show 22h13' on a world tour, and another retrospective that has just opened at the Museo de Arte Moderno de Buenos Aires (MAMBA) in Argentina.
More about
Nantes, France