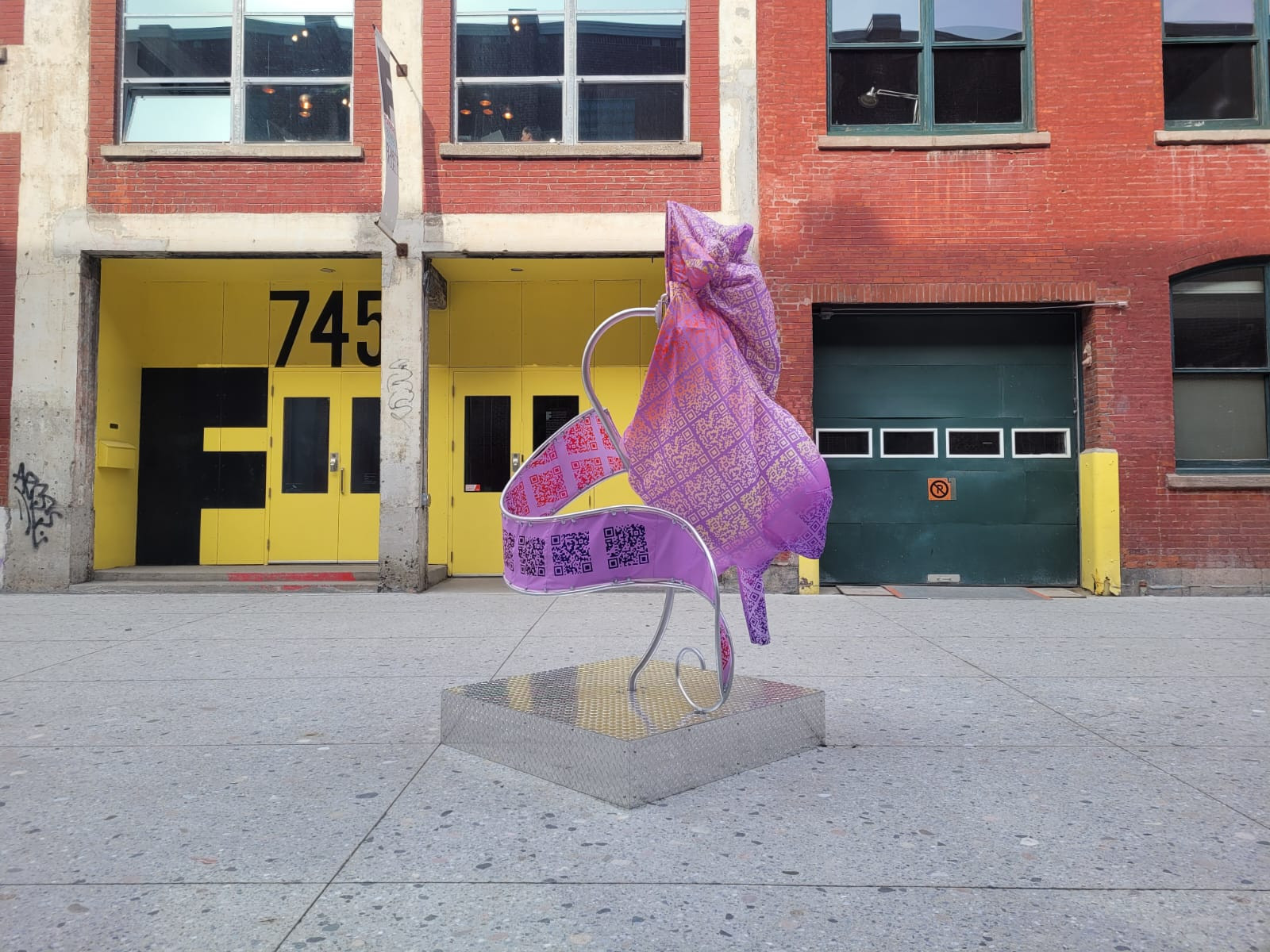 Continuing the tradition established several years ago, Fonderie Darling is installing an ephemeral outdoor work on its newly renovated Place Publique, City of Montreal's Place du Sable-Gris. This year, the visual arts center is proud to present the work 3Lix by Colombian-born artist Laura Acosta.
In the current context, marked by major upheavals, concerns about the end of the world have once again become widespread. In his eponymous book, Bruno Latour posed the fundamental question "Where do we land?" to unravel the web of the climate crisis, highlighting humanity's profound dependence on the Earth. With a desire to explore this question further through the senses and the flesh, Écho d'une présence is a research effort to reaffirm the importance of embodying ourselves as earthlings - of connecting to the living by criss-crossing the existing meshes between our wired and organic bodies.
Artist Laura Acosta's 3Lix embodies this exploration, addressing themes of metamorphosis and the continuity of life. Initially presented as an inflatable textile sculpture adorned with QR codes, her installation combines different media and techniques to create an expanded, immersive performance that enriches the perception of the real environment. An additional layer of data is superimposed on the ordinary perception of the world, as the audience uses a smart device to scan the QR codes, bringing to life a person dancing on their screens. This dance is fragmented into 9 parts, each guided by the unpredictable rhythms of the wind. The video performances are modified in real-time by a sensor that records invisible wind data on-site.
It is with a certain sense of urgency that the artist seeks to represent a story of life. Her work evokes a kaleidoscope body, a set of data in motion, blending and merging with others. An amalgam of superimposed consciousnesses in a single body, which has become a composite, calling into question the idea of humanity as a solid, original and autonomous. Rather than being perceived conservatively, the body is seen as in constant flux, underlining persistent cycles of birth and death, transitions and dispersions.
Laurie Cotton Pigeon
CREDITS 
Concept, direction, textile work: Laura Acosta 
Performer: Daniela Carmona 
Dramaturg: Agustin Rodriguez Beltran 
Video editors: Santiago Tamayo, Milton Riaño
Sensor Programer: Milton Riaño
Metal work: Lorenzo Sosa-Rey 
Special thanks: Santiago Tavera and Dominique Coughlin
This project is an Elsgüer Studio production created with the support of Canada Council for the Arts. 
Laura Acosta
Laura Acosta is a Colombian-Canadian transdisciplinary artist that works with textiles, performance, and audio-visual installations to create spaces of otherness that question the relationship between body and space. Through surreal scenographies she explores themes of identity, dislocation and performativity. Collaboration is at the core of Laura's practice working with other artists across disciplines to achieve new aesthetic languages. She has exhibited her solo and collective work throughout Canada and was part of the long list of nominees for the Sobey art award in 2023. Laura holds a diploma in Fine Arts from Fanshawe College, an interdisciplinary BFA with a special focus on textiles and sculpture from and NSCAD University, as well as an MFA in Fibres and Material studies from Concordia University, where she is currently the Head of Wardrobe in the Theatre Department. 
More about
MONTRÉAL, Canada
Bogota, Colombia