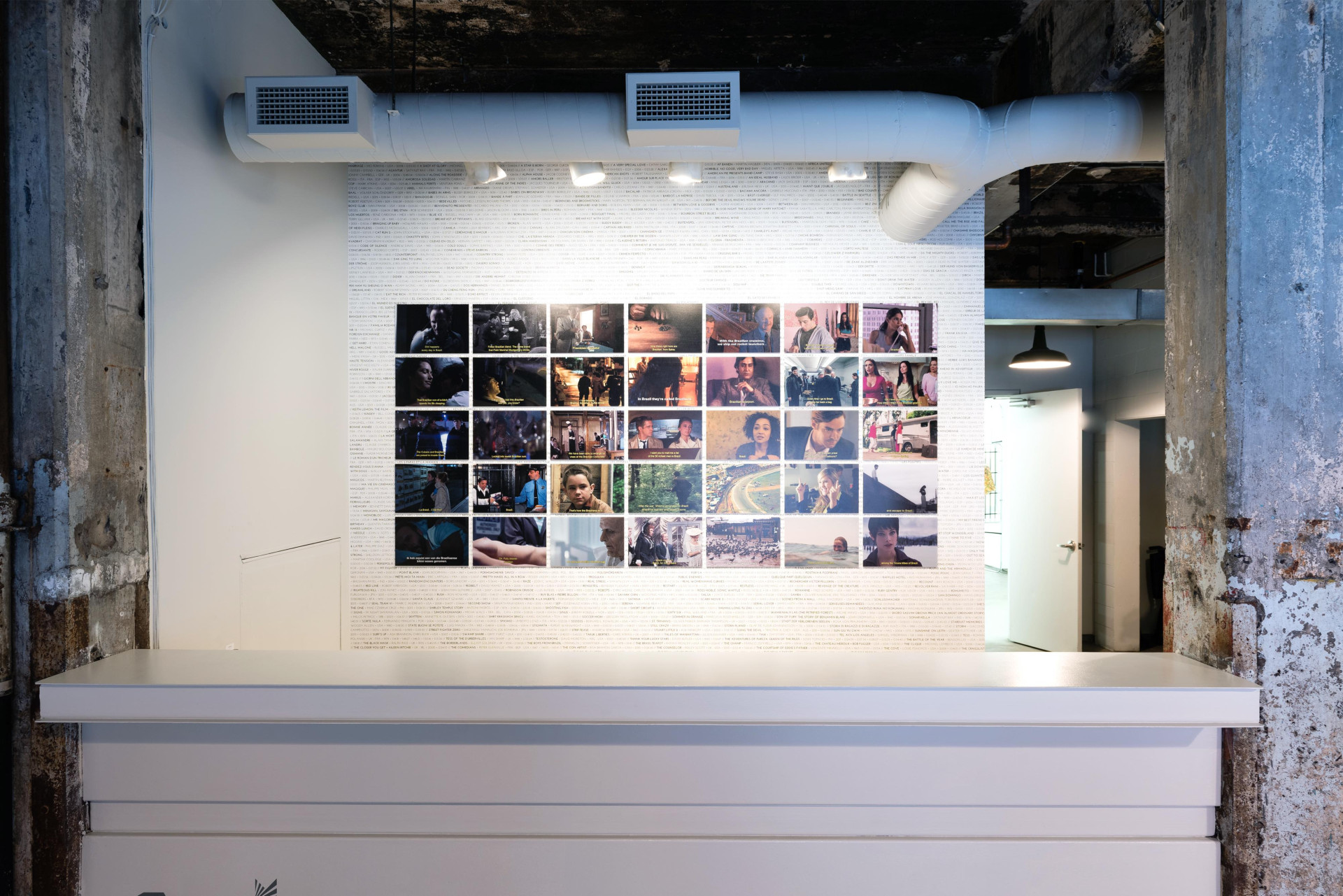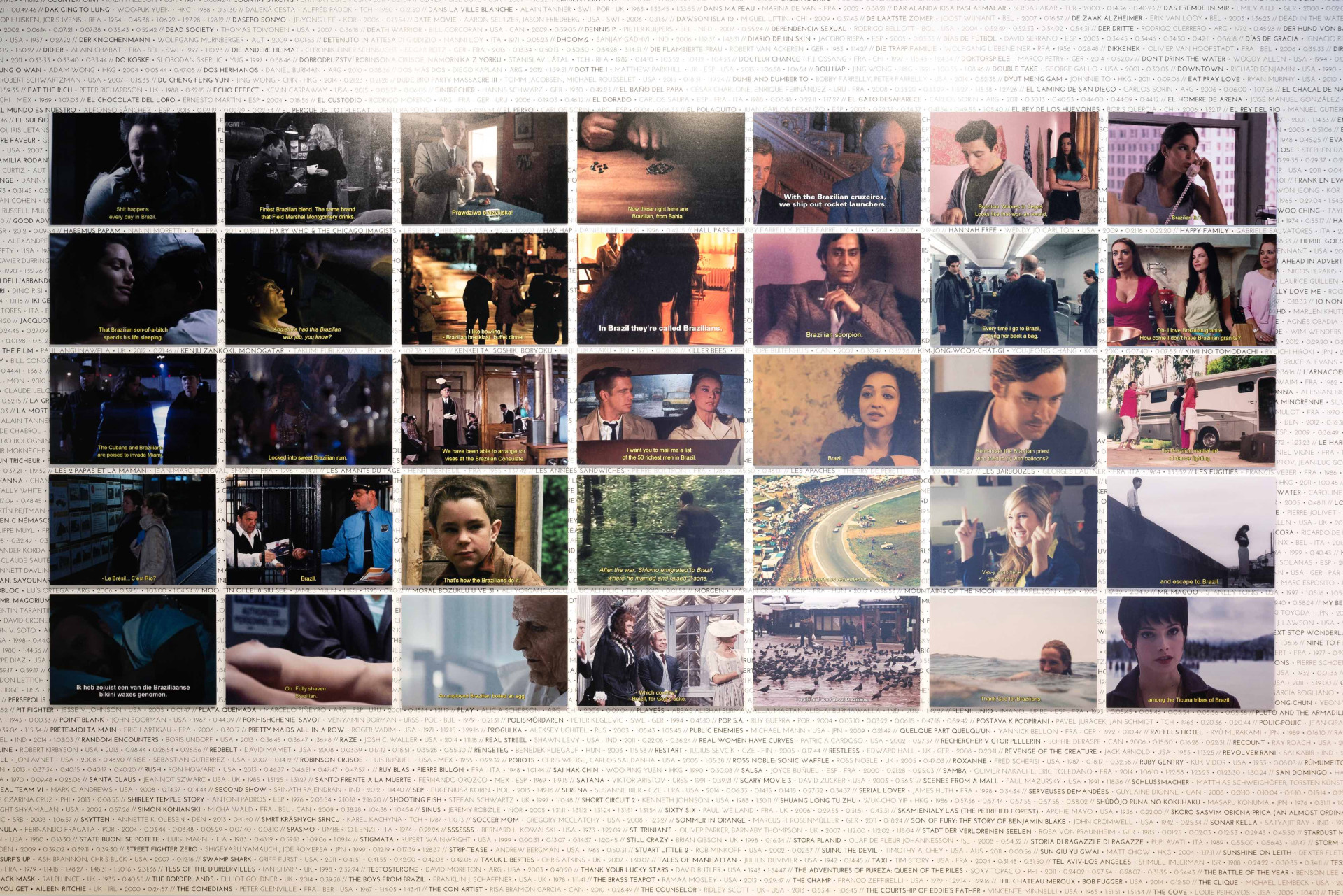 Over time and through succeeding exhibitions, the entrance hall of Fonderie Darling has become a space for artistic experimentation and a space dedicated to presenting the work of artists in our international residency programs. 
Located behind the counter of the entrance hall of Fonderie Darling, the work Brazil (2017-2020) by Daniel Jablonski is an investigation on the representation of Brazil in different cultures, as it appears in foreign cinematographic works. The work brings together stills out of a compilation of almost 1000 fiction features produced and shot abroad in which the words "Brazil" and "Brazilian" appear for no particular reason, always unrelated to the unfolding of the plot.
The case cited as an exemple is the movie Brazil (1985) by Terry Gilliam: it is about a dystopic science fiction film showing no connection to the country, except for the score Aquarela do Brasil by Ary Barroso constantly repeating its iconic refrain: "Return I will / to Old Brazil". More than the earnest documentaries about the country, those apparently unimportant little references, lost in fictitious dialogues, hold the true unconscious images of exoticism. Distant both in time and space, Brazil serves as the underside for all those films, like a black hole in the scripts, to which all the characters' promises, dreams or escapes are sent, never to be accomplished. 
Daniel Jablonski's work Brazil is derived from the installation (Still) Brazil (2017-2020), conceived as a film in which each element explores a cinematographic functionality: sound, moving image, stills, credits, etc. The work was previously shown in different configurations in Paço das Artes in São Paulo, at the Centro Cultural Justiça Federal in Rio de Janeiro and at Fundación ArtNexus in Bogotà.
Daniel Jablonski
Daniel Jablonski is a visual artist, professor and independent researcher. He obtained a Master's Degree in Contemporary Philosophy from Sorbonne-Panthéon University, Paris, and in Art History / Museum Studies from the INHA, Paris, and Columbia University, New York.
His works have been shown in solo and group exhibitions, notably at Instituto Tomie Ohtake (São Paulo, BRA), Fundação Iberê Camargo (Porto Alegre, BRA) as well as Universidad Torcuato di Tella (Buenos Aires, ARG) and Fundación ArtNexus (Bogotá, COL). His writing can be found in magazines such as Serrote, Amarello (São Paulo, BRA) and Octopus Notes (Paris, FRA), as well as academic journals like Concinnitas and Poiésis (Rio de Janeiro, BRA).
In the last few years, Jablonski has won several prizes at national art shows and fairs and has been nominated twice to Brazil's most prestigious prize, Prêmio PIPA. He has also participated in international residencies such as Lugar a Dudas in Cali, COL and Fondazione Antonio Ratti, ITA. He currently lives and works in São Paulo and teaches Art History at MASP - São Paulo Museum of Art. Daniel Jablonski is the artist laureate of the Residency of the Americas 2020. 
More about
Rio de Janeiro , Brazil