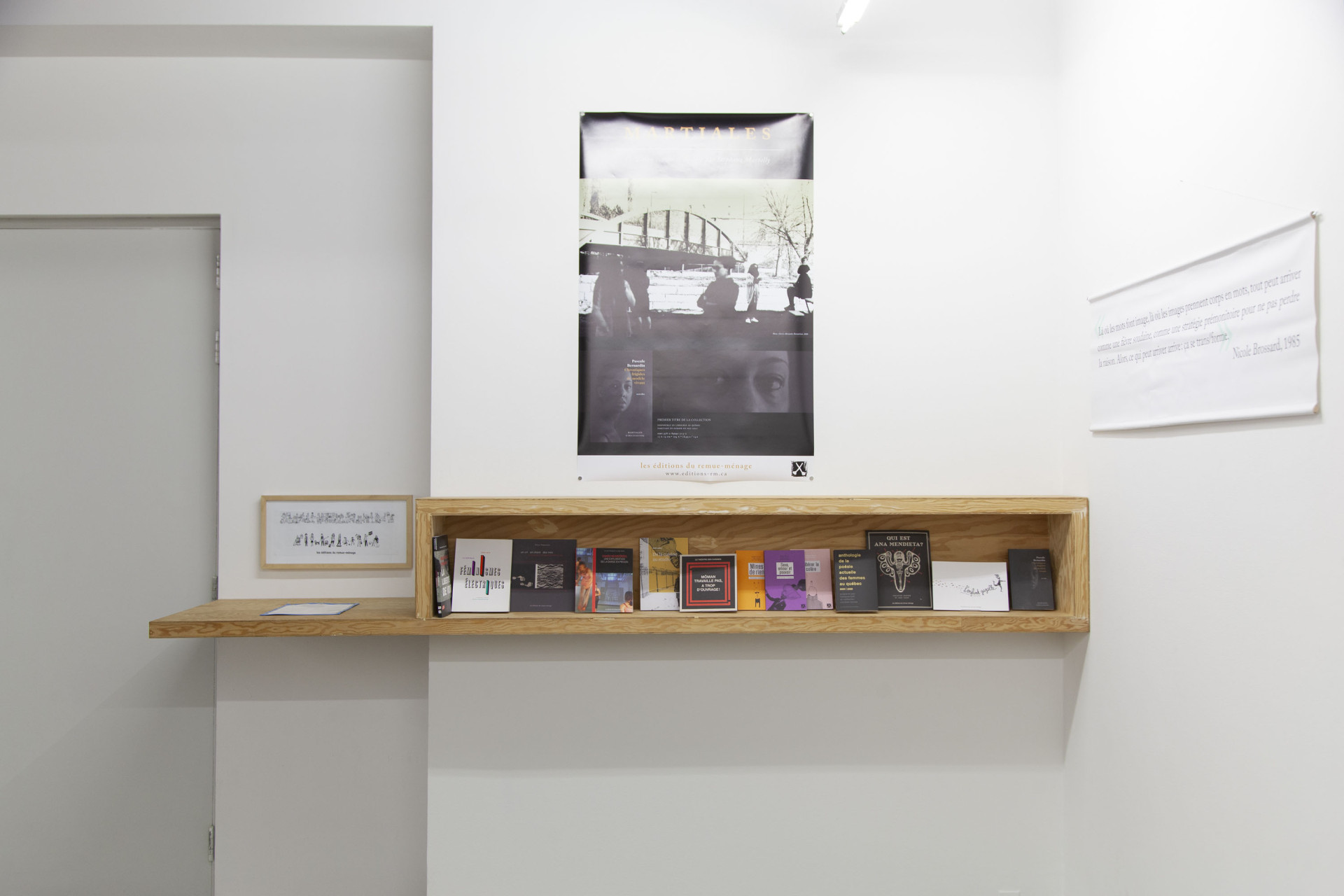 Les éditions du Remue-Ménage
"The laboratory, the experience of Martiales sets up spaces that make possible the freedom, sovereignty and valour of certain female subjects who are still too little hoped for as authors." Stephane Martelly, Les Martiales collection director, Éditions du remue-ménage.
The Éditions du remue-ménage occupy the bookshelf in front of the Reading Platform, where they present a selection of some fifteen titles, including a few recent releases as well as albums and books from the collection on women's artistic practices. This exhibition also puts forward the new collection Les Martiales, inaugurated by Chroniques frigides de modèle vivant, by Pascale Bernardin. This invitation to occupy the space attached to the Small gallery was conceived by Fonderie Darling in resonance with the spring programming, which features the work of two women artists. Through books and through artworks, the reflection continues on issues about creation, the body,  the domestic space and about the question of labour, whether it is of artistic nature or as it's typical associations with the feminine lifestyle and condition. 
REMUE-MÉNAGE is a beacon of feminist publishing, a reference for anyone interested in women's history, speech, creation and experience. In 1975, a group of women eager for feminist readings that were still not accessible enough decided to go in search of texts and women writers. They rolled up their sleeves and a few months later founded Éditions du remue-ménage. Remue-ménage took shape in the great activist ferment of the 1970s, which gave rise to several important feminist groups and movements. For 45 years, Remue-ménage has been disseminating and supporting feminist creation, nourishing reflection on the situation of women and on gender issues, exploring innovative themes and approaches, introducing new authors and supporting the work of accomplished women authors. Its catalog, now numbering over 300 titles, reflects several waves of the feminist movement, a variety of literary forms and fields of interest: artists, writers, philosophers, historians, political women, activists and workers from diverse backgrounds. Tenacious and creative, the editors of Remue-ménage publish daring books, a gamble that is often risky, but always necessary.