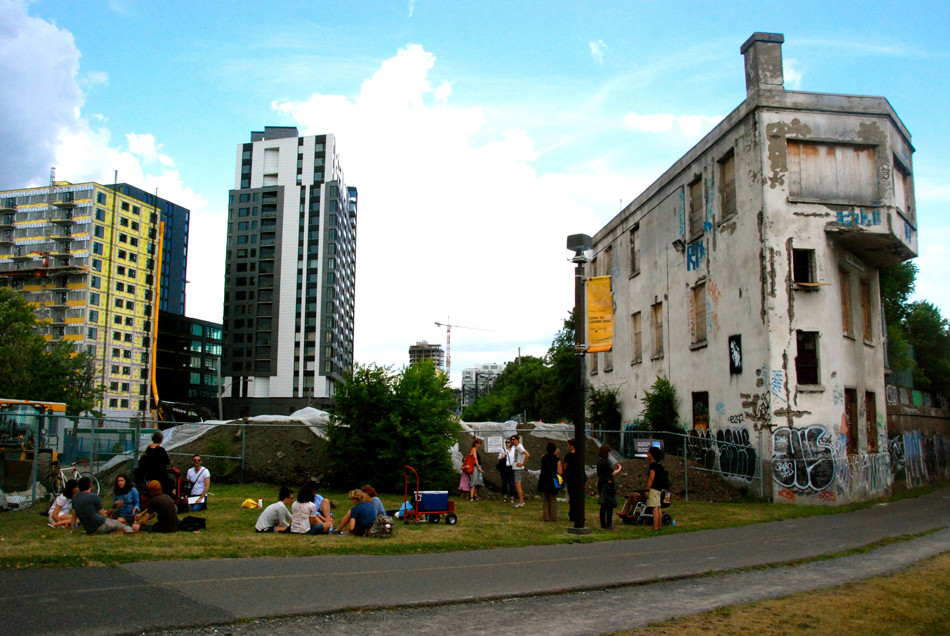 Points de vue | People, places, and the spatial politics of urban change
Curators: Camille Bédard, Marie-France Daignault-Bouchard, Noémie Despland-Lichtert, Shauna Janssen, Chantale Potié, Thomas Strickland
In November 2013 the City of Montreal announced a call for proposals to repurpose the Wellington tower into a venue for cultural and community activities. One of Montreal's iconic post-industrial buildings, the Wellington tower has been abandoned for over a decade and is presently a ruin.  The tower stands at the crossroads between four vastly different neighbourhoods: Vieux-Montréal, Ville Marie, Petite-Bourgogne, and Pointe St-Charles. All four districts have seen rapid gentrification and transformation of their built environments, primarily through increased residential space. New residents live side by side with longstanding residents, and these communities often have different perspectives on the industrial past of the region.
Points de vue is a socially-engaged, activist, and community-based arts platform. We emerged in response to both the call for proposals, and what we perceived to be the lack of public consultation about the Wellington tower's future. In association with the Darling Foundry's Place Publique series, the Points de vue team organized four urban laboratories. Through these labs we have staged public dialogues that encompass multiple perspectives about the area's cultural landscapes. How, we asked, is the Wellington tower a witness to the transformation from industrial to post-industrial Montreal?
Our urban labs engaged participants in a series of journeys. Through an urban treasure hunt we discovered Griffintown through the eyes of children. Using a collective symbol representing spatial justice we explored issues of public space and accessibility. Forensic techniques helped us to conduct archaeological investigations into the material culture of urban change. Working with local experts we revealed the astonishing resilience and diversity of urban flora.
This exhibition does not signal the end of the discussion about the Wellington tower. The images, objects, and stories to be found here are intended to inspire further dialogue about an important building and its transformation. Beyond providing recreation for a new community of condo-dwellers, how might the future cultural centre speak to the multiple publics for whom this tower matters, and their histories?
Welcome to Points de vue.
Points de vue collaborators and curatorial team :
Camille Bédard
Micheline Chevrier
Marie-France Daigneault-Bouchard
Noémie Despland-Lichtert
Cynthia Hammond
Shauna Janssen, co-director
Adeline Paradis-Hautcoeur
Chantale Potié
Thomas Strickland, co-director
Alyse Tunnell
Points of view would like to thank the Darling Foundry and Concordia University's Faculty of Fine Arts and the Centre for Oral History and Digital Storytelling for their support.
Admission fee
Free admitance based on voluntary donation