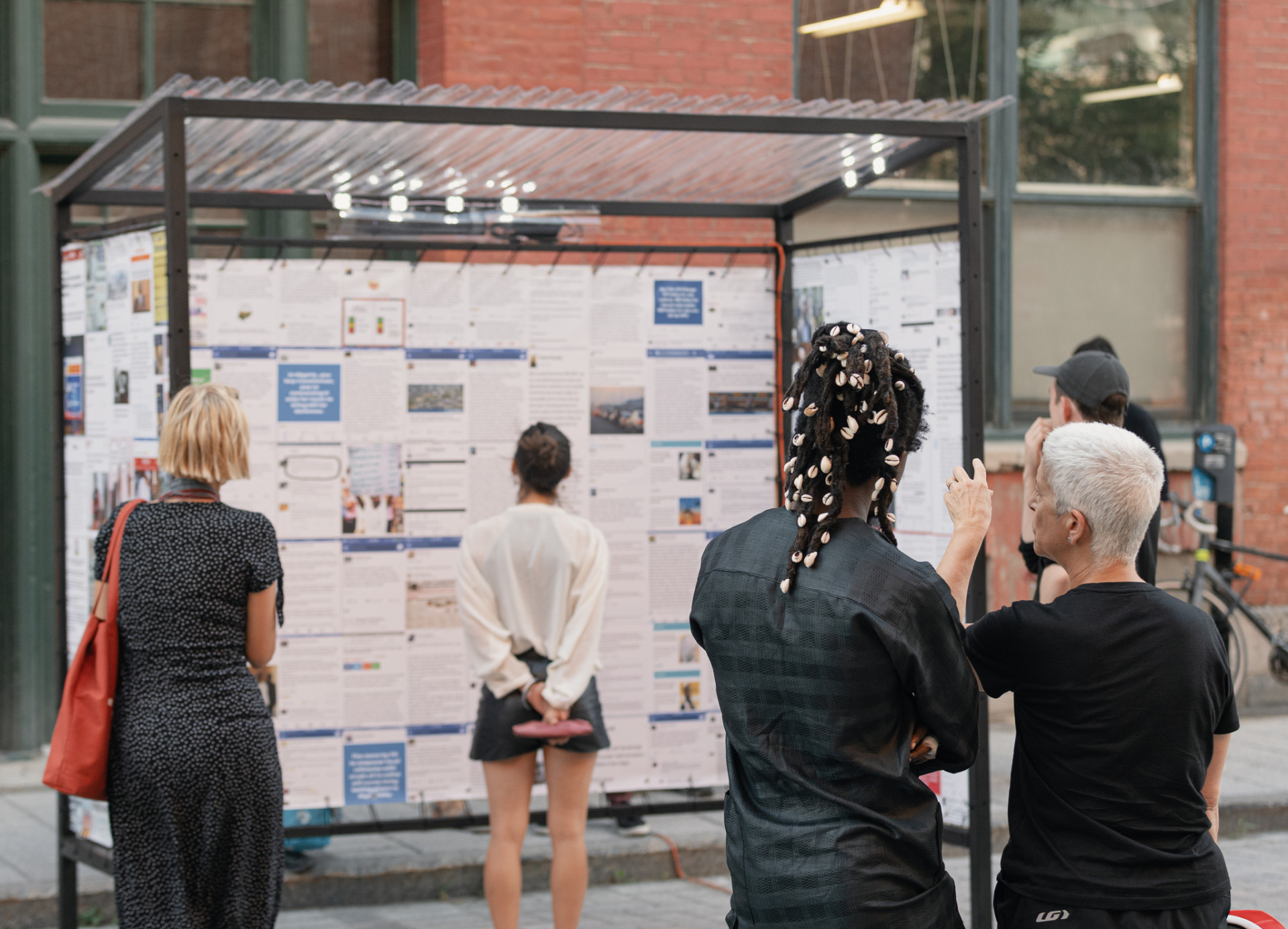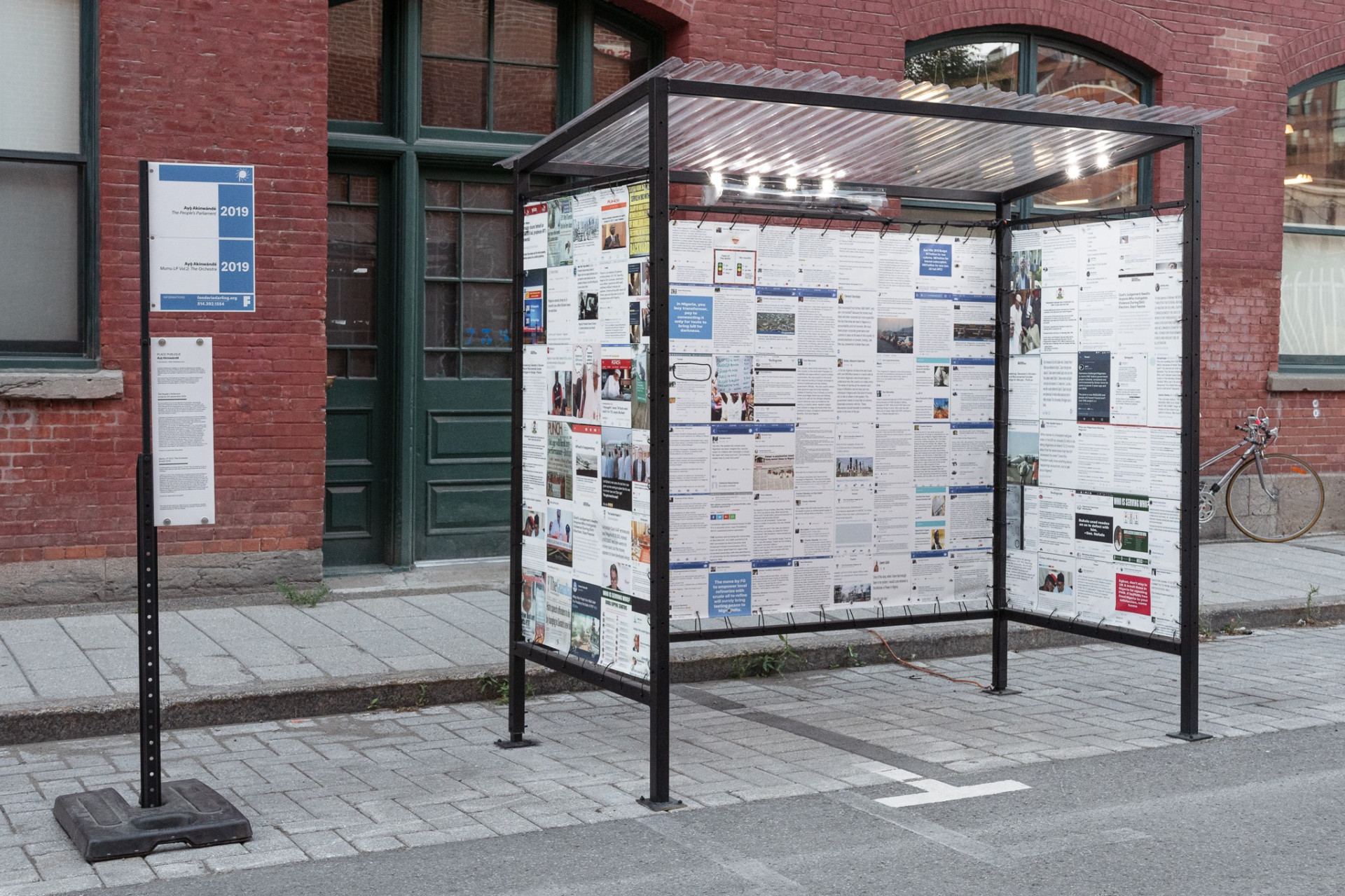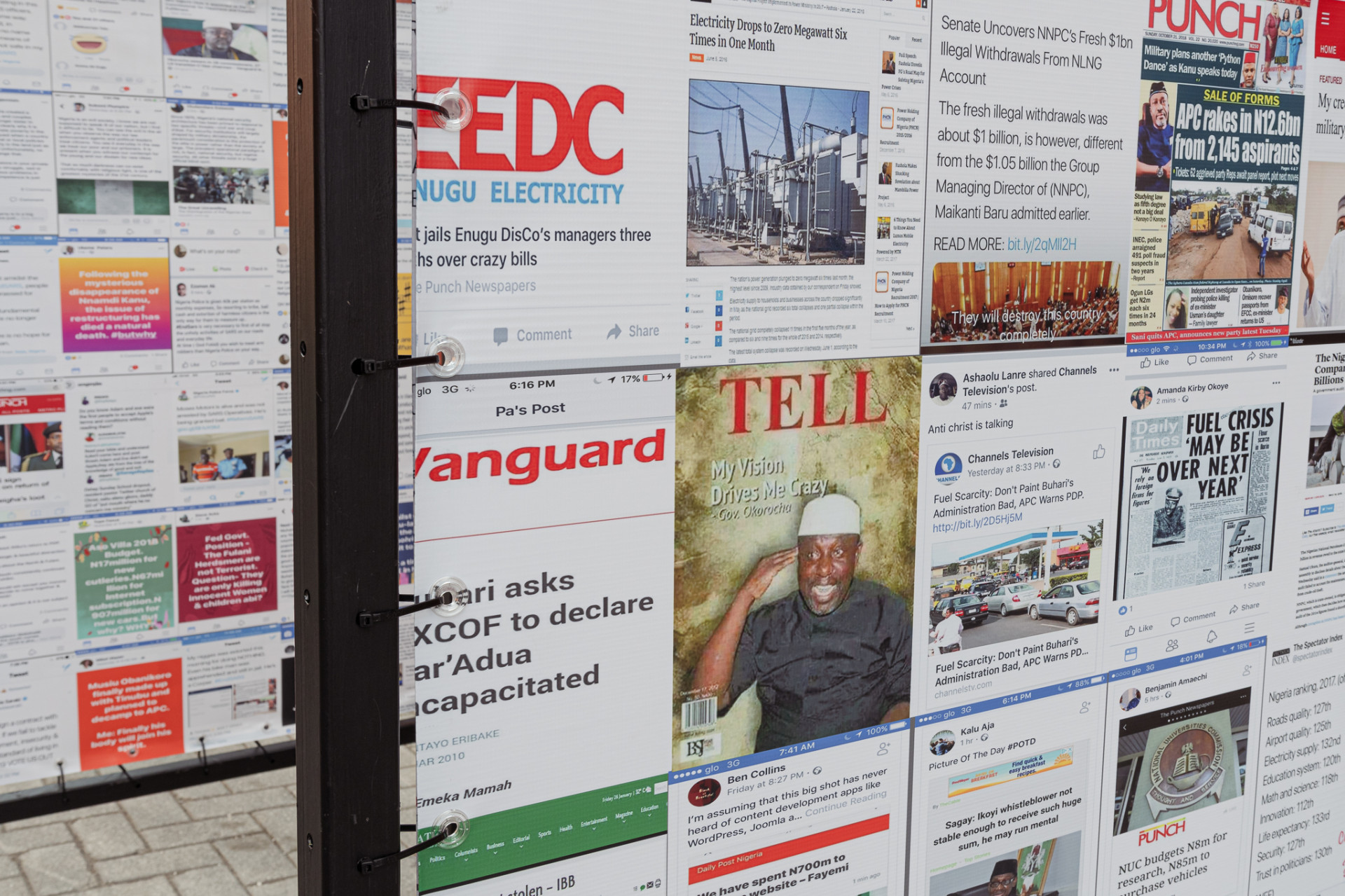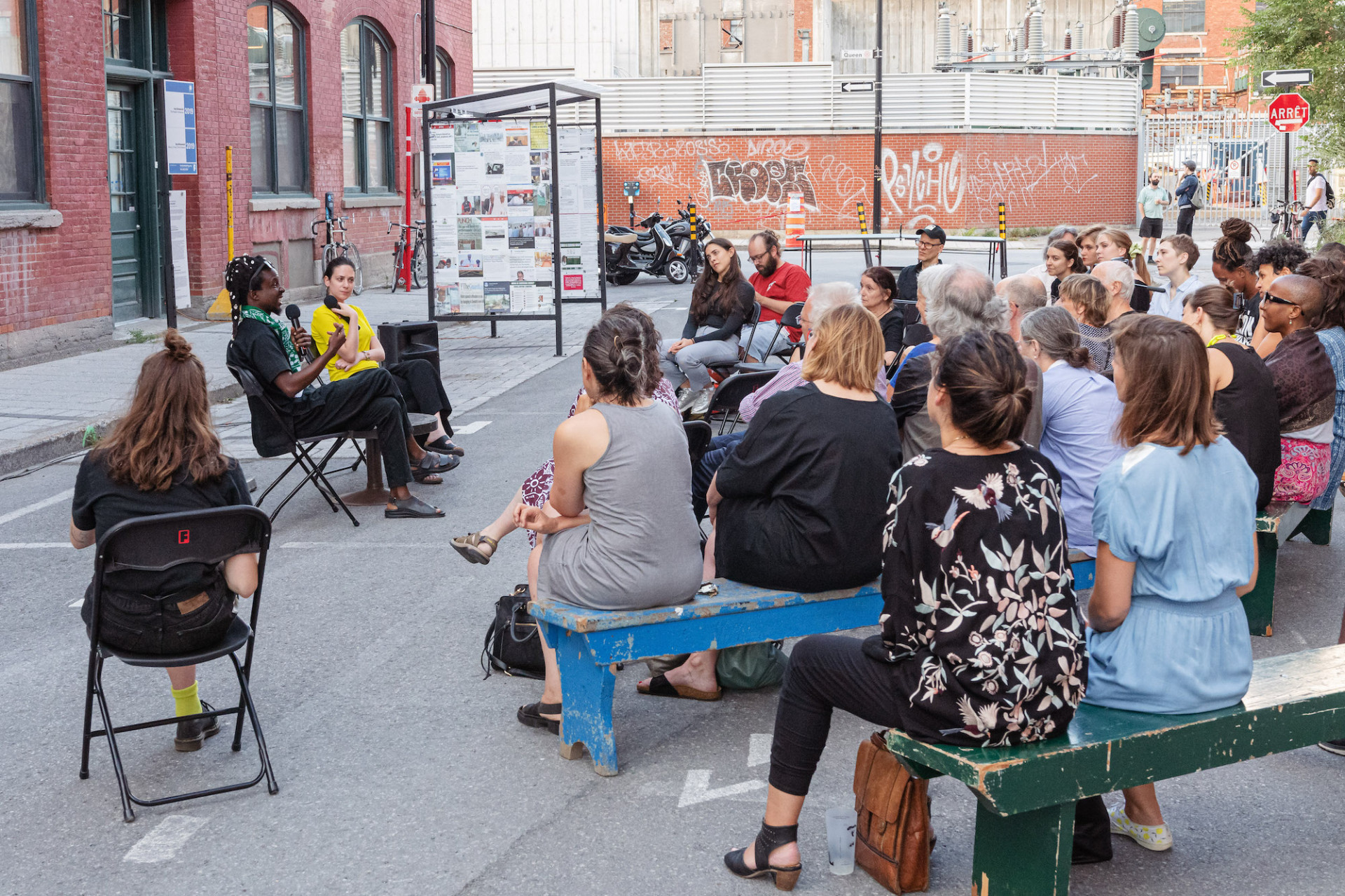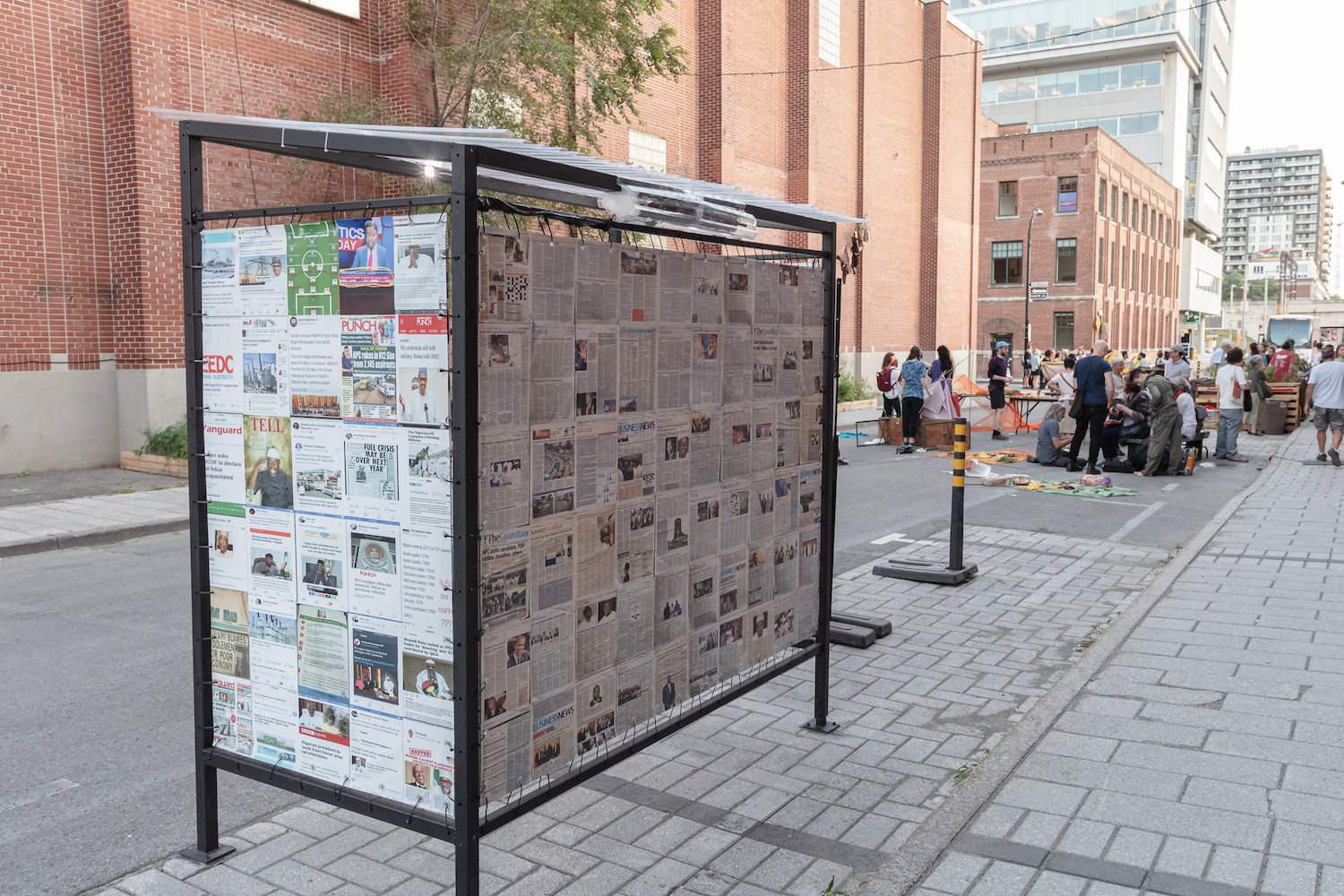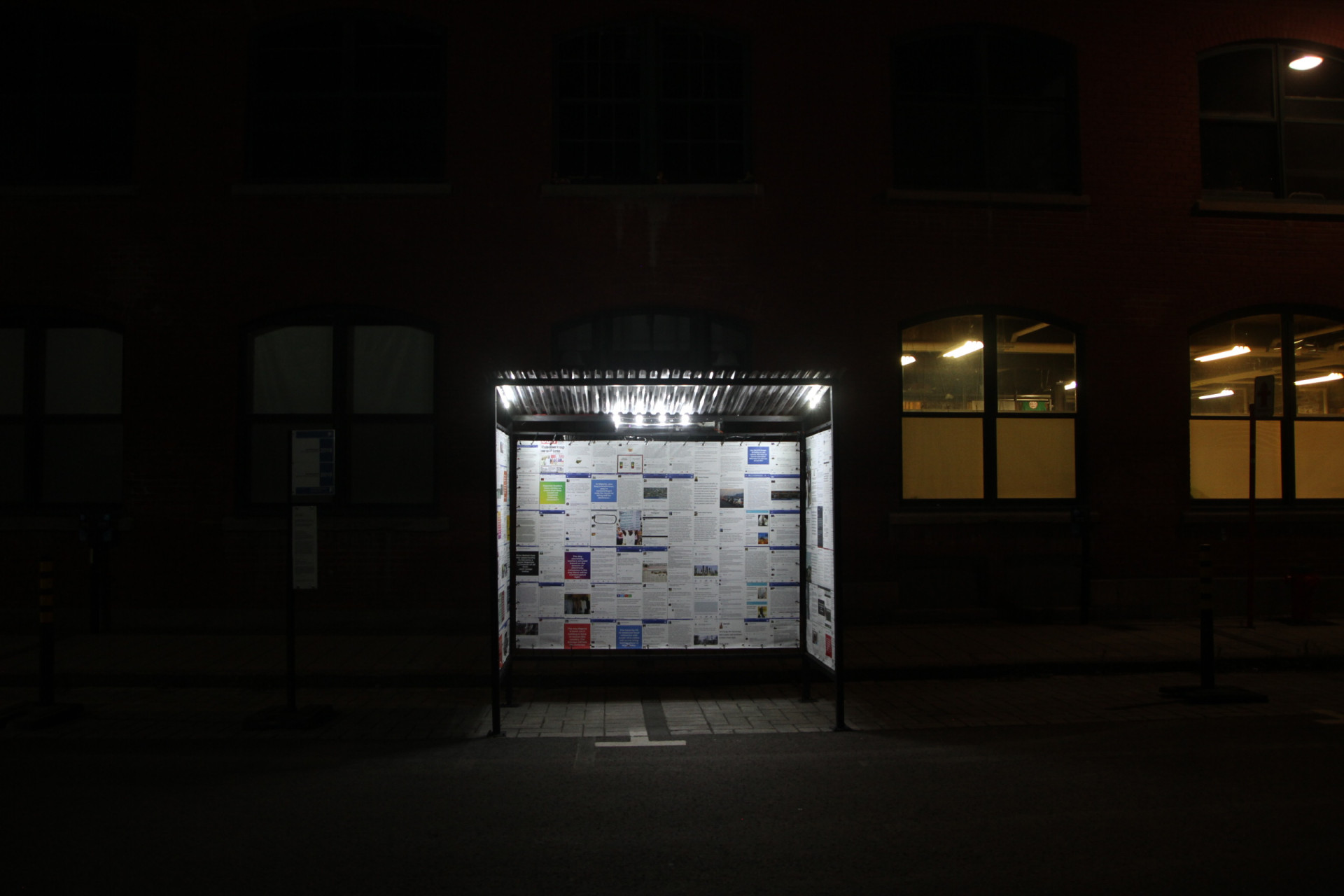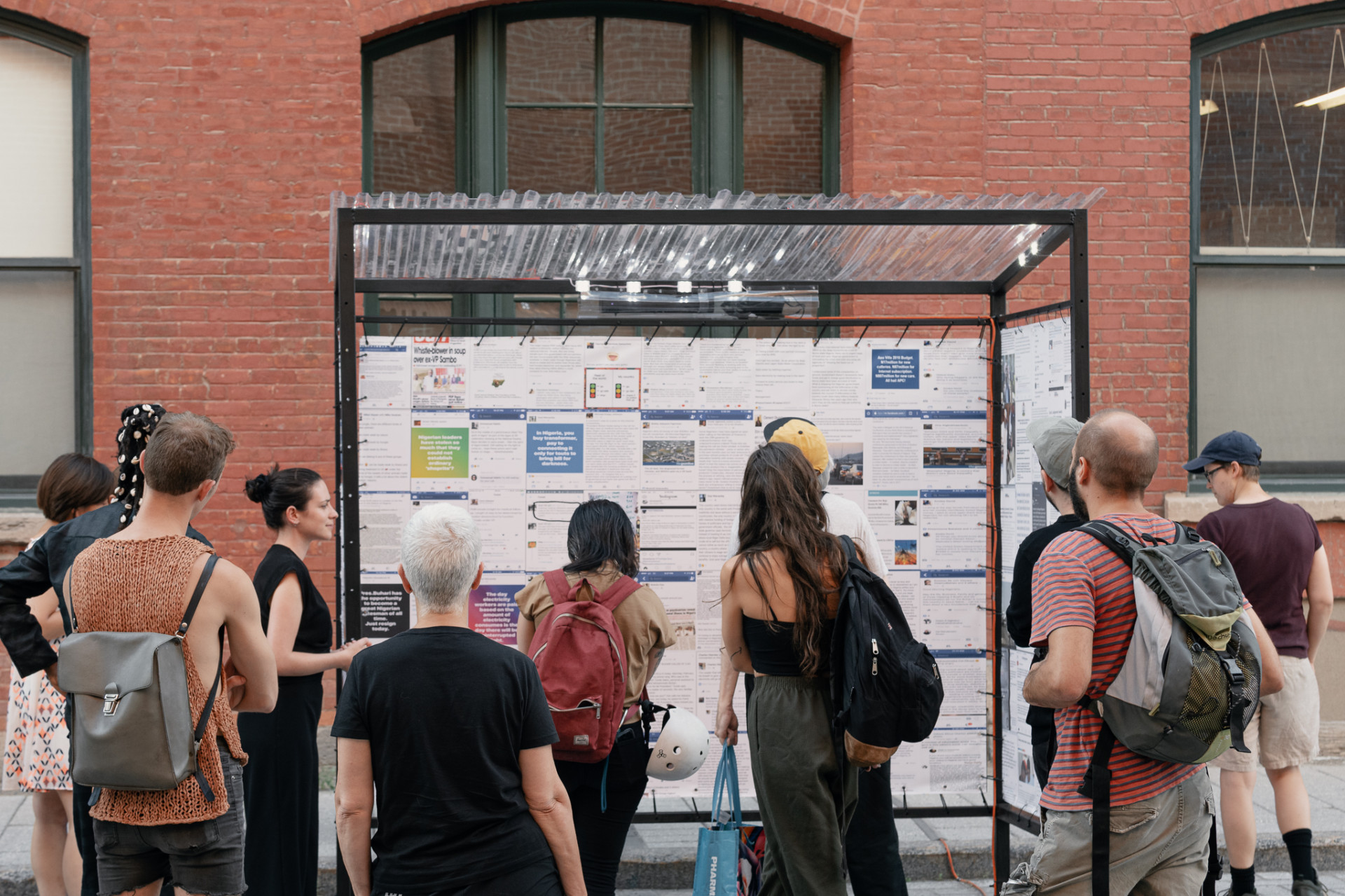 In 2018, Ayọ̀ Akínwándé presented Power Show I in Lagos, the beginning of a large exhibition project on the question of social and political power. At first, Akínwándé offered a critique of governmental control of oil and energy resources to the detriment of Nigeria's population. In the second exhibition, Power Show II: The God-Fathers Are Not to Blame, the artist used street recordings and social media tweets to examine the broken relationship between Nigerian citizens and their government as represented in popular discourse. Invited in residency to realize a project in response to the specific context of Place Publique, Akínwándé presents the beginning of the next iteration of this project, Power Show III: The God-Fathers Must Be Crazy.
On Ottawa street, Akínwándé shows how the opinions of Nigerian citizens form in their daily lives and on the world-wide-web. The artist's research in Place Publique is twofold: a semi-permanent sculptural and sound installation, The People's Parliament, and a performance of Mumu LP Vol 2: The Orchestra. Using the form of the Montreal bus shelter, the artist shifts the use of this stopping and waiting area to a listening zone of transposed contexts. The booth offers passersby on Ottawa Street a foray into two worlds: Lagos, a city with a population of over 20 million people where the artist currently lives, and the equally lively space of social networks.
The word "godfather" used in the exhibition titles refers to the political oligarchy of powerful and corrupt men that rule the country. Nigeria is one of many African countries that saw the emergence of a new democratic model in the 1990s and are now experiencing an ambivalent reality wherein most freedoms and opportunities remain accessible only to the political elite determined by the wealth and international alliances of the individuals within it. The People's Parliament presents newspaper clippings, recorded snatches of heated conversations, and screenshots illustrating political commentaries that are often ironic, indignant, absurd, or plaintive. On Lagos Island and in its surrounding area, almost all bus stops are located near a newspaper stand—a table shaded by an umbrella displaying headlines under a protective plastic cover. In a city of insane traffic like Lagos, schedules and waiting times are unpredictable; bus stops, therefore, become actual meeting places where people debate and fervently or indignantly express their opinions on current events. The work lets us imagine the scene: at the bus stop, everyone speaks with authority, gesticulating and raising their voice to make their case. Speaking to listeners who alternately agree or disagree with one's statements means engaging in a game of power and credibility and taking a public stance. As with social media platforms, the bus stop becomes a real hotbed of conversations.
In listening to heated voices and reading reactionary tweets in response to Nigerian current events, we are reminded that the frustrations and demands of millions of individuals are voiced on Twitter, Facebook, and Instagram. All this agitation seems infinite, just like on a cable news channel. For Akínwándé, when people protest or complain that nothing is being done, their voices take on a certain rhythm, somewhat like a song being played in a loop in the media or at a bus stop. Mumu LP Vol I gives material form to this idea in a music album, each track of which is a fragment of recorded voices. In the pidgin English used in Nigeria, the word "mumu" refers to an individual with a stupid, naive, or reckless attitude. To give the project concrete form in Place Publique, Akínwándé presents Mumu LP Vol 2: The Orchestra, a performance in which voice archives and the constant absurdity of the contemporary political world are transformed into music. On Thursday, August 8, 2019, Akínwándé will perform the work in collaboration with Montreal musicians.
For more than ten years, Place Publique has been a gathering place where social connections develop through art and civic engagement; on Ottawa street, Akínwándé offers a story within a story of the civic discourses that revitalize the public space. By re-activating conversations recorded in Lagos and screenshots specific to the situation of this megacity, Akínwándé invites the neighborhood's passersby, workers, and residents to imagine the countless voices that appear in the space of the street and the web, as well as their prevalence worldwide. In the context of programming focused on public interaction, Akínwándé makes a multitude of voices coexist and combine with our own voices.
Milly-Alexandra Dery
translated from French by Oana Avasilichioaei
Ayọ̀ Akínwándé
Ayọ̀ Akínwándé lives and works in Lagos. He co‐curated the 2017 Lagos Biennial and was also a participating artist at the exhibition held at the Nigerian Railway Museum. He was selected for the 2nd Changjiang International Photography and Video Biennial and was part of the ChinAfrika – under construction exhibition at the Museum of Contemporary Arts, Leipzig.
He is a contributor to the book ASIKO: On the Future of Artistic and Curatorial Pedagogies in Africa by the Centre for Contemporary Arts Lagos. His works and writings have been featured in Art Africa, Dienacht Magazine, PoetsArtists, Contemporary&, The Sole Adventurer, Somethingweafricansgot and other journals and publications around the world.
Akínwándé is a 2018 ArtX Prize finalist and a Top10 finalist at the 2018 ABSA L'Atelier Art competition with his work forming part of the exhibition at the ABSA Gallery. He has exhibited in solo and group shows across Africa and beyond.
More about
Lagos, Nigeria

Curator
Milly-Alexandra Dery