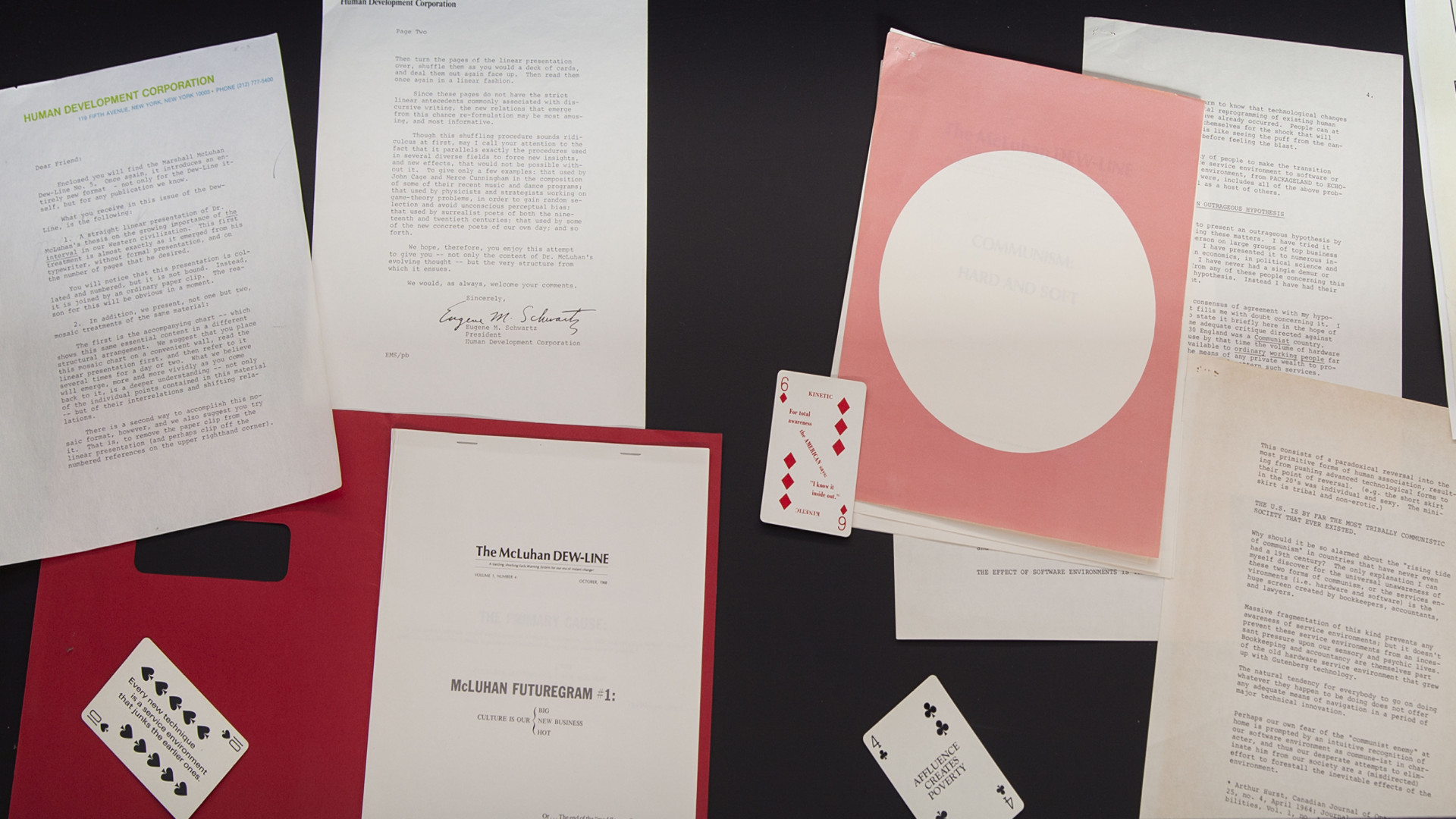 Re-understanding Media Symposium
Fonderie Darling is pleased to invite you to a day of exchange around the book Re-understanding media : feminists extensions of Marshall McLuhan, co-edited by Sarah Sharma and Rianka Singh and published by Duke University Press in Spring 2022. In the presence of the book's authors and the curator of the exhibition Baruch Gottlieb, the public is invited to discover the current state of research in media theory in a convivial context, in the very heart of the exhibition FEEDBACK #6: Marshall McLuhan and the Arts. Interventions from the Montreal artistic and academic community are also programmed.
*Please note that some of the presentations will take place in English and others in French only. Questions and interventions from the public can be shared in both languages and brief summary translations will be provided.
SCHEDULE
1:15pm - 2:30pm:
Prakash Krishnan and Liane Décary-Chen, followed by Stéfanie Duguay, AM Trépanier and Alex Chartrand / moderated by Alexandre Piral (in French)
2:30pm - 4:15 pm:
Armond Towns, Sara Martel, Ganaele Langlois and Cait McKinney / moderated by Sarah Sharma (in English)
4:30pm - 6pm:
Jeremy Packer, Sarah Banet-Weiser, Rianka Singh and Nicholas Taylor / moderated by Baruch Gottlieb (in English)
ACCESS
Please note that access to Fonderie Darling via Queen Street is temporarily blocked due to construction works on Ottawa Street. An access corridor has been set up at the intersection of Prince and Ottawa Streets. For people with reduced mobility, please call +1 514-392-1554 and we will be happy to accompany you to an accessible entrance.
LIVESTREAM
In order to allow remote access to this event, the day will be entirely livestreamed on YouTube.
RE-UNDERSTANDING MEDIA : FEMINIST EXTENSIONS OF MARSHALL MCLUHAN

The contributors to Re-Understanding Media advance a feminist version of Marshall McLuhan's key text, Understanding Media: The Extensions of Man, repurposing his insight that "the medium is the message" for feminist ends. They argue that while McLuhan's theory provides a falsely universalizing conception of the technological as a structuring form of power, feminist critics can take it up to show how technologies alter and determine the social experiences of race, gender, class, and sexuality. This volume showcases essays, experimental writings, and interviews from media studies scholars, artists, activists, and those who work with and create technology. Among other topics, the contributors extend McLuhan's discussion of transportation technology to the attics and cargo boxes that moved Black women through the Underground Railroad, apply McLuhan's concept of media as extensions of humans to analyze Tupperware as media of containment, and take up 3D printing as a feminist and decolonial practice. The volume demonstrates how power dynamics are built into technological media and how media can be harnessed for radical purposes.
BIOGRAPHIES
SARAH SHARMA is an associate professor and director of the Institute for Communication, Culture, Information and Technology at the University of Toronto. She was director of the McLuhan Centre for Culture and Technology between 2017 and 2022. She is the author of In the Meantime: Temporality and Cultural Politics (Duke University Press, 2014). Sarah is currently working on a new monograph about technology and the gendered politics of exit.
RIANKA SINGH is an assistant professor in the department of Communication and Media Studies at York University. Rianka's research focuses on the intersection of feminist media studies, platform studies, and feminist geography. Her work has been published in First Monday, Feminist Media Studies, and ADA.
SARAH BANET-WEISER is professor of Media, Gender and Communication at the Annenberg School for Communication at the University of Pennsylvania and the Annenberg School for Communication and Journalism at the University of Southern California. Her research interests include gender in the media, identity, citizenship, and cultural politics, consumer culture and popular media, race and the media, and intersectional feminism. She is the author of Empowered: Popular Feminism and Popular Misogyny (Duke University Press, 2018). Banet-Weiser is the recipient of the International Communication Association's Outstanding Book Award for Authentic ™: The Politics of Ambivalence in a Brand Culture (2012). She is currently working on a book titled Believability: Gender, Race and the Labor of Being Believed.
GANAELE LANGLOIS is associate professor in the Department of Communication and Media Studies at York University and associate director of the Infoscape Lab. Her research revolves around media theory, digital cultures, philosophy of technology, and critical theory. She is the author of Meaning in the Age of Social Media (2014).
SARA MARTEL is an independent scholar and training psychotherapy student in Toronto, Ontario. Her work explores the intersections of media, culture, health, and illness. She is particularly passionate about understanding the experiential and technocultural dimensions of end-of- life, grief, and mourning.
CAIT MCKINNEY is assistant professor in the School of Communication at Simon Fraser University. McKinney is author of Information Activism: A Queer History of Lesbian Media Technologies (Duke University Press, 2020). McKinney's research looks at the politics of information in queer and feminist social movements, particularly digital technologies, archiving practices, and queer media histories.
JEREMY PACKER is professor in the Institute for Communication, Culture, Information and Technology and in the Faculty of Information at the University of Toronto. He is the author or editor of seven books, including Killer Apps: War Media Machine (Duke University Press, 2020), a historically informed critique of the military rise of automation and AI co-authored with Joshua Reeves, and the forthcoming The Prison House of the Circuit: A Media Genealogy, a multi-authored historical monograph detailing the rise of digital media governance.
NICHOLAS TAYLOR is an associate professor in the Department of Communication at North Carolina State University. His work applies feminist and posthumanist perspectives to qualitative research on play-based media. He is the lead editor on Masculinities in Play, the first volume on the intersections of masculinities and games. Ongoing interests include the gendered politics of gaming's physical contexts (including man caves and gaming tournaments), and the media practices of artists who work with lego.
ARMOND R. TOWNS is an associate professor of Communication and Media Studies at Carleton University. His areas of study include, but are not limited to, Black studies, media theory and history, cultural studies, post-and decolonial studies, the philosophy and science of race, feminist and queer geography, and political economy. Towns is the author of On Black Media Philosophy(2022).
STÉFANIE DUGUAY is an Assistant Professor in the Department of Communication Studies at Concordia University in Tiohtià:ke/Montreal, Canada. She is a Concordia University Research Chair and Director of the Digital Intimacy, Gender and Sexuality (DIGS) Lab where her research focuses on the intersection of digital technologies and media with representations and practices pertaining to intimate life, relationships, gender, and sexuality. This has involved studies of LGBTQ+ people's social media participation, dating apps, platform appropriation and governance, discourses of automation and algorithmic neutrality, and the role of platforms and mobile media in queer social landscapes.
AM TRÉPANIER is an artist-researcher and Master's student in Media Studies at Concordia University in Tiohtià:ke/Mooniyang (Montreal). They are a research assistant for the Digital Intimacy, Gender & Sexuality (DIGS) Lab and a member of the Feminist Media Studio. Their academic research focuses on the intersections of art and activism, self-determination, information infrastructures, and feminist and queer critique of media and technology. Since 2018, they co-edit with Laure Bourgault the journal Cigale, a bilingual publication dedicated to the dissemination of artists' writings.
ALEX CHARTRAND is a PhD student in Communication Studies at Concordia University in Tiohtià: ke/Montreal and is a member of the Digital Intimacy, Gender & Sexuality Lab. He is also currently an Associate Doctoral Candidate at Configurations of Film at Goethe Universität, Germany. His interests are online social movements, queer countercultures, platform governance, algorithmic studies and alternative use of technology. He works on algorithm-related controversies across social media platforms and how LGBTQ+ users are increasingly mobilizing against it, analyzing how users and activists perceive algorithmic bias and how this understanding shapes their repertoire of actions. Moreover, his research asks how users make sense of their activism while remaining active members of these social media platforms.
PRAKASH KRISHNAN is an artist-researcher and cultural worker in visual arts. His personal and professional interests lie at the intersection of art, media, activism and community engagement. Prakash is the co-host of Do the Kids Know? a bi-weekly anti-colonial podcast on Canadian media. He works in art education at Centre CLARK and PHI Foundation, as a research associate at the Access in the Making lab, and as the Archival Director on the upcoming Things+Time project from the Cyber Love Hotel. 
LIANE DÉCARY-CHEN is a creative technologist and community organizer working in digital media and cultural intervention. She is interested in creating work that grows inside the digital systems she seeks to dissect. Her current practice is informed by her past work in wearable electronics, interactive documentary filmmaking, participatory game making, and tech education. Décary-Chen now co-runs the Cyber Love Hotel in Montreal and is project lead of Things+Time, a community archival project.
BARUCH GOTTLIEB, Dr. phil., trained as a filmmaker at Concordia University Montreal, has a doctorate in digital aesthetics from the University of Arts Berlin. From 2005-2008 he was professor of Media Art at Yonsei University Graduate School for Communication and Arts in Seoul, Korea. He is active member of the Telekommunisten, Arts & Economic Group and laboratoire de déberlinisation artist collectives. Author of Gratitude for Technology (ATROPOS 2009), A Political Economy of the Smallest Things (ATROPOS 2016), and Digital Materialism (Emerald 2018) he currently lectures in philosophy of digital art at the University of Arts Berlin. He is curator of the touring exhibition series "Flusser & the Arts" based on the philosophical writings of Vilém Flusser, which has been presented at ZKM, Karlsruhe, AdK Berlin, West den Haag and GAMU Prague and "FEEDBACK: Marshall McLuhan and the Arts" which has been presented at West den Haag and 34th Chaos Communication Congress, Leipzig, and is travelling to Berlin, Paris, and Toronto. He writes extensively on digital media, digital archiving, generative and interactive processes, digital media for public space and on social and political aspects of networked media. He is currently lecturer in digital aesthetics at UdK Berlin and Technical University Cottbus and artistic researcher in residence at West Den Haag.
1 pm to 6 pm
Book launch
Main hall