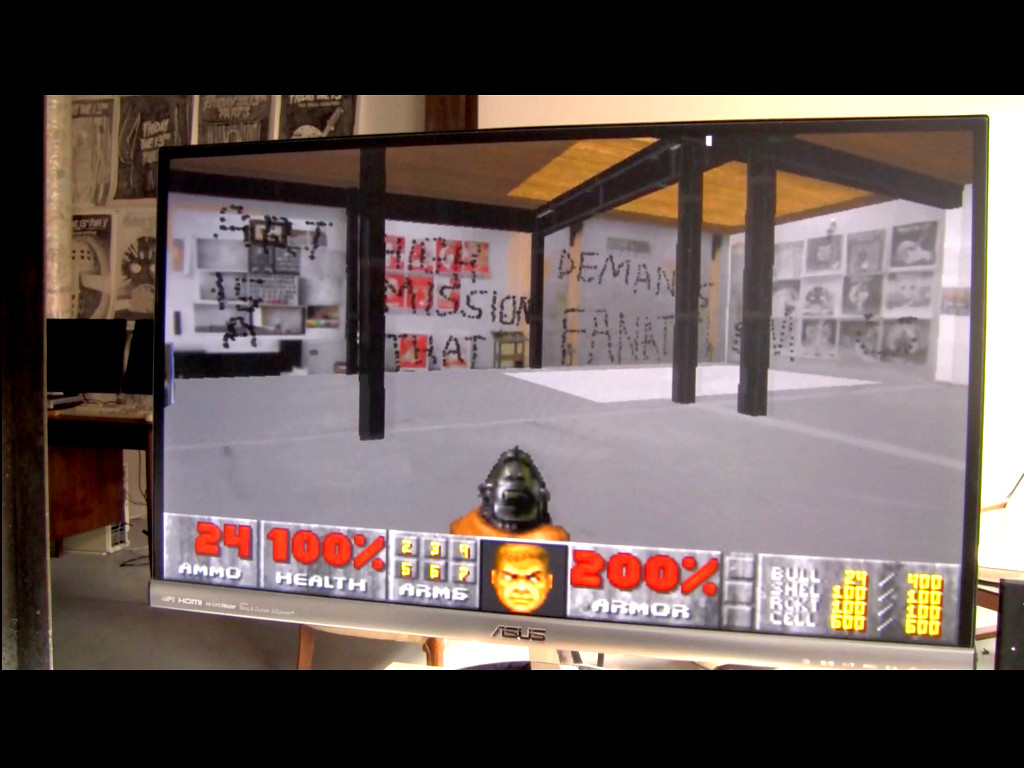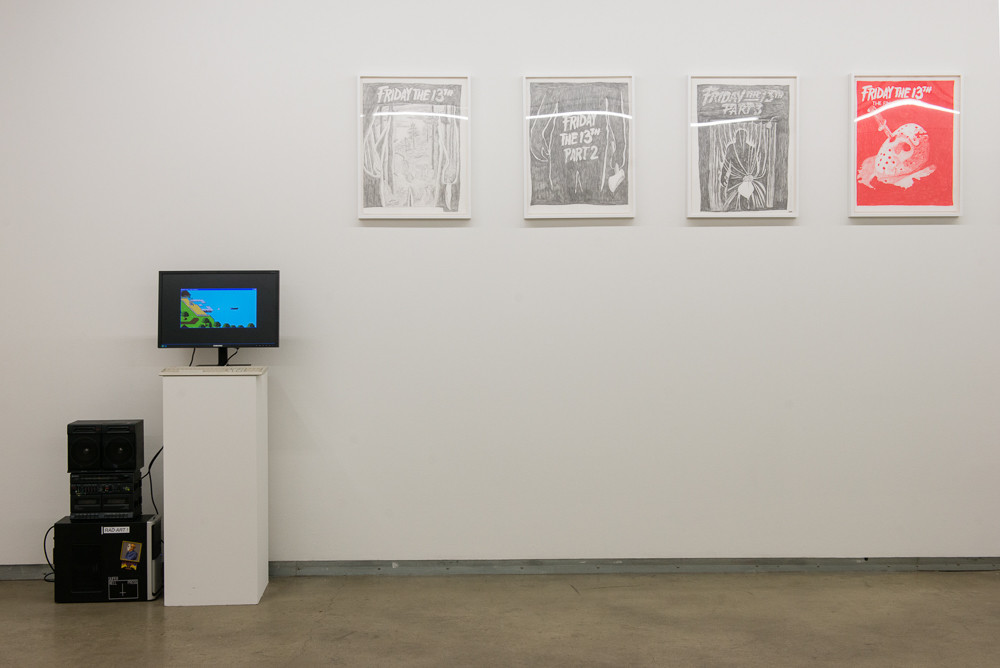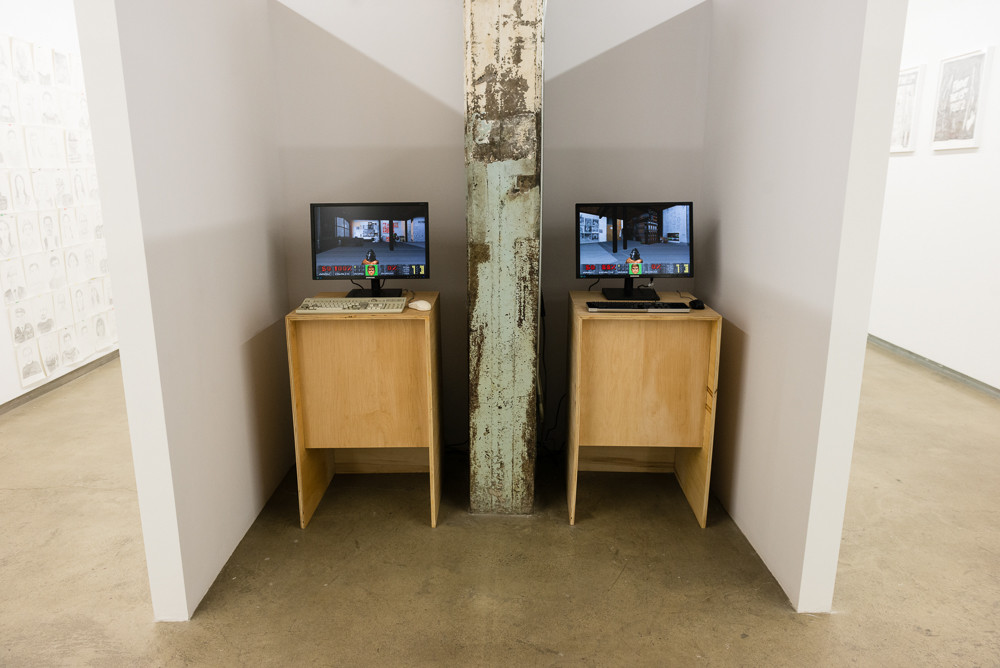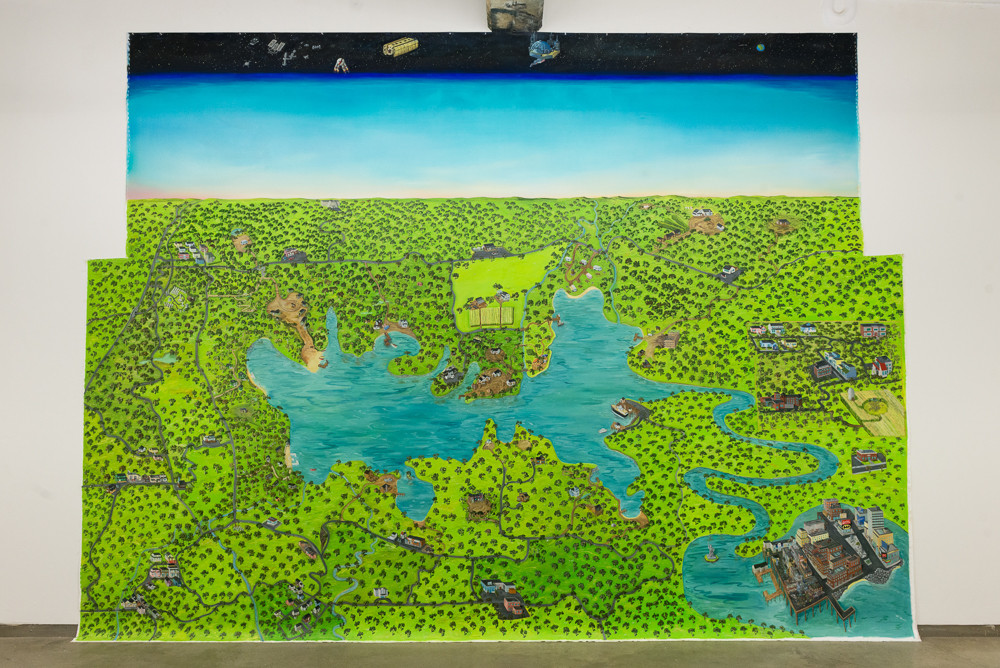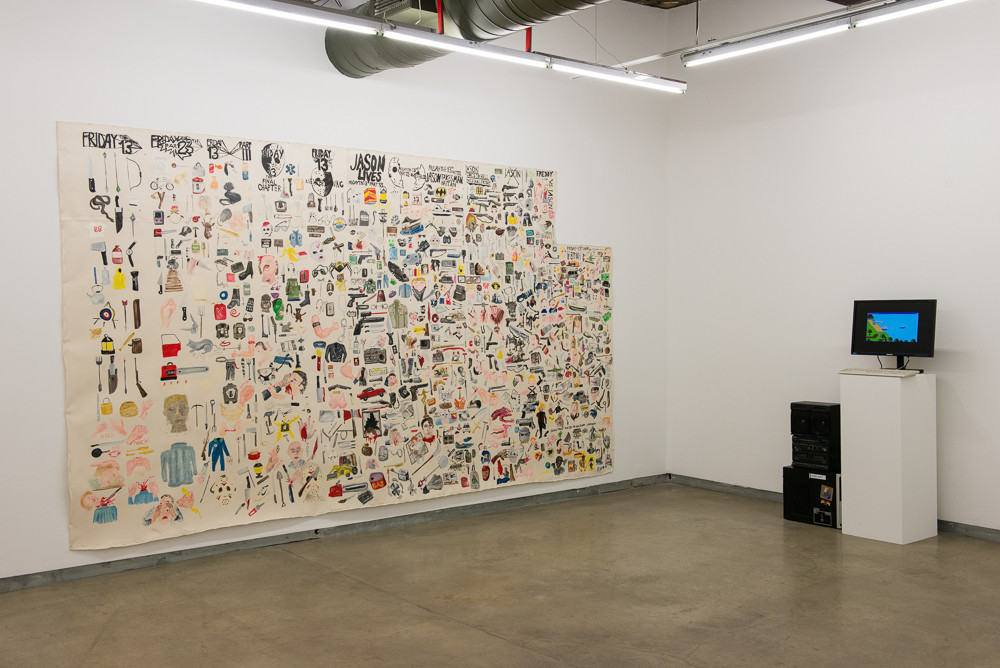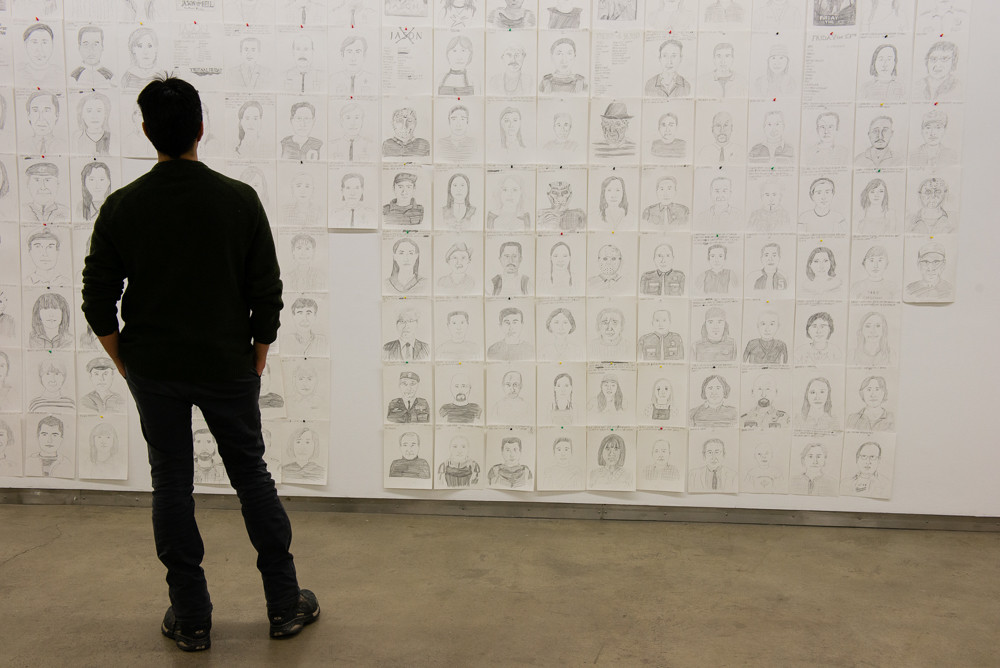 David Arseneau's current work, SUPER F13 PART 1 TO PART 12 REDESIGN, recaptures a youthful undercurrent. Reflected in his choice of media and subject matter as well as in his compulsive treatment of them, Arseneau's interest in the 1980s grotesque horror movie franchise Friday the 13 th, gives way to an obsessive catalogue that extirpates characters and contexts from all twelve films. Working through various media, the work's offbeat style betrays the significance of its achievements. As its central theme, Friday the 13 th acts as a pretext for the exploration of new forms of expression that push the production of the work to the limits of its own reflection: sketches of the victims and survivors are crudely drawn in pencil (SF13 Characters); a makeshift video game offers a tour of Crystal Lake (SF13 Video Game); a mapping project imagines all locations across a single landscape (SF13 Super Map); an exhaustive inventory indexes all the weapons and items used (SF13 Items and Weapons); a collection of movie posters from all twelve films are faithfully reproduced (SF13 Posters). While these offshoots suggest the artist's compulsive desire to capture everything,
they also insinuate an attempt to trivialize the horror within these films by uprooting it.
In the center of the gallery, two computer stations are isolated in a small cell reflecting the confinement linked to the artist's practice. These stations invite the public to take command of a subversive game. Revisiting the video game format, Studio Doom transforms this medium into a new dialectical and creative platform. In foregrounding his creative process, the artist uses Studio Doom to address current issues, such as the regular outpour of violence. Using his studio as his subject, the one he assiduously occupies at the Darling Foundry, the artist invites us to visit a recreation of his studio. Through the mediation of the screen, however, the intimacy of the studio as "think-tank" is undermined and is instead transformed into a battleground. The works presented in the exhibition space are caricatured in Studio Doom where they become the target of systematic shelling. From the perspective of an anonymous shooter who handles a weapon and executes the works in its sights, Studio Doom transmits a malaise, a tension between gravity and derision. Transforming the space of creation into a site of destruction, Arseneau's naive and obsessive language, which is both mechanical and endearing, raises aesthetic as much as political issues. Saturating the space of the gallery, even the title of David Arseneau's exhibition, SUPER F13 PART 1 TO PART 12 REDESIGN STUDIO DOOM, evokes, in turn, an instrument of war. Such an evocation invites us to question the world and the ways in which we deride and normalise violence.
David Arseneau
David Arseneau holds an MFA from Concordia University.
Curator
Caroline Andrieux
Download