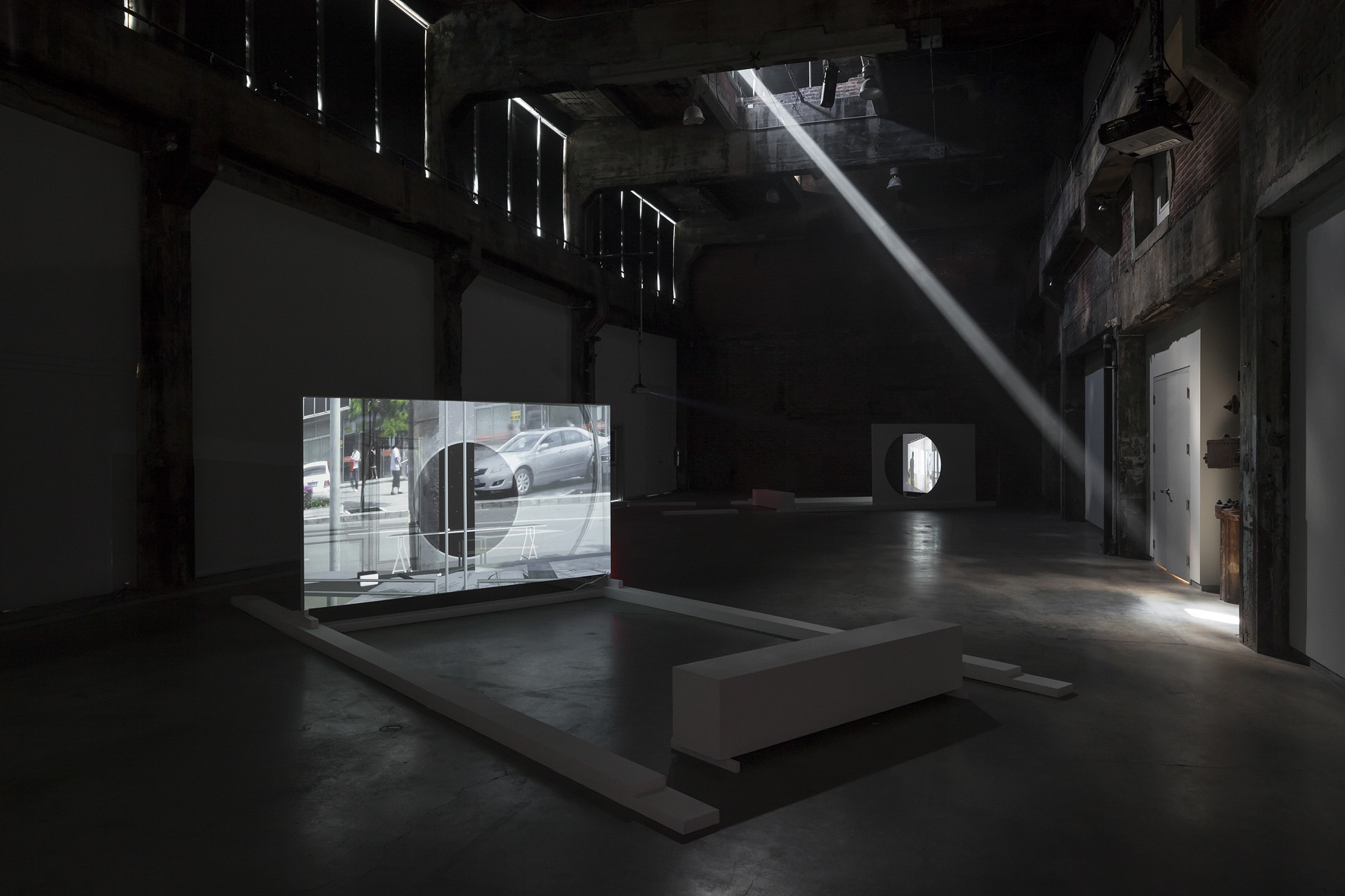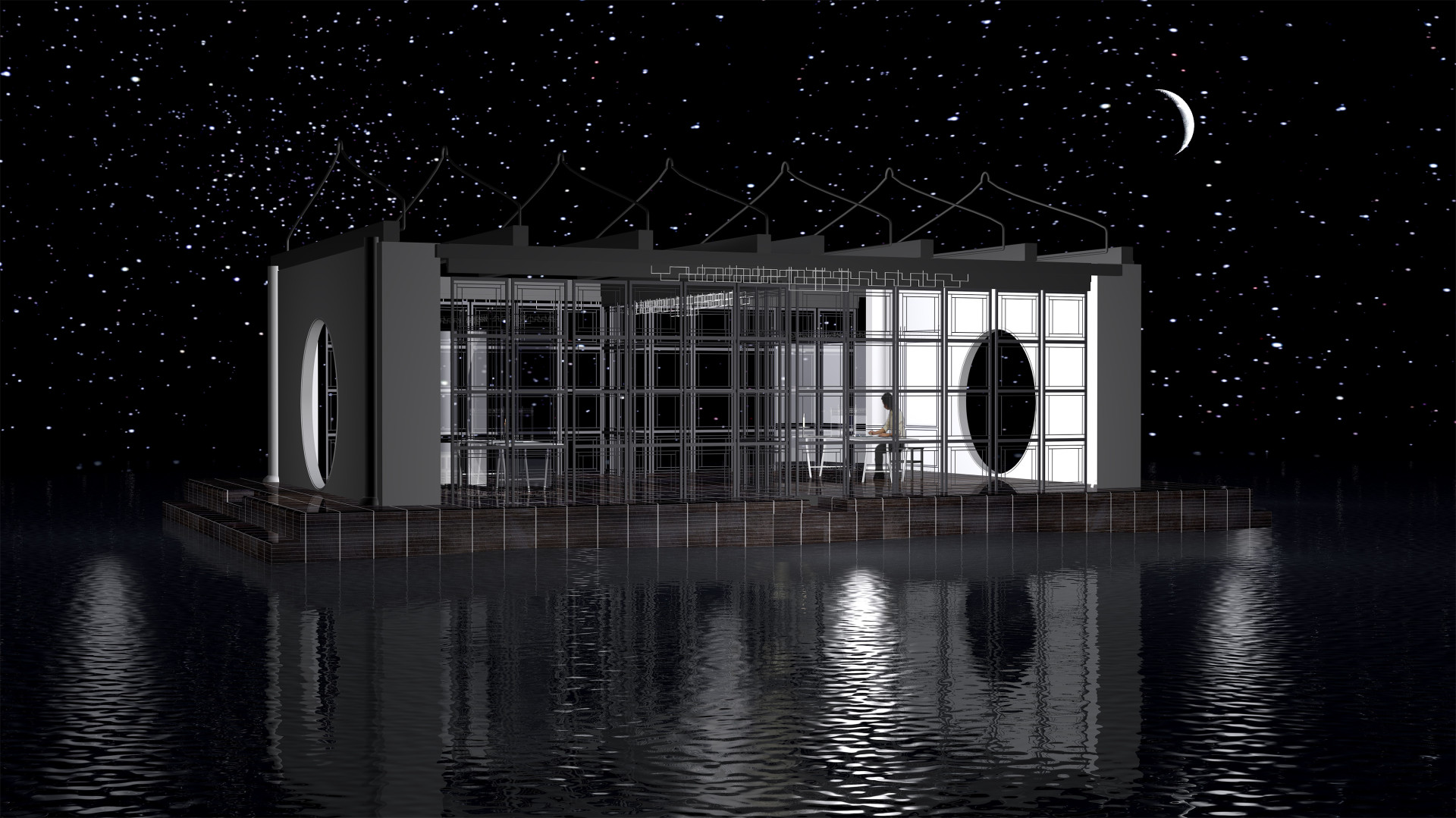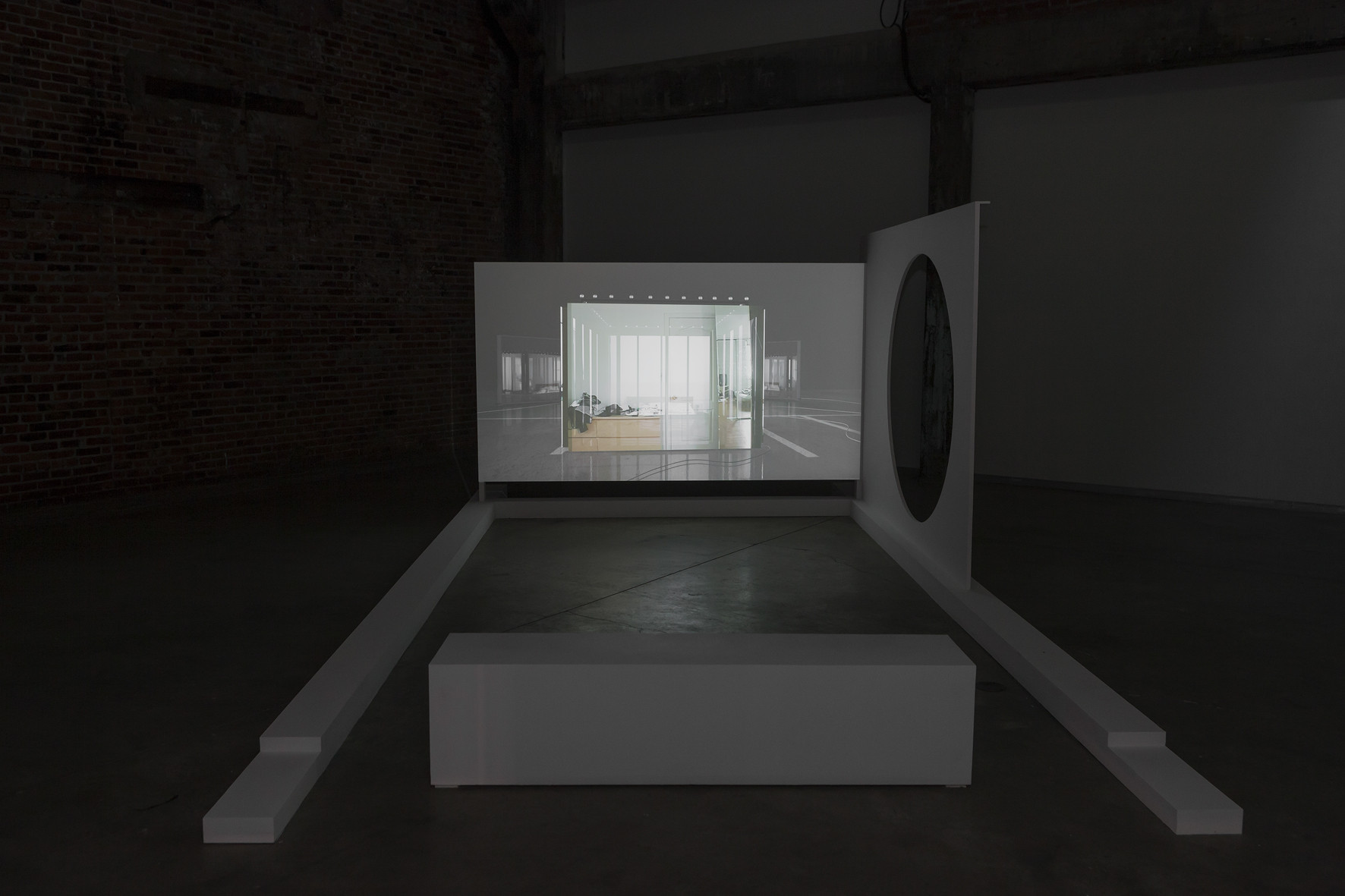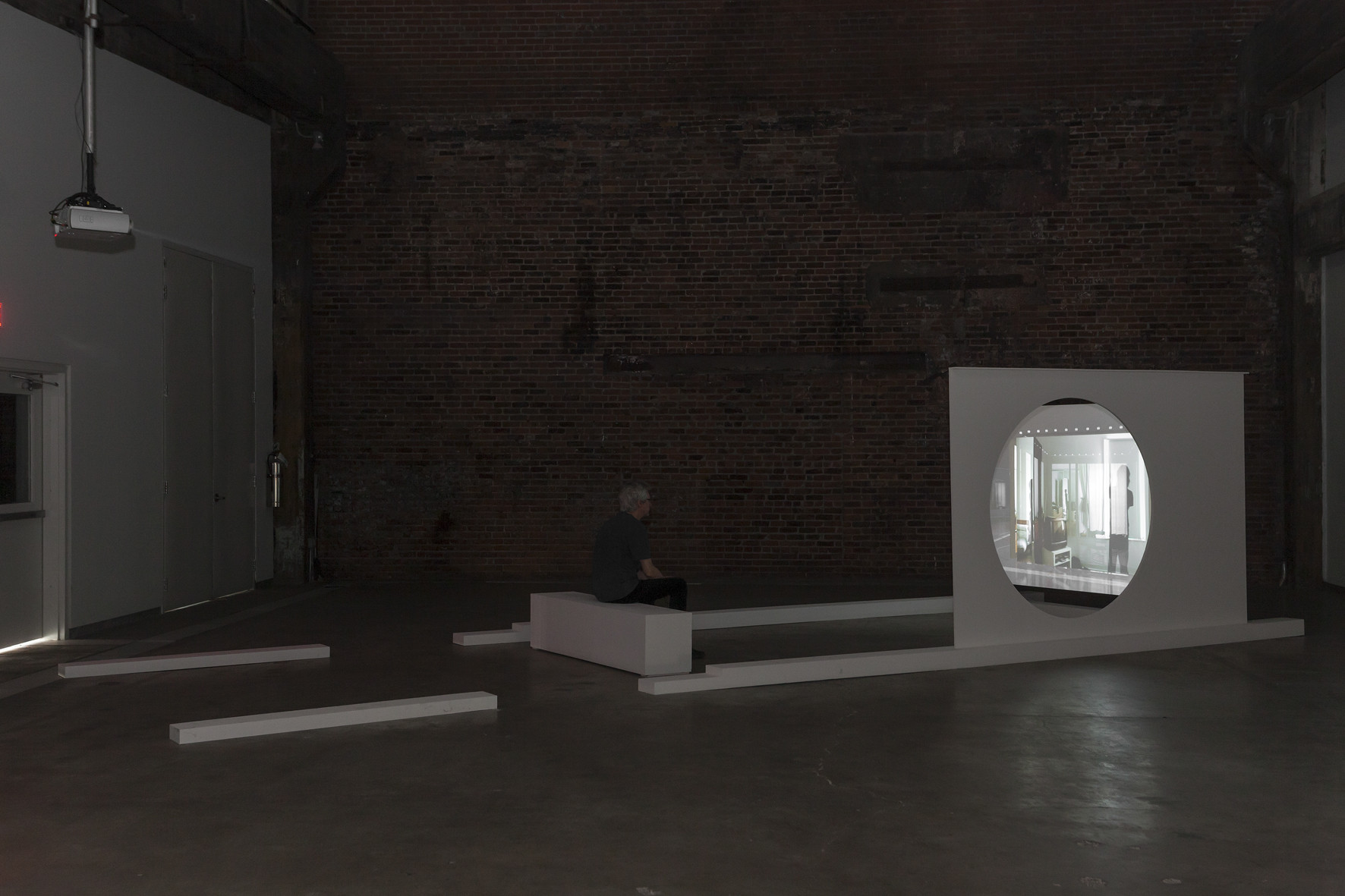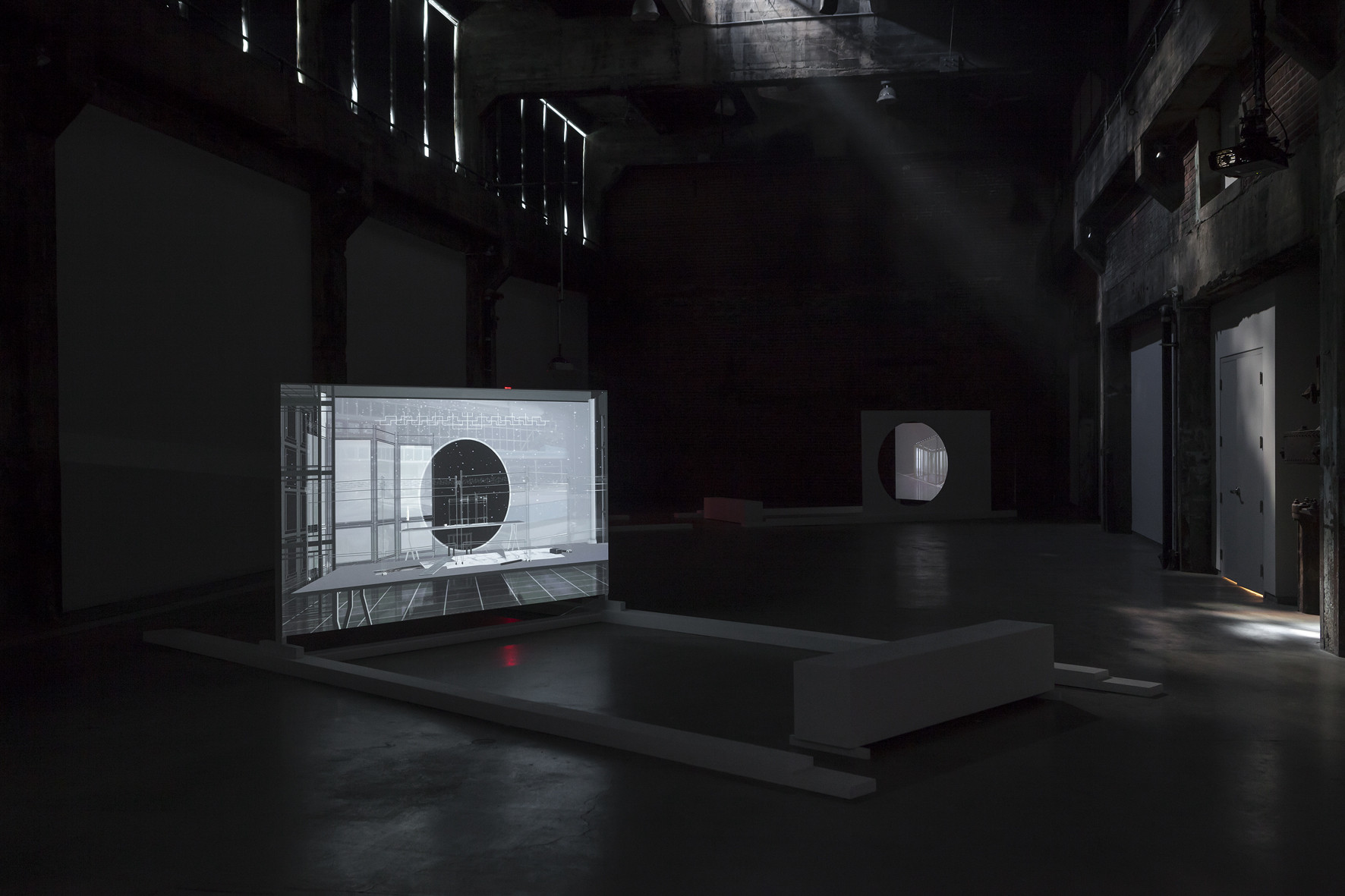 Yam Lau
/ A World is a Model of the World
Curator : Alice Jim
In a corner of a city centre undergoing modernization and gentrification, fraught with conflicting economic scales of living together, a means of voluntary reclusion is on offer via a Chinese scholar's studio and an apartment residence. The video projections, Between Past and Present: Lived Moments in Beijing (2012) and Room: An Extension (2008), are set adrift on two island pavilions connected by unobstructed garden pathways that are partly imaginary and partly evoked through deliberate landscaping and the open frame armature. Yam Lau's recent work explores the use of real-time video footage and computer-aided design software to manifest familiar spaces in varying dimensions and perspectives.
The images in Room: An Extension are of the artist's bedroom in Toronto, recomposed in virtual space according to the architectural schema that enables rotating views of the domestic quotidian from multiple angles. Between Past and Present begins as a model of a scholar's studio that floats on a night-lit body of water. A circling pan and zoom calculatingly weaves together both the animated lattice and scenes of the sparsely-equipped atelier accessible on either end by moon gates, traditional portals into an alternative world. The sanctuary's many screens however slowly dissolve into contemporary scenes of a busy Beijing street in midday. Overlapping sights and sounds of urban life fold and unfold until evening, when there is a quiet return to the studio. In both videos, the presence of the artist at work is subtly yet insistently captured.
Throughout China's long seventeenth century, the notion of reclusion, of self-imposed withdrawal from the world in order to provide models for others, was idealized and imagined more than achieved in actual practice. Not unlike the modern world today, everyday demands of life, work and relationships and a dynamically changing world made even aspirations to the ideal of retreat difficult to imagine. It was accordingly the ineffable dimension of the studio as a world or realm that afforded the ideal place precisely to engage in a dialogue of disengagement. However, the studio, once thought of as the exclusive purview of a privileged few, has transmogrified in modern times into a diverse range of places/locations, occupations and practices.
In a manner of speaking, Lau's private-made-public spaces in this exhibition are intended to be shared among multiple stakeholders. Studios as residencies, scholarly retreats, the home as atelier and study, DIY spatial politics, and the city itself as studio with the world as back lot, are propositioned as interrelated platforms of intellectual and creative activity. "A World is a Model of the World" may well be taken therefore as a strategic invitation to imagine an alternative world-picture – a summer retreat that is neither escape nor excuse to ride out dramatic political and social change but an act of non-compliance and reconnaissance of Being-in-the-World.

Alice Ming Wai Jim is an art historian and independent curator based in Montreal. She is currently Associate Professor of Contemporary Art in the Department of Art History at Concordia University.
Yam Lau
Yam Lau was born in Hong Kong. He received his MFA from the University of Alberta and is now based in Toronto where he is an associate professor of painting at York University. Lau publishes regularly on art and design and has exhibited his work widely in Canada, USA, Europe and China. He is a co-founder of the community-based art project "Donkey Institute of Contemporary Art" in Beijing, China. His work is represented by Katzman Kamen Gallery in Canada and Yuanfen New Media Art Space in Beijing.
More about
Hong Kong, China
Toronto, Canada