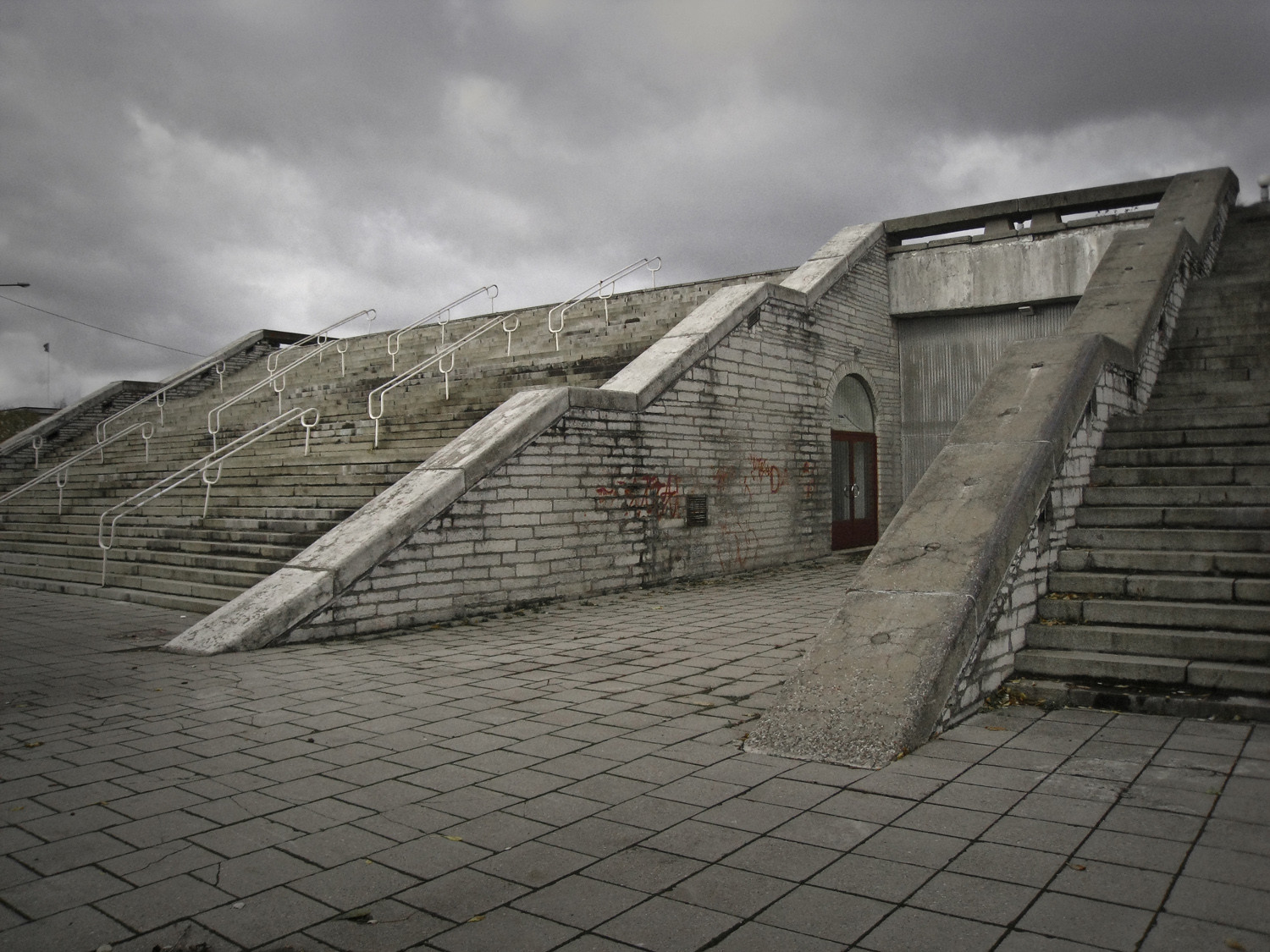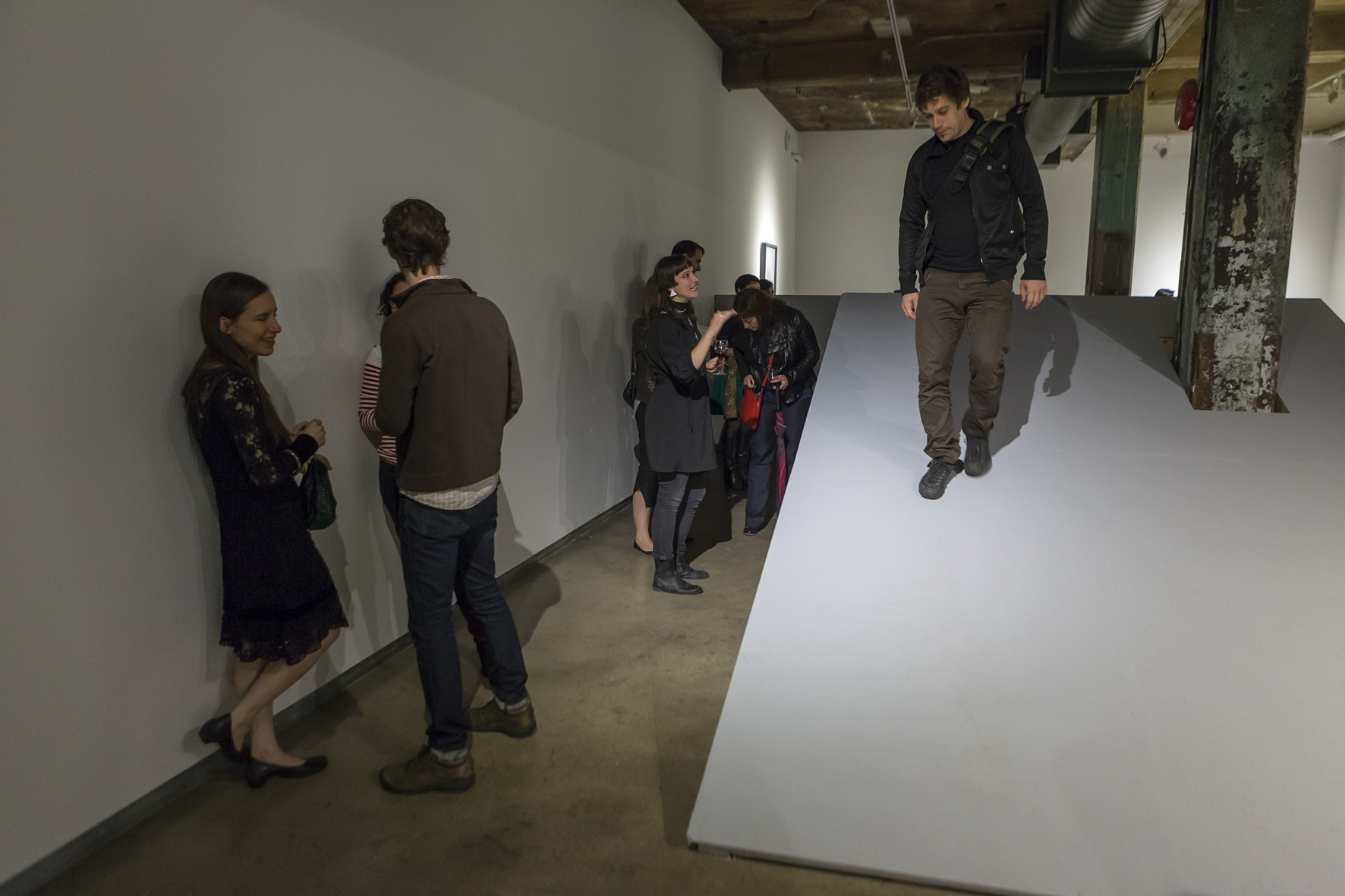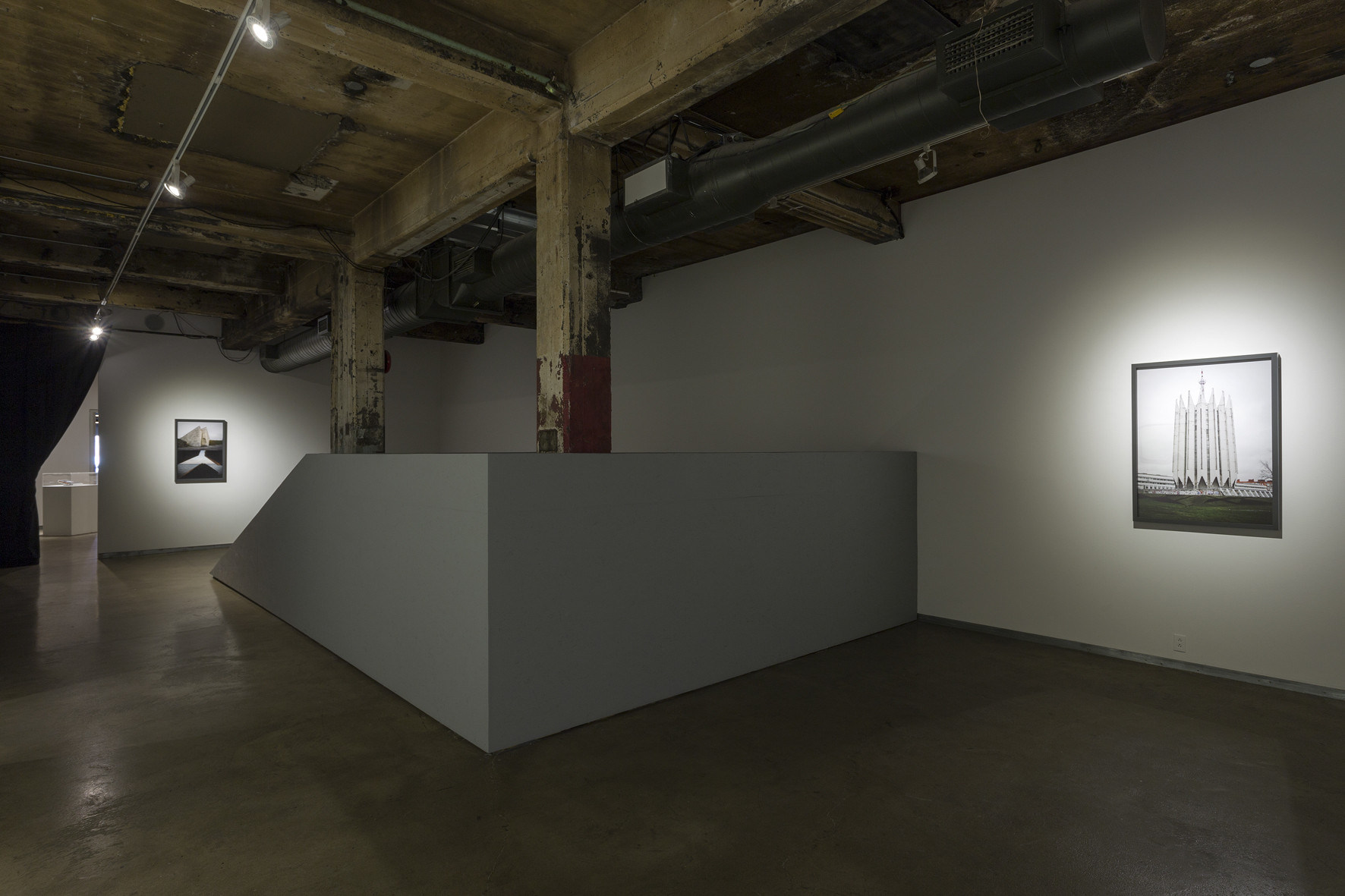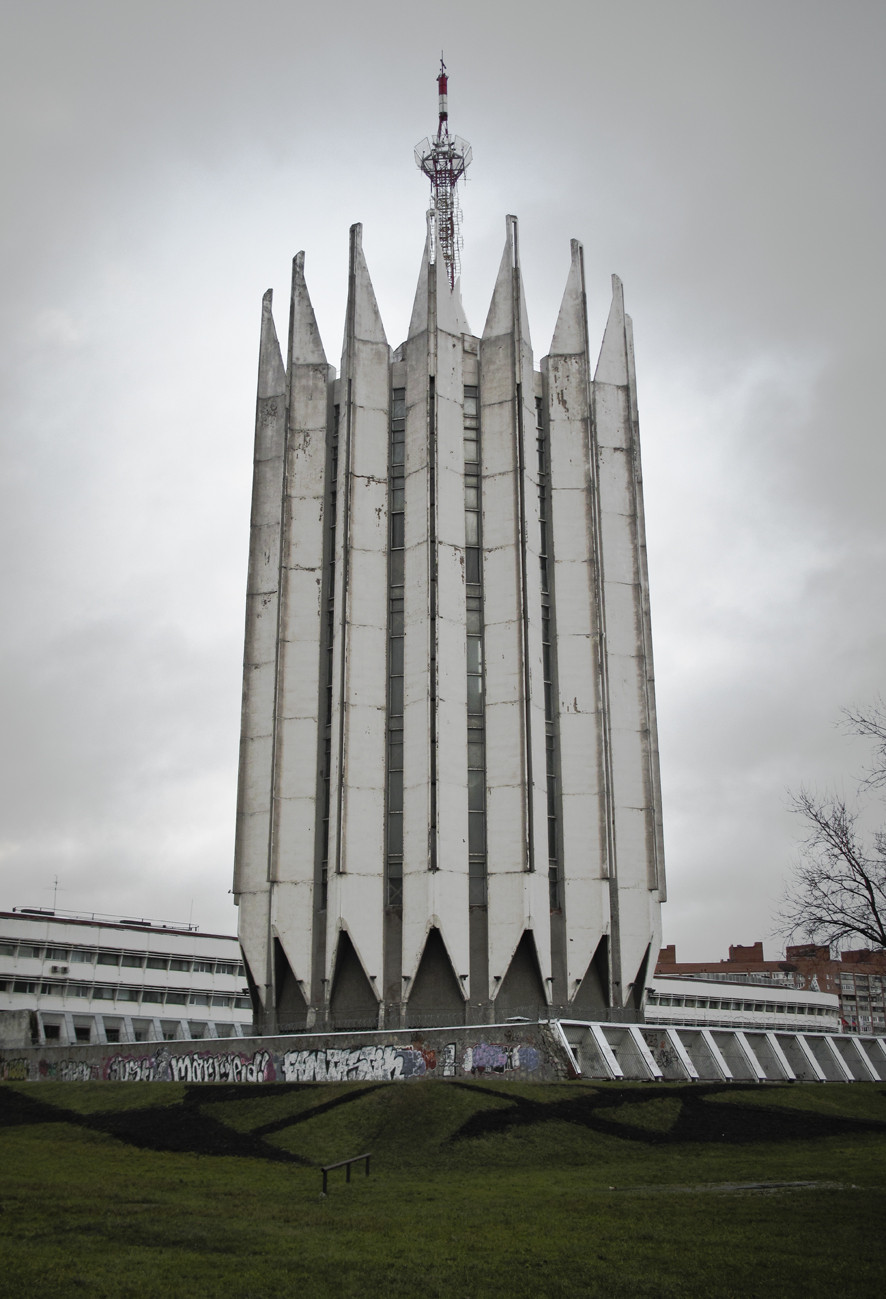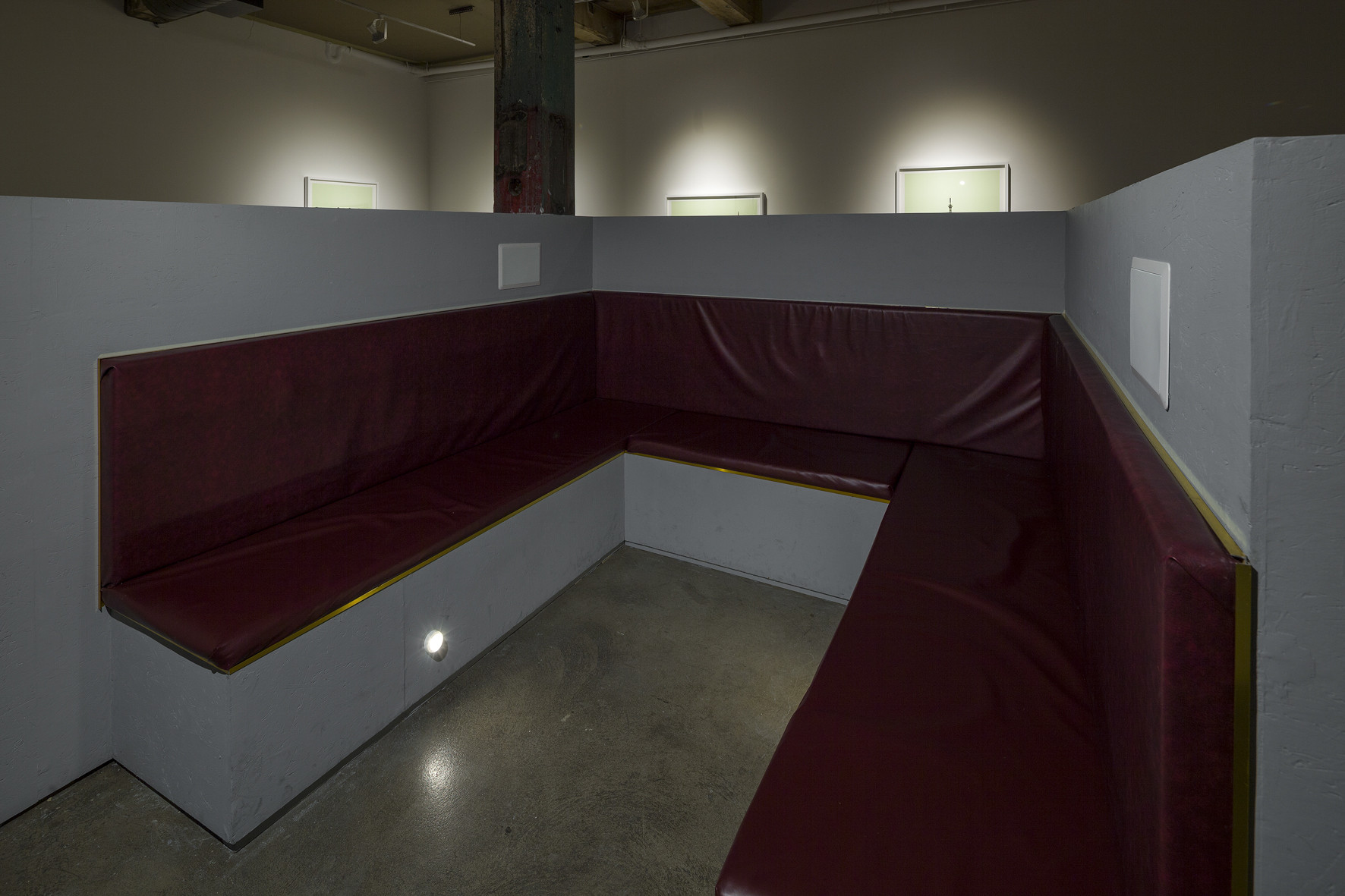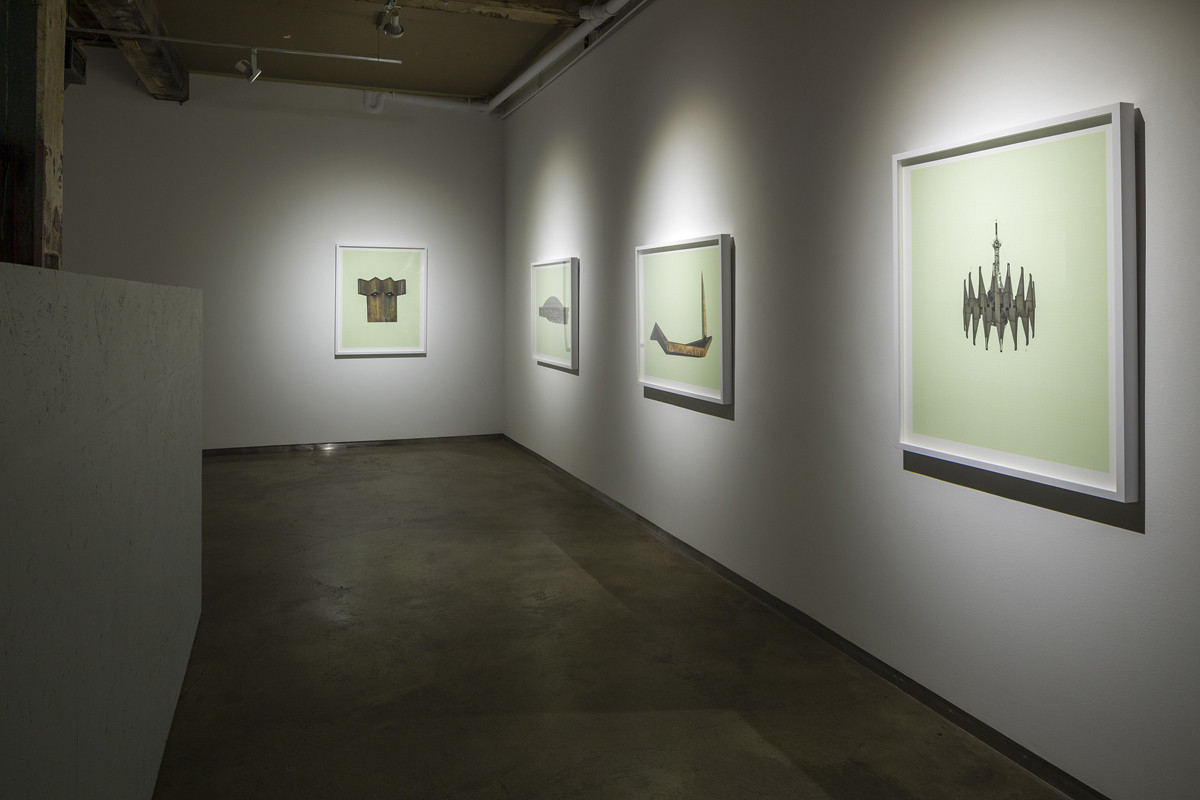 Curator : Esther Bourdages
Le Vaisseau / Solid Void constructs an environment that casts a critical eye on architectural remnants of the Soviet era or on the influence of the modernism of the 1960s to the 1980s, as testimonies to the scope of the aspirations associated with that era's political project, and conversely, to disenchantment upon their failure. 
Two series of photographic works document buildings and monuments in Finland, Estonia and Russia.During the Cold War, the imposing concrete architecture depicted in these images was used to symbolise power and make a statement to the world about national greatness.
Laganière selected buildings for their avant-garde character and their semantic power. Their futuristic-looking forms reference an ambitious political program featuring among other things the conquest of space, as shown by the Linnahall, originally the V.I. Lenin Palace of Culture and Sports. 
This gigantic structure was built in Tallinn, capital of Estonia, between 1976 and 1980 by architect Raine Karp1, assisted by Riina Altmäe, in order to host yachting and regatta events during the 1980 Moscow Olympic Games. Abandoned since 2009, this concrete hulk has since then become an icon, drawing scholars on the topic of urban development.2 A solemn-looking showcase of Soviet power, it included a 4600-seat amphitheater, a skating rink, a bowling alley, a cafeteria, a huge roof that functions as a terrace and a large public square. Other photographed buildings featured in the exhibition recall a spaceship at the Maarjamäe Memorial complex in Tallinn and a rocket at the Central R&D Institute of Robotics and Technical Cybernetics of Saint Petersburg in Russia. References to the cosmos had the didactic function of inspiring and entertaining the population, according to architecture critic Owen Hatherley. 
A series of four photographs transferred onto plotting paper decontextualizes the buildings: being isolated, they appear to be floating on the green grids. The public sculpture Moduli (Rakentajaveistos)/The Module in Helsinki, Finland is to be found among these prints: the reinforced concrete monolith has a shape that wavers between abstraction and representation, as it suggests a stern face and gives the impression it is watching us. These digital prints conjure up a moment suspended in time so as to immerse us directly into the utopias of yesteryear and the ideas of a domineering political doctrine, prompting us to reflect on the role of current heritage. 
At the centre of the gallery, a sound sculpture emulating Linnahall's profile broadcasts a piece put together from samples captured on that site and from processed excerpts of music by the Estonian pop group Ruja, which charted in the top 10 in 1980. This ambient composition reveals the artist's presence in an abstract way, offering a quiet moment within the arrangement of a continuous soundstream where sci-fi beats stand out, interspersed with more textural components. Montreal artist Virginie Laganière is not trying to romanticize a historical narrative in her work, but rather, to reboot backwards a historical context with strong ideological connotations. In the aftermath of this period, today's architectural projects, spawned by the globalization of capitalist production, seem devoid of collective political conviction. Priorities and programs differ, cities are reinventing their look, and we have to deal with architectural cloning as a result of trending, mass-produced, preformatted buildings. 
[1] During the Soviet era, Raine Karp (1939-) received several State commissions in Tallinn, such as the National Library (1985–1993) and the building of the Ministry of Foreign Affairs (1964–1968). The Linnahall is one of the few buildings from that era to have won an international architecture prize.
[2] It is part of a case study within Estonia's exhibition project at the 2012 Venice Architecture Biennial dealing with issues of disappearing modernist heritage, put in the context of today's economic and political issues. The title of the catalogue by superintendent Ülar Mark was an apt one : How Long is the Life of a Building?, Estonian National Exhibition at the XIIIth International Architecture Exhibition – la Biennale di Venezia, Tallinn, Estonian Centre of Architecture, 2012, 240 pages.

The artist benefited from the support of the Canada Arts Council and the Quebec Arts Council.
Virginie Laganière
Virginie Laganière lives and works in Montreal. Her reflection ground works on built spaces, on the phenomena of insecurity, the human psyche and the perception of technology within art installations. Since 2003, she has presented her art installations in Canada, Mexico, Spain and Switzerland.
Esther Bourdages has been collaborating with Quartier Éphémère since 1996. She is involved Agence Topo, Eastern Bloc and CKUT radio, and organises a series of concerts dedicated to new music.
More about
Montréal, Canada