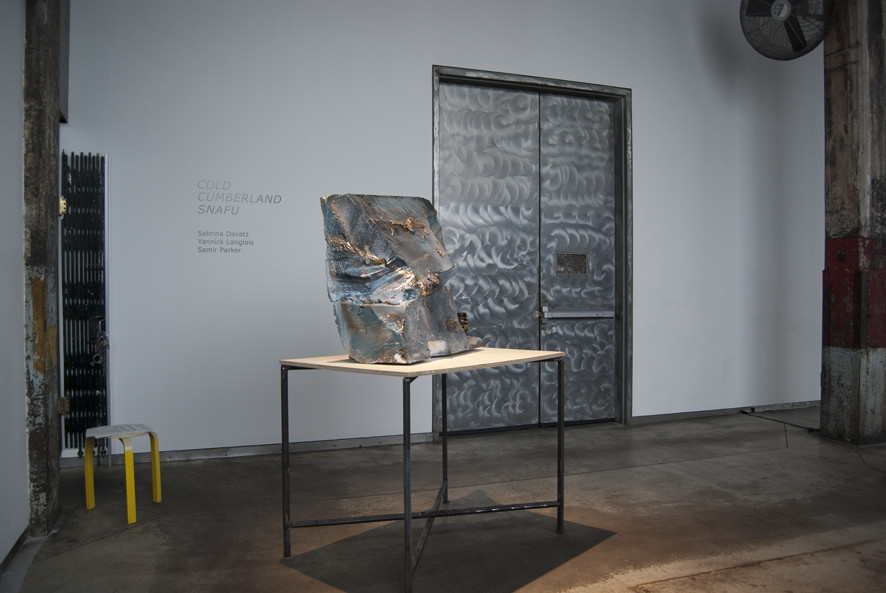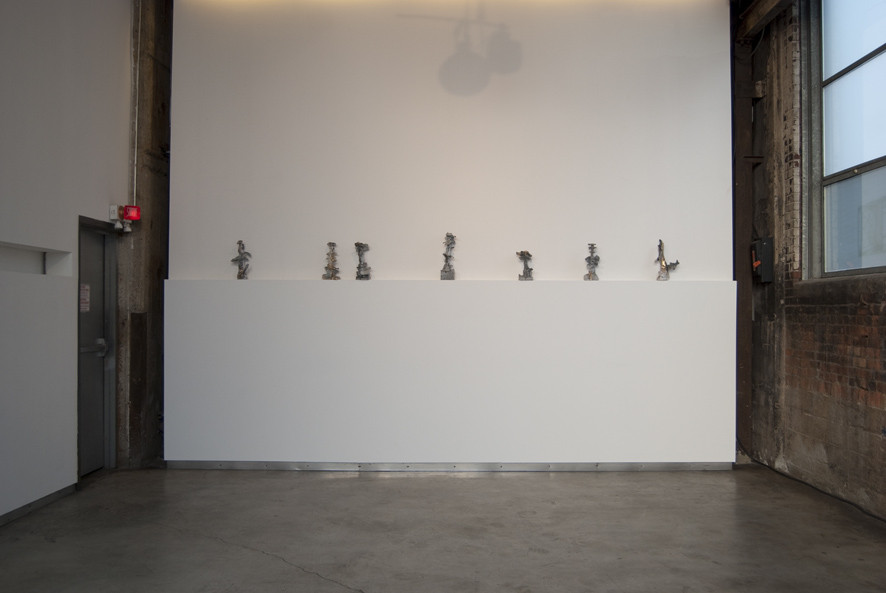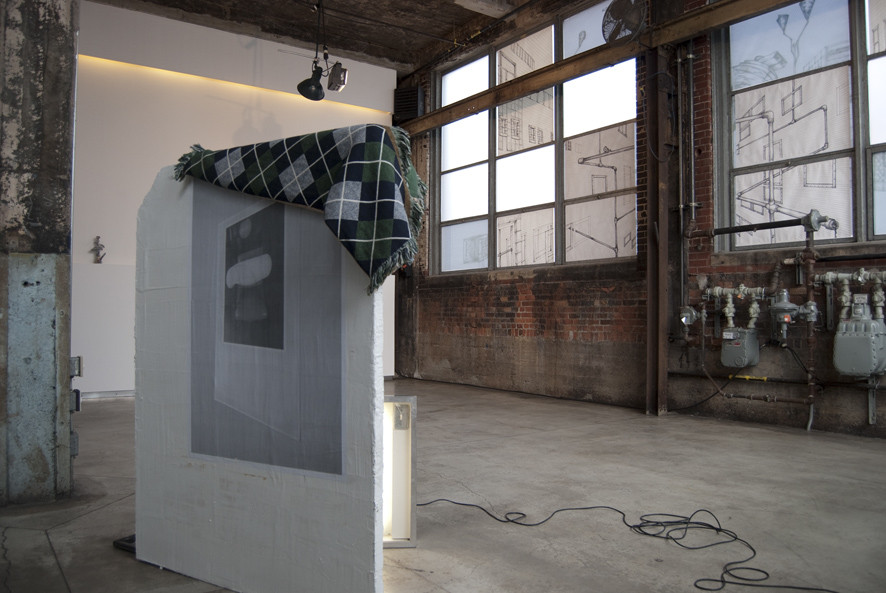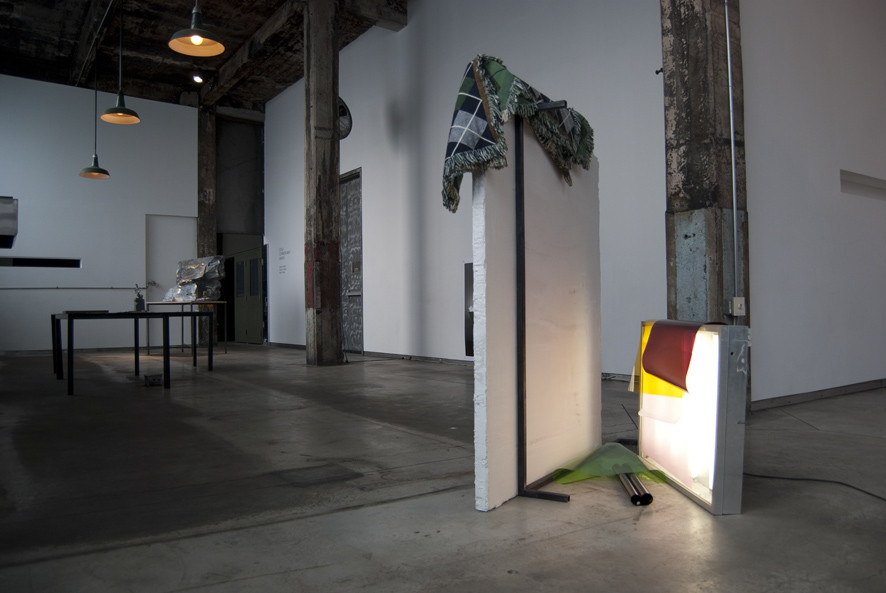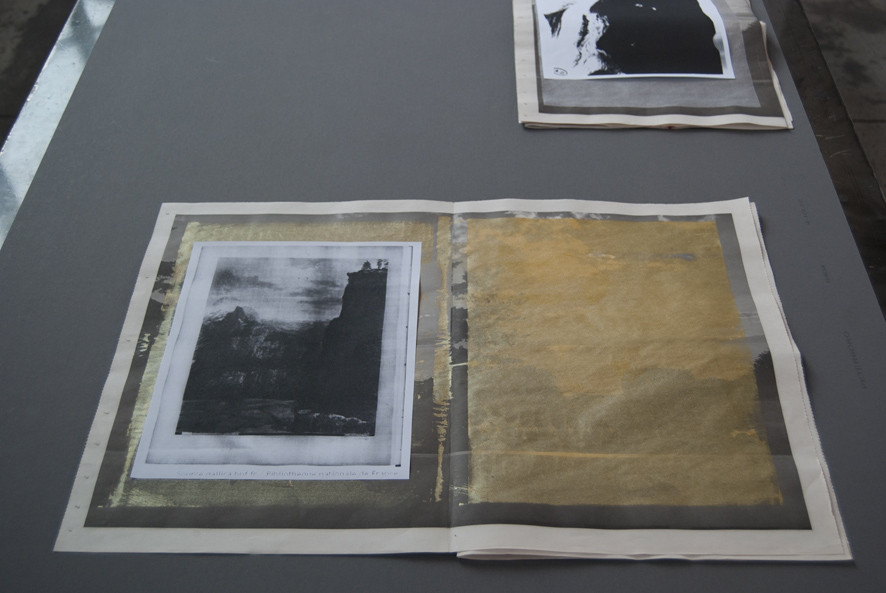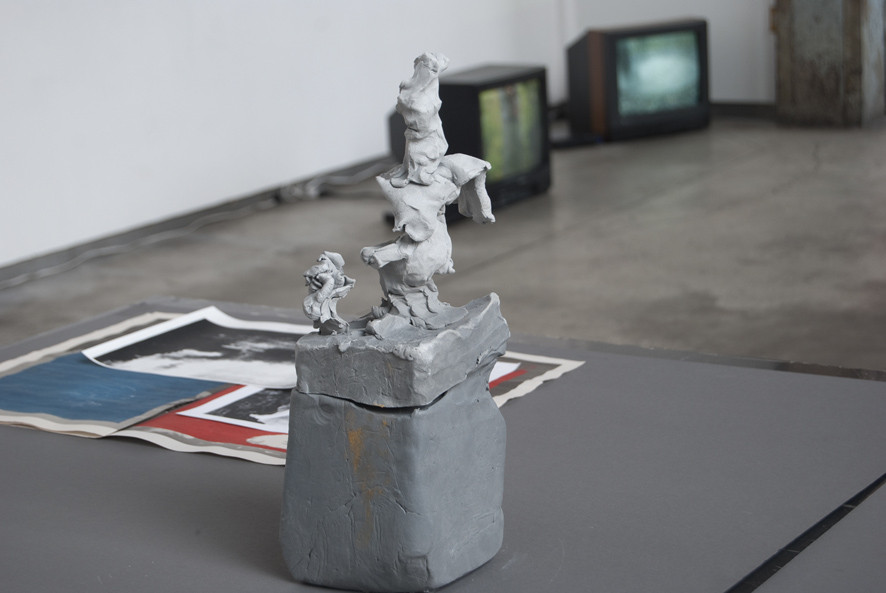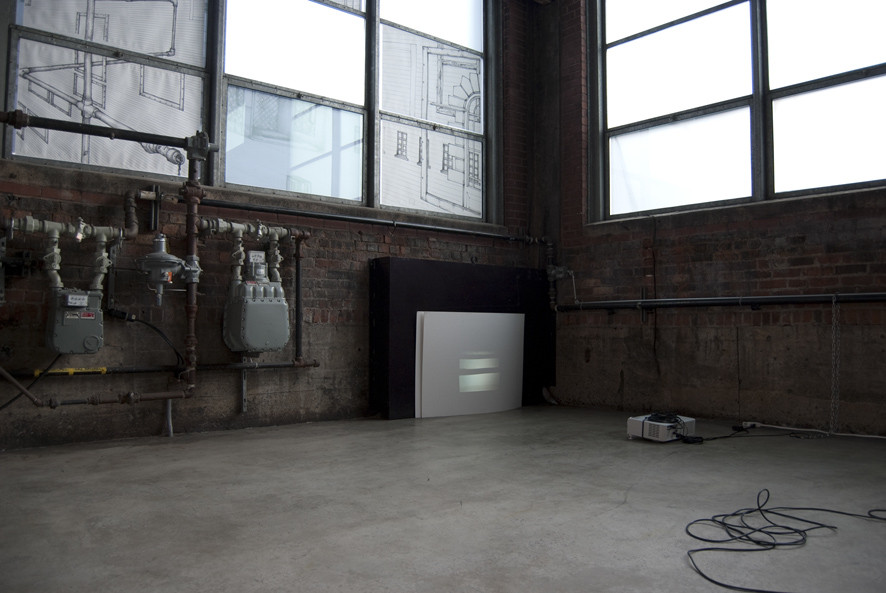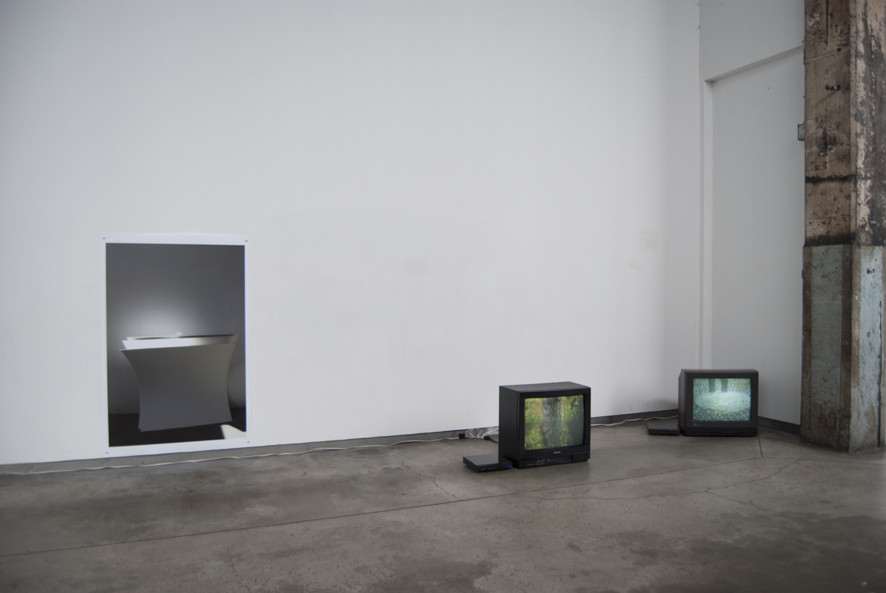 Cities are, by their very nature, in a state of perpetual mutation. Throughout the course of their development and redevelopment, they leave in their wake both ruins of the past and fantasies of the future. Samir Parker, inspired by this chaotic intermeshing, dramatically transforms these spaces- real and mythical, interior and exterior, empty and full- that we inhabit.  Urban explorer, the artist leaves traces on the Darling Foundry's industrial windows, a patchwork quilt combining black and white shapes that draw on his varying Montreal experiences. A veritable storyboard of superimposed architectural grids, Samir Parker's geometric work, with its discordant perspective and scenic lighting, immerses the spectator's gaze in the fantastic. 
Yannick Langlois merges the artists in residence experience with that of the sixteenth and seventeenth century draftsmen who reproduced the landscapes described in the writings of their travelling compatriots. From these documents and other uncovered relics comes a set of proposals that cross mediums, forms and scales of representation, questioning how these clues can determine our apprehensions. The unbaked clay sculptures - on which the artist places documents issued from an 1895 portfolio consisting of photographs of mostly natural formations (anthropomorphized rock sediment, giant ferns etc,) - that frame the work could just as well be representations of organic forms as they could be caricatures of the human figure.  The work thus calls into question the issue of what is culturally transmitted, and the manner in which the collective unconscious determines the perception of what is deemed "exotic" in relation to its own belief system. 
Different techniques and mediums of presentation are central to the explorations in the projected images of Sabrina Davatz. Inspired by everyday objects in their sculptural form, the artist reclaims banal observations in an act of transmutation that shifts them out of context, the reassembled elements bringing forth a poetic reconstruction of the artist's surroundings that stems from profound observation. Sabrina Davatz's interest lies in the moving image and video, but also in the shifting gaze of the viewer that is a direct result of simultaneously projected images.  This sober and uncluttered work calls into question the media sources that inspire it, examining with a critical eye the standpoint of the material that lies at its origin, as well as its own autonomous power of expression.
Originating from India, France and Switzerland, three artists currently in residence at the Darling Foundry have taken on the temporary exhibit space next to the main gallery in which to present their work in flux, conceptualized on site.
Sabrina Davatz
Born in 1976, lives and works in Basel, Switzerland.
Graduated from the School of Fine Arts in Berne and the Academy of Arts and Design in Basel.
Her work has been shown as part of several group shows : Villa Renata in 2012, Haus für Elektronische Künste in 2011 in Basel and Fabrikculutre in 2011 in Hégenheim. She is a member of the board of Ausstellungsraum Klingental in Basel.
Yannick Langlois
Born in 1985, Yannick Langlois lives and works in Paris. He is graduated from Villa Arson in 2006 and from Beaux-arts de Paris in 2009.
His work has been shown in several collective exhibitions : 'sHertogenbosch (Netherlands) in 2010, Les innommables grotesques at LMD Gallery and Studio Romance at La Vitrine in Paris in 2011. He was awarded a 3 months residency at Triangle in Marseille during the summer of 2011. Since 2010, he is part of the initiative Atelier W, an artist-run production and exhibition space in Pantin, managed by a collective of 8 visual artists.
Yannick Langlois was in residency with  Astérides exchange program at the Darling Foundry from July to October 2012.
Samir Parker
Samir Parker lives and works in Mumbai, India. 
He has designed installations, exhibitions and publications for Bodhi Art, The London School of Economics, UNICEF and the Venice Biennale. He has collaborated with artists such as Atul Dodiya, Nataraj Sharma, Zarina Hashmi and CAMP. He has been awarded fellowships at Sarai CSDS and the Khoj Studios in New Delhi. He has recently been selected for a residency at the Rockefeller Foundation Bellagio Center. He continues to teach and develop curriculum and outreach at the Faculty of Design, CEPT University Ahmedabad.
More about
Genève, Switzerland

France

Mumbai, India