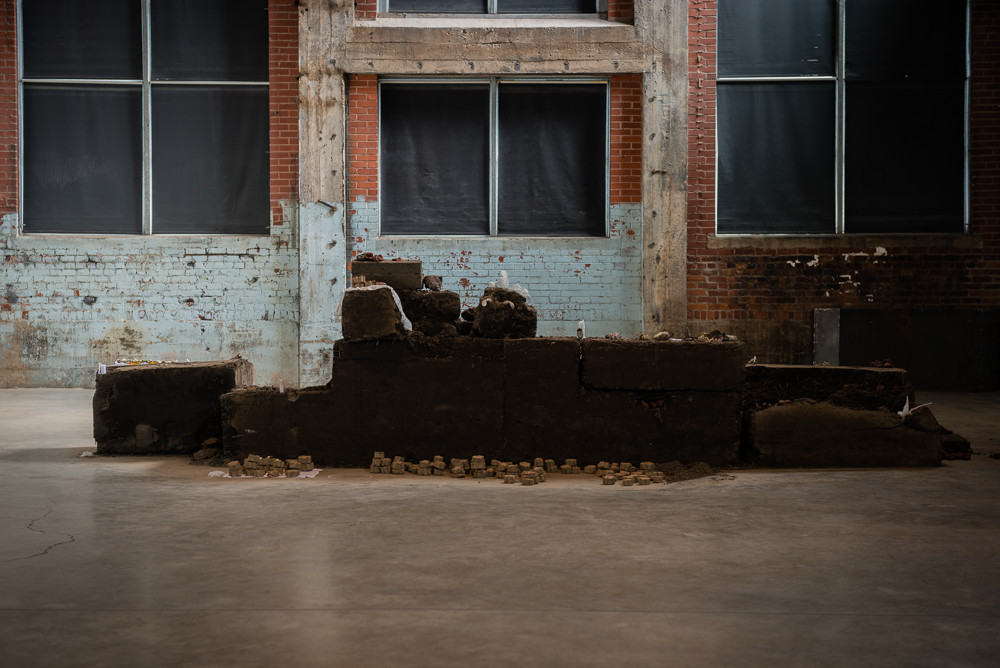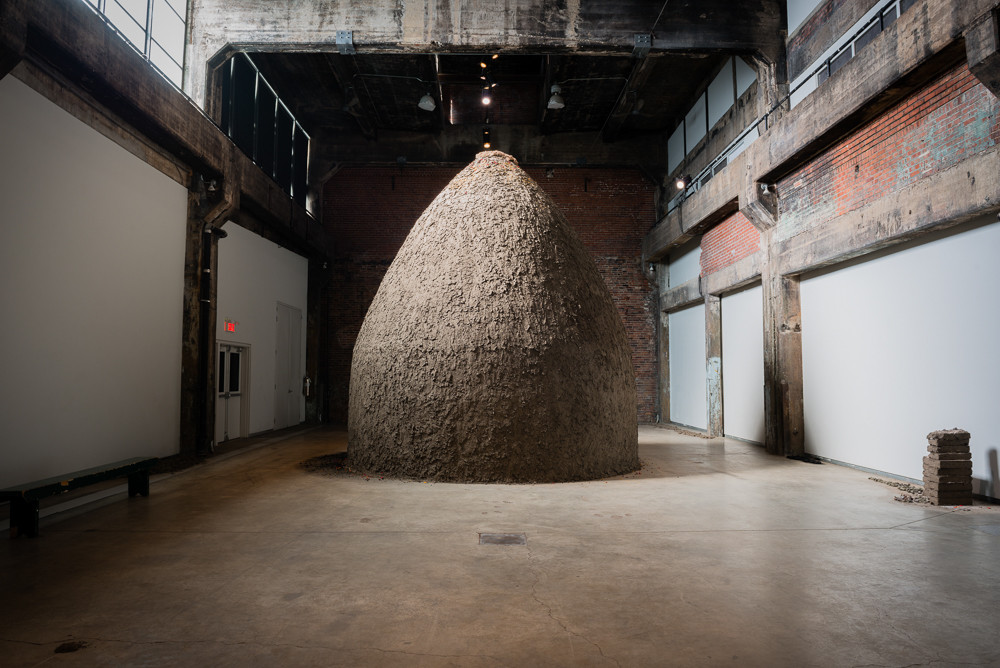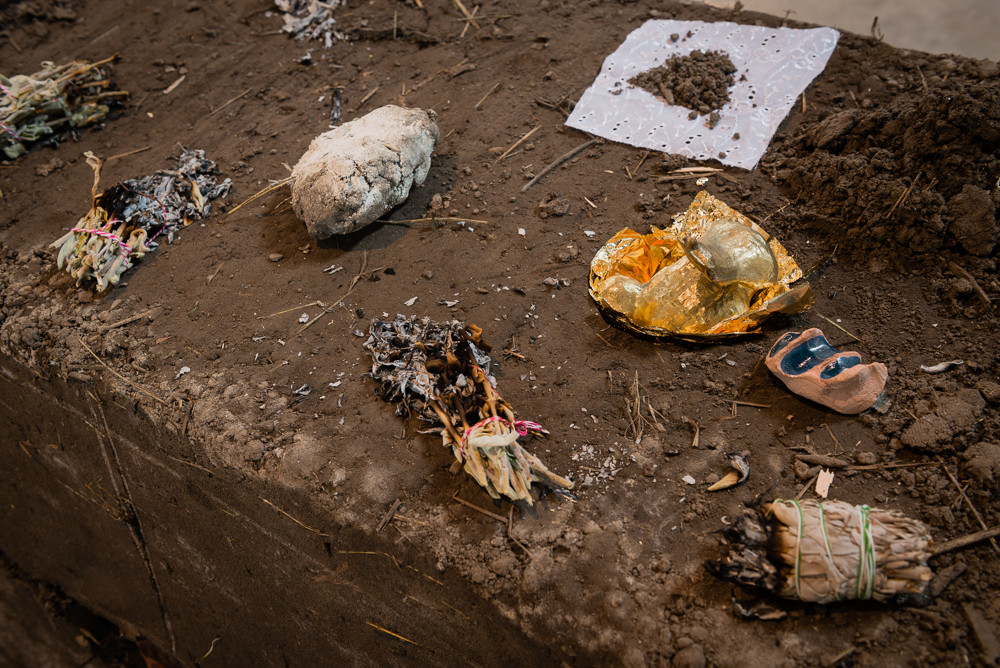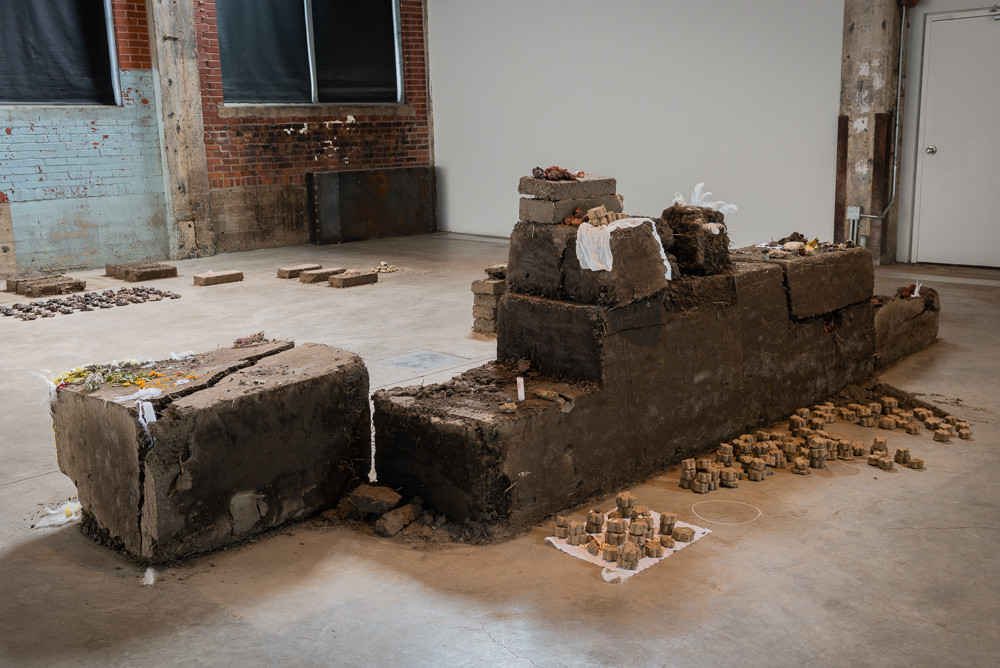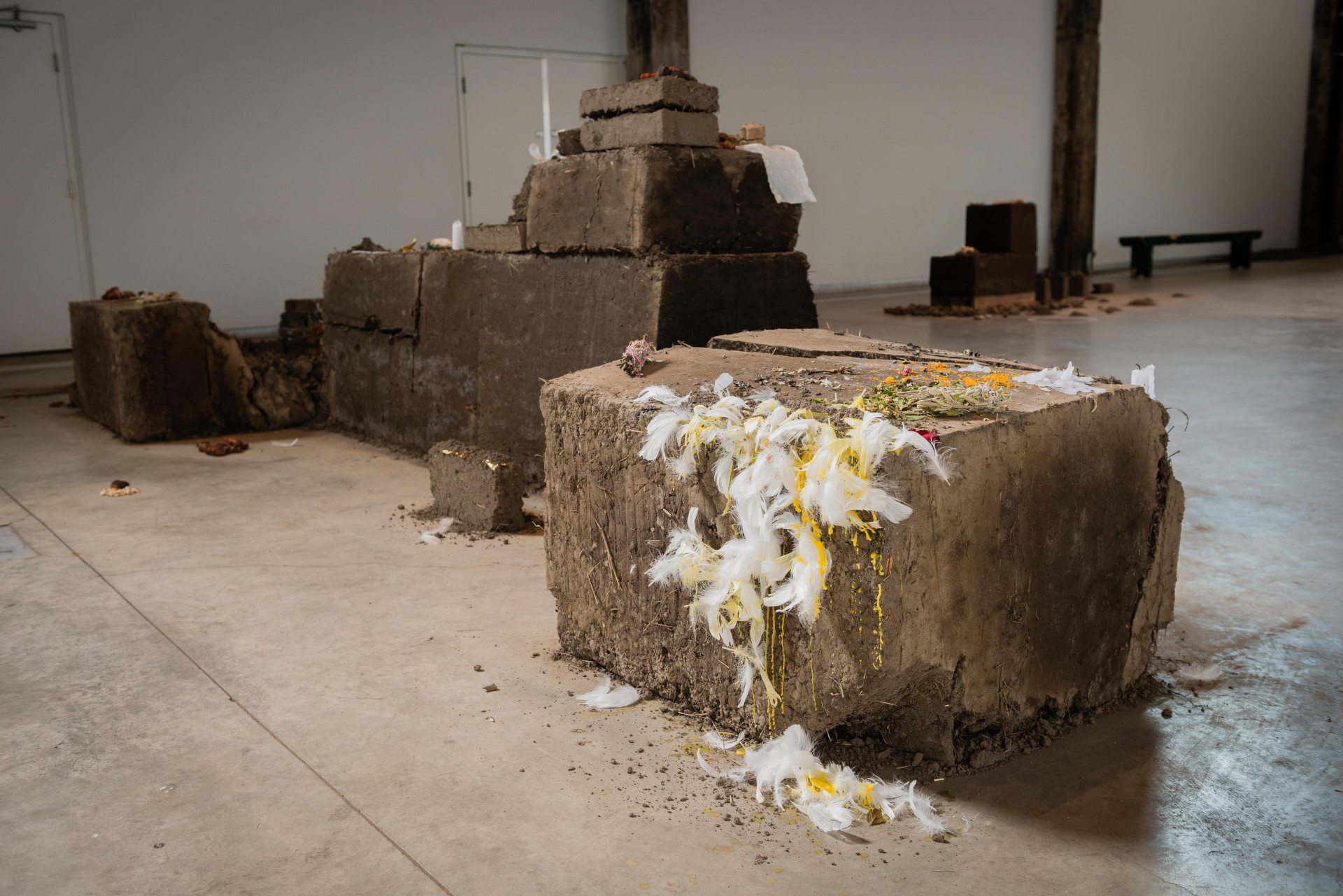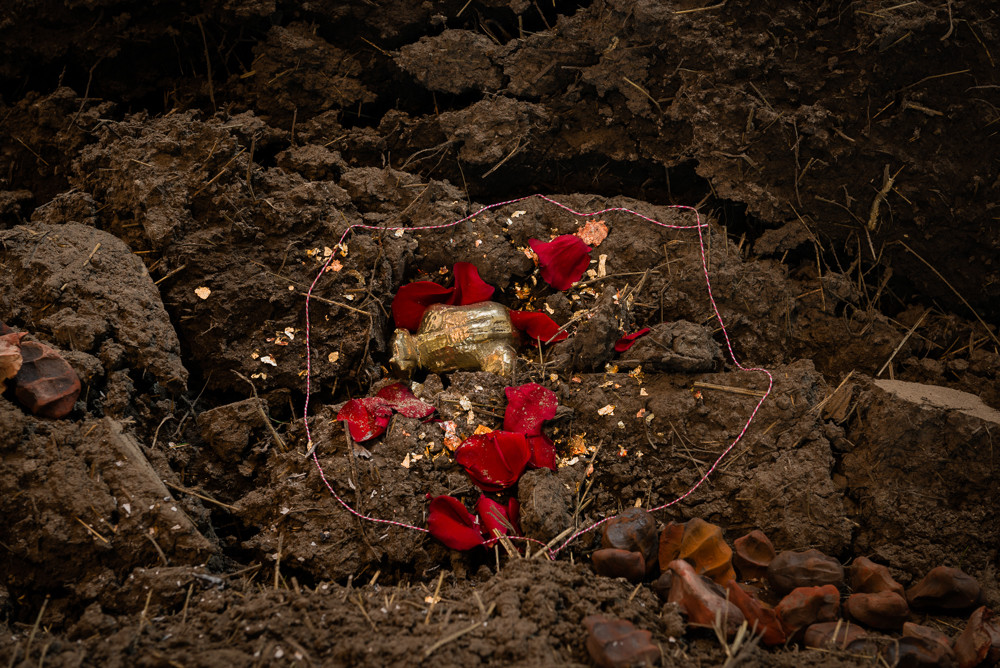 and- in. the light of this.______ is part of an ongoing inquiry for Dineo Seshee Bopape to explore the concept of sovereignty - land, body and self-sovereignty - and the metaphysics of nothingness through an exploration of ideas and forms of containment and displacement, occupation, and hosting, and the socio-historical politics of landlessness. Similar to two previous works, sa ____ ke lerole, (sa lerole ke ___) (2016) (exhibited in New York's Art in General) and :indeed it may very well be the___________itself (2016)(commissioned by the São Paulo Biennale), this new site-specific installation for the Darling Foundry continues her thematic interests in the topic of the Anthropocene and the idea of sovereignty. The installation consists of a large vault-like or egg-shaped sculpture, and a long compressed soil structure with objects that include casts of a uterus, womb healing herbs and minerals, and pieces of clay molded by a clenched fist.
and- in. the light of this.______ the new resulting work, though different in materialization, addresses issues of gender and maternity, history and the politics of place, play, memory and the metaphysics of self and presence. Instead of providing a definitive answer to these topics, Bopape links poetically these notions in this installation, thus creating a monument and a shrine/homage to what is sacred, the earth/land, home, the body, spirit - and to an Afro-Diasporic/global indigenous "pagan" aesthetics/language.
Recognized for a practice that combines digital and analog aesthetics, as well as natural and synthetic elements, Dineo Seshee Bopape expresses her interest in objects and imbues them with meaning to create immersive environments. Working with and beyond the material, Bopape's art reflects on both memories and histories. The logic of dis/possession resonates with the subjects of much of Bopape's work; yet, it is the polymorphic quality of her poetic vision that allows it to blend varied perspectives such as the metaphysics of self and presence.
Dineo Seshee Bopape, born in 1981, in Polokwane, lives and works in Johannesburg, South Africa. Bopape is laureate of the Future Generation Art Prize 2017. She is the recipient of Standard Bank Young Artists' Award, National Arts Festival, South Africa (2016). Her work has been featured in solo exhibitions at Art in General, Brooklyn (2016); Palais de Tokyo, Paris (2016); Hayward Gallery, London (2015); Hordaland Kunstsenter, Bergen, Norway (2015); August House, Johannesburg (2014); Stevenson Gallery, Cape Town (2013, 2011); Mart House Gallery, Amsterdam (2010); and Art Berlin Contemporary, Berlin (2010). Her work has also been included in group exhibitions at the Sharjah Biennial (2017), theBiennale de Montréal, Montreal (2016); Marrakech Biennale 6, Marrakech (2016); Bienial de São Paulo, São Paulo (2016); Tate Modern, London (2015); Center for Visual Art, Denver, CO (2015); Institute of Contemporary Arts, London (2015); The Jewish Museum, New York (2015); Institute of Contemporary Art, Philadelphia (2014); Tropenmuseum, Amsterdam (2014); Biennale de Lyon, Lyon, France (2013); and Bétonsalon—Centre d'art et de recherche, Paris (2012). seshee.blogspot.com
Dominique Fontaine is a curator and Founding Director of aPOSteRIORI, a non-profit curatorial platform – researching, documenting, developing, producing and facilitating innovation in diverse contemporary art practices. Fontaine graduated in visual arts and arts administration from the University of Ottawa (Canada), and completed De Appel Curatorial Programme (Amsterdam, the Netherlands). Since 2013, she has been contributing to Of Africa, a multi-disciplinary and multiplatform program, in collaboration with the ROM (Royal Ontario Museum). Her recent curatorial projects include "Repérages ou À la découverte de notre monde ou Sans titre", articule, 2016; "Between the earth and the sky, the possibility of everything" - Scotiabank Nuit Blanche Toronto 2014. www.dominiquefontaine.com
More about
Johannesburg

Curator
Dominique Fontaine