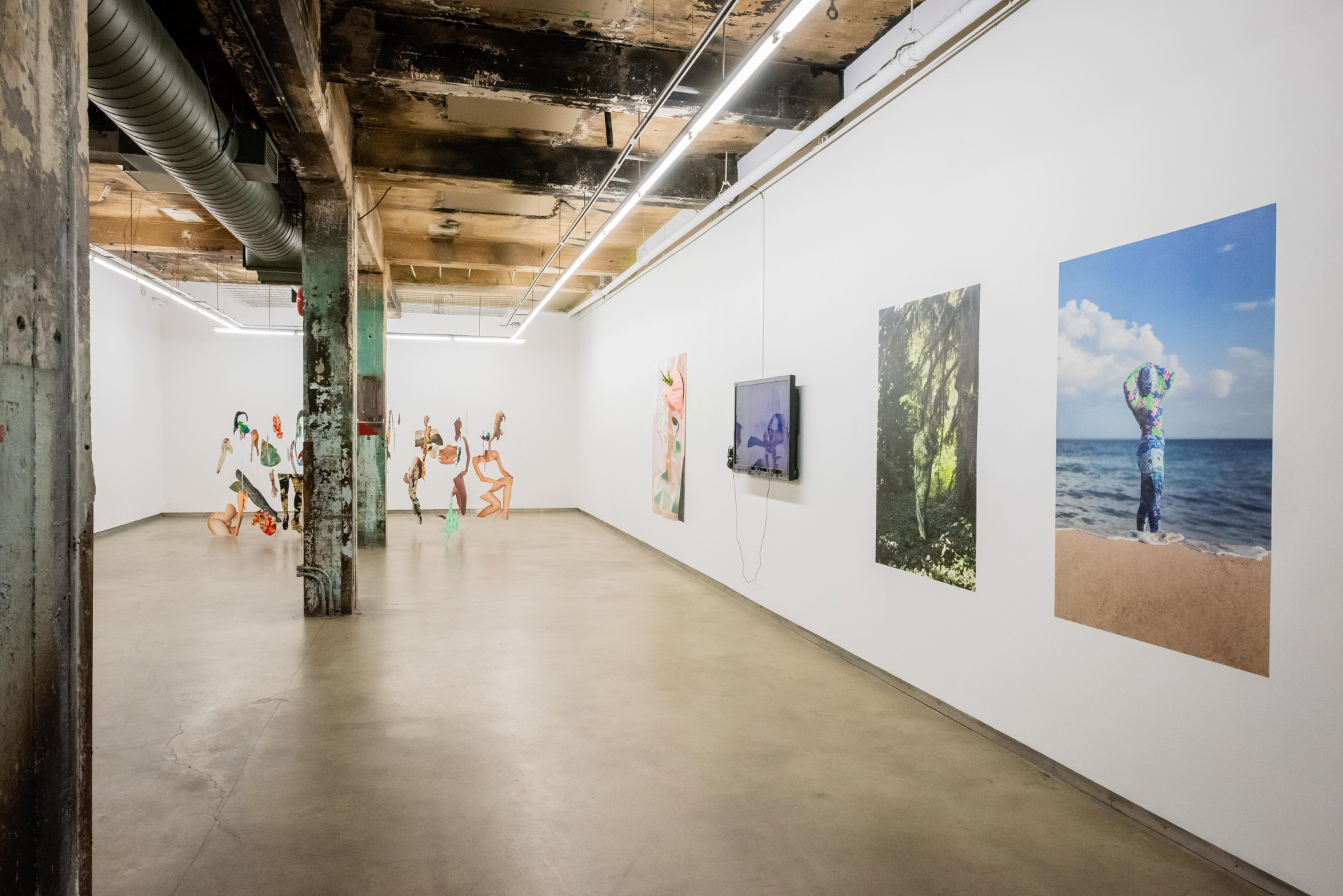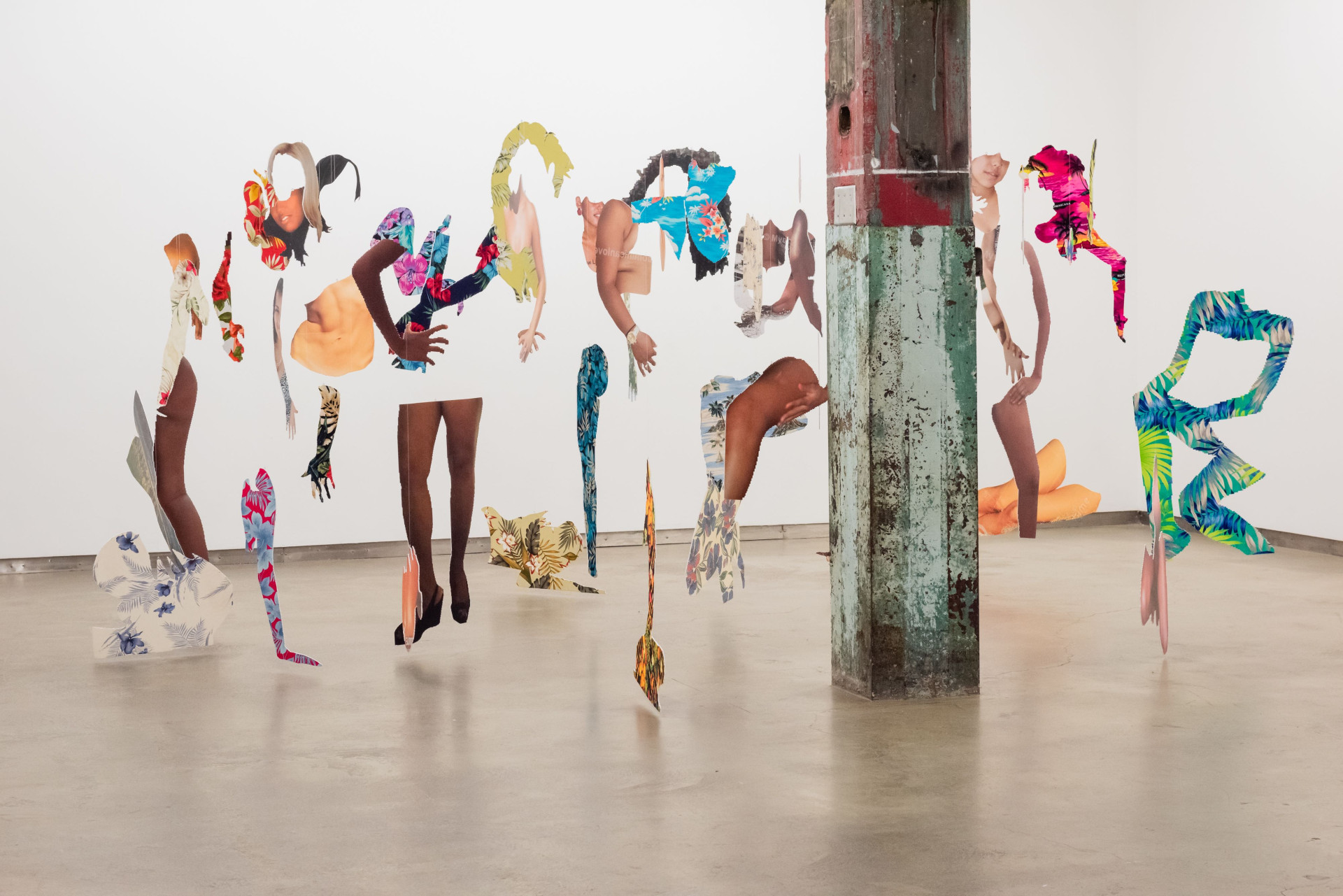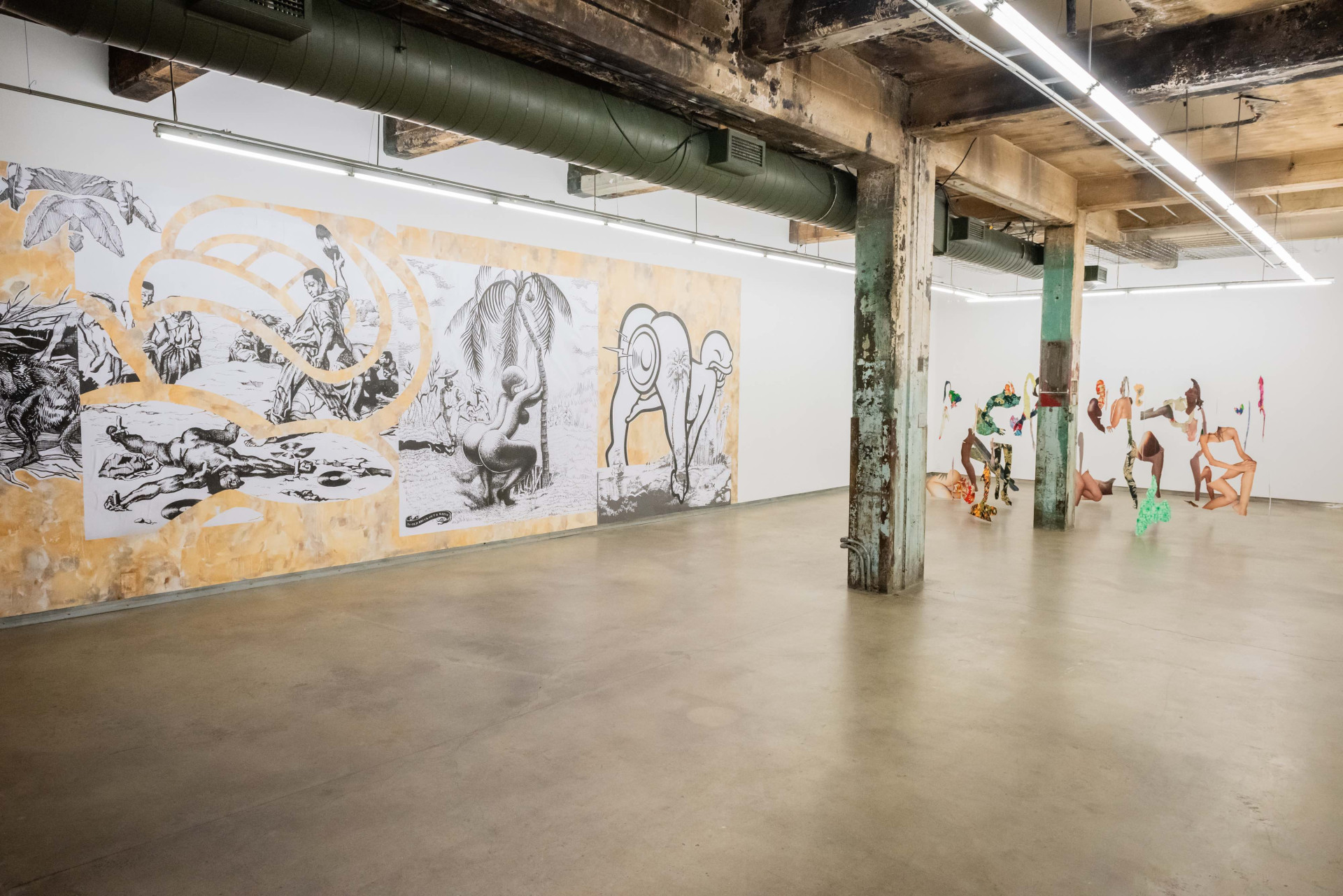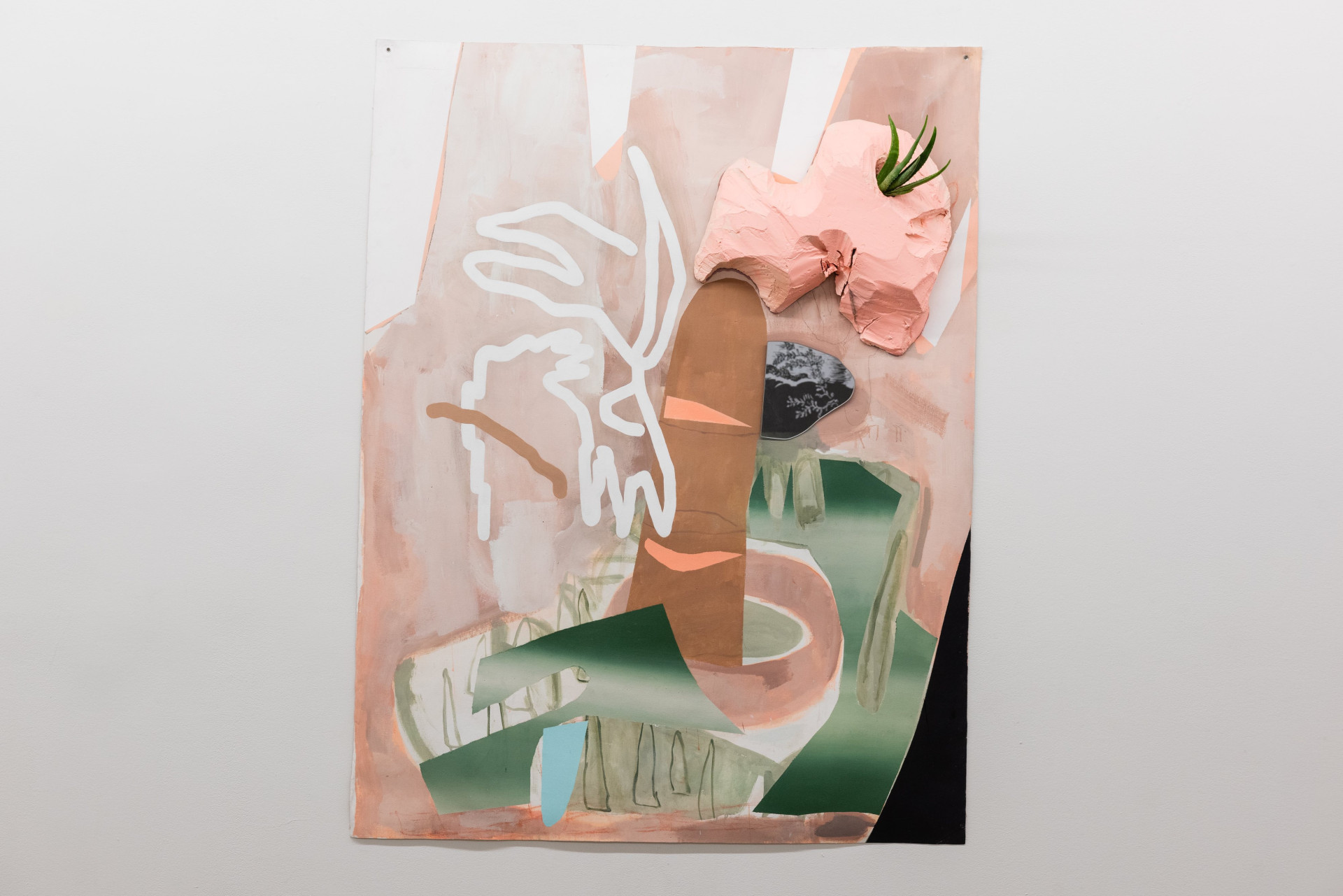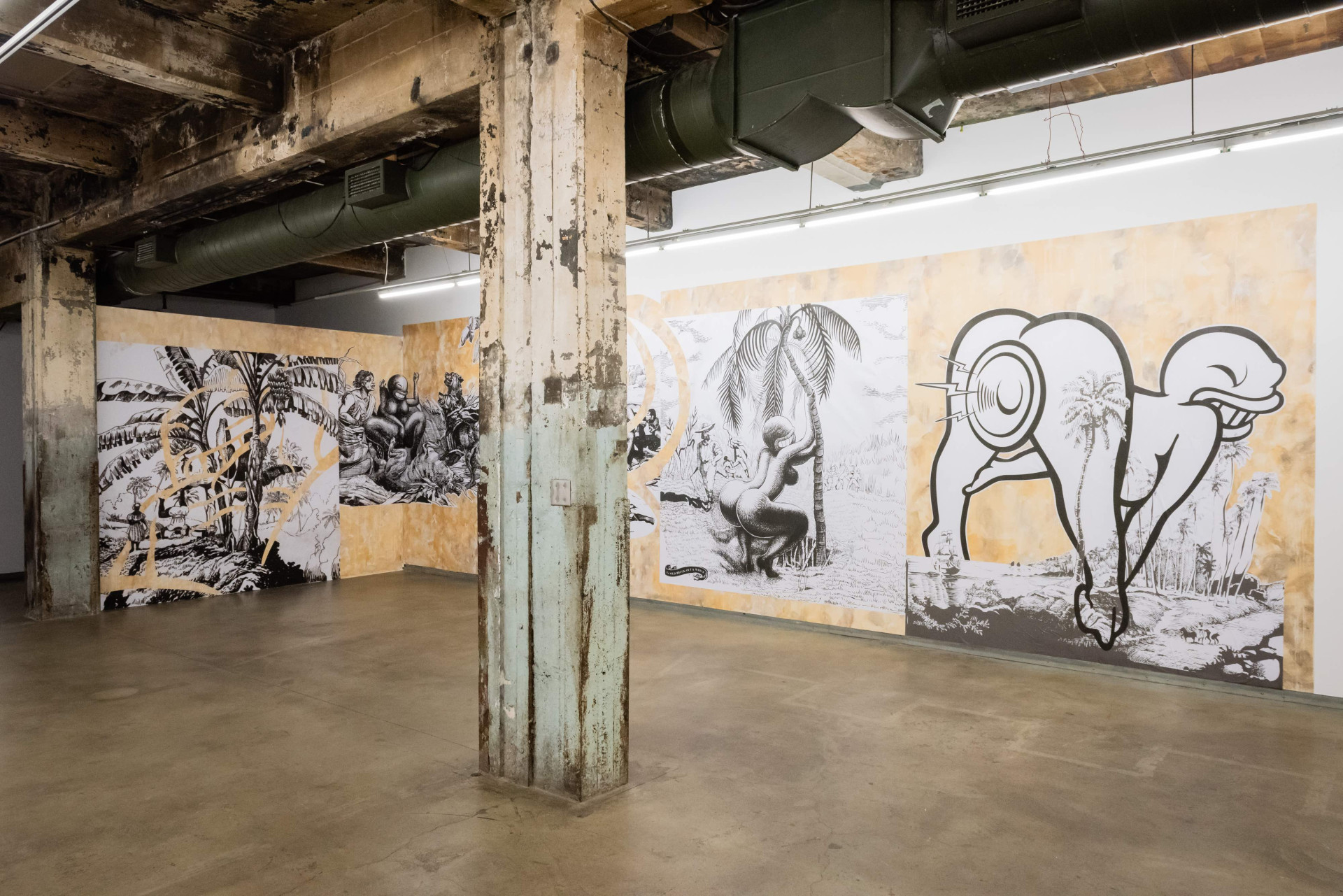 In the fall of 2019, the Darling Foundry celebrates Latin American art. To mark the ten-year anniversary of the Residency of the Americas, supported by the Conseil des arts de Montréal, the art centre is offering a special program to Montreal and Canadian audiences that showcases the work of two former residents. In the Small Gallery, Puerto Rican curator Marina Reyes Franco (2016 resident) creates a dialogue between three Caribbean artists with the group exhibition Resisting Paradise: Deborah Anzinger (Jamaica), Leasho Johnson (Jamaica), and Joiri Minaya (Dominican Republic). Resisting Paradise is among the winning exhibitions of the Open Call program of apexart in New York and was presented in the summer of 2019 at :Pública in San Juan (Porto Rico).
• • •
Resisting Paradise is an exhibition featuring Jamaican and Dominican artists who create work at the intersections of tourism, sexuality, gender, environmental concerns, music, and the internet. The exhibition consists of existing and commissioned work that examines preconceived notions of paradise and tourism as new means of colonization. Through their work in painting, photography, sculpture, video, graphic design, and installation, the artists reference shared histories of invasion, slavery, and economic exploitation of natural resources, and how these forces translate into the commodification of their own bodies in the Western imagining of paradisiacal tourist destinations. The show's title draws inspiration from a book by Bahamian writer Angelique V. Nixon, which discusses the perils of living in such a crafted, imagined paradise and the powerful ways in which cultural workers resist and transform those given narratives. 

The shared Caribbean experience of the plantation-to-resort model of economic development makes evident the transition from slavery to the service economy under tourism. The exhibition explores what happens when the tourism economy also applies to bodies—when sex and desire are also a currency. The project of colonialism and empire have left an undeniable mark on culture by shaping the way we relate to ourselves, to each other, and to nature itself. Through transgression and appropriation, these artists envision new paradigms of life in the region and its diaspora by challenging preconceived notions of what it means to be Caribbean, that is a colonial, raclalized, sexualized subject. 
Marina Reyes Franco
• • •
The exhibition is made possible thanks to the support of Conseil des Arts et des Lettres du Québec and Conseil des arts de Montréal.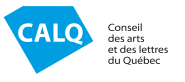 Deborah Anzinger
Deborah Anzinger is a Jamaican artist who lives and works in Kingston. Her work has been shown in many individual exhibitions in Jamaica but also in the United States, in Puerto Rico and in the United Kingdom. She was the recipient of several awards and grants, among which the Pollock-Krasner Foundation Grant in 2018.
Leasho Johnson
Leasho Johnson is a Jamaican artist. He holds a BFA from the Edna Manley School of the Visual and Performing Arts in Kingston, and he is currently studying at the School of Art Institute in Chicago. His work was shown in Jamaica but also internationally, notably at the Philharmonie de Paris in 2017, at the Royal West England Academy in Bristol in 2016, and at Yale University in 2015. He participated in residencies in New York (Residency Unlimited), Liverpool (Bluecoat) and Kingston (NLS).
Joiri Minaya
Born in New York, Joiri Minaya grew up in the Dominican Republic. She holds an Associate's Degree from the Escuela Nacional de Bellas Artes in Santo Domingo, and a BFA in Fine Arts from Parsons the New School for Design in New York. She participated in residencies in the United States, such as Skowhegan School of Painting and Sculpture, Guttenberg Arts and BronxArtSpace. Her works have been presented in many individual and group shows across the Caribbean and in the United States. In 2015, she was the recipient of the Joan Mitchell Foundation Emerging Artist Grant.
Marina Reyes Franco
Marina Reyes Franco (b. 1984) is an independent curator living and thinking in San Juan, Puerto Rico. She is co-founder and former director of La Ene, a museum in Buenos Aires, Argentina. Recent projects include: Watch your step / Mind your head, ifa-Galerie Berlin; The 2nd Grand Tropical Biennial in Loíza, Puerto Rico; Calibán, MAC in Santurce, Puerto Rico; C32: Sucursal, MALBA in Buenos Aires, and numerous exhibitions at La Ene. Her research interests include the work of Esteban Valdés, artistic and literary manifestations on the frontier of political action, new museology, and the impact of tourism in cultural production. 
More about
Kingston, Jamaica

Jamaica

New York, United States

San Juan, Puerto Rico

Curator
Marina Reyes Franco