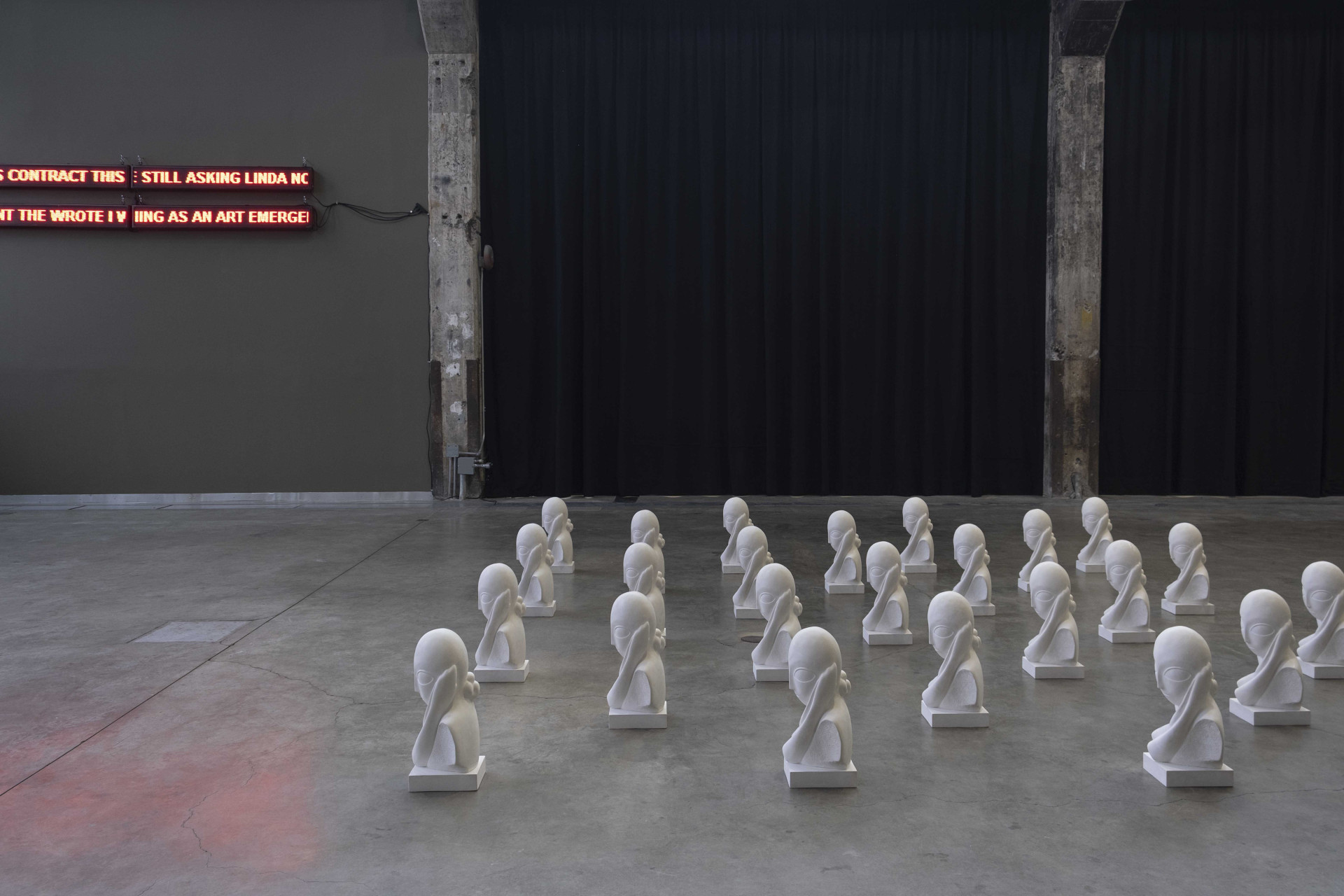 Tu m'enveloppes et je te contiens
To celebrate its twentieth anniversary, Fonderie Darling is embarking on an introspective, self-critical and ambitious autumn programme, launched with the group exhibition Tu m'enveloppes et je te contiens [You envelop me and I contain you], which is on display in the two exhibition spaces as well as the basement of the buildings. Working with the theme of memory, ten artists were invited to revisit the history of the site by proposing original works created in response to its programming, to the objects in its art collection, to its architecture, or to its transition from its former status as an industrial ruin to that of a contemporary arts venue emblematic of Montreal's cultural scene.
Faithful or updated reconstructions, reactivations of works and appropriations are all interventions that serve as an anchor for rethinking the important cultural heritage of the site. Through an intellectual, material, engaged or critical appropriation of a subject, a historical fragment, or through a reflection on exhibition devices, the artists question the constructed nature of history and the archive, the way in which the present is superimposed on the past to leave an almost spectral trace of what was, the people who passed through it and the events that took place within the site. Through the eyes of the artists, this exhibition is an opportunity to introduce the public to the extraordinary history of the Fonderie Darling, while at the same time highlighting the plurality of narratives that constitute our sensorial relationship to the cultural consciousness of a place.
Such an approach seeks to multiply the points of view and results in an amalgam of diverse experiences: contemplative appreciations, conceptual metatheatre, plays on body and scale, and impressions of déjà vu are all registers explored by the artists to talk about the Fonderie Darling. Several of the artists operate according to gestures associated with curatorial practices, such as the act of filtering, synthesizing, framing, remembering, transforming a space or exhibiting an object. Taken from a declaration of love between two characters in Jean Genet's play Le Balcon, the evocative title Tu m'enveloppes et je te contiens [You envelop me and I contain you] subtly refers to the fusional relationship that can exist between the work of the artist and that of the curator, and the complex dynamics that feed into rethinking the form of the exhibition.